Veteran journalist weighs in on Trump, Oprah as president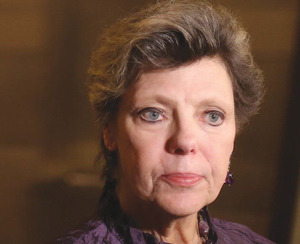 ---
By Bob Jackson
YOUNGSTOWN
Recent chatter about the possibility of Oprah Winfrey challenging President Donald Trump for the Oval Office might make entertaining fodder for social media, but would not be good for the United States, said Cokie Roberts.
A longtime political reporter and commentator for ABC News and National Public Radio, Roberts said entertainers should stick to what they know best and stay out of the political arena.
Roberts spoke Thursday evening at Stambaugh Auditorium on Fifth Avenue during a program co-hosted by WYSU-FM and St. John's Episcopal Church on Wick Avenue.
Before her scheduled lecture, Roberts spent time answering questions from local media. Among the questions: What are her thoughts about celebrities and entertainers who segue into political office?
In short, she doesn't think much of it.
Besides Trump, she pointed to former President Ronald Reagan, former governors Arnold Schwarzenegger of California and Jesse Ventura of Minnesota, former U.S. Sen. Al Franken of Minnesota and former U.S. Sen. George Murphy of California as but a few examples of people who went from treading the boards to stumping for votes.
"People get into politics for all kinds of reasons, and people elect them for all kinds of reasons. Someone well-known is attractive to the political structure," Roberts said. "It's not a new phenomenon. Whether it's one I welcome is another story."
So the natural follow-up question was, does she welcome it?
"No," was her quick, terse response. "I think experienced politicians know how to do the job better."
Roberts, who has written several history books, said Trump's presidency has been "different in every way" from every other presidency. While it's not uncommon for the relationship between a president and the media who covers him to be contentious at times, Trump's outright attacks on the mainstream media, often accusing journalists of fabricating news, are unprecedented, she said.
But, Roberts said, she believes Trump's constant salvos launched toward the media have awakened a sleeping giant.
"I think that after years of kind of just gliding along, the mainsteam media is really on its toes now," she said. "They've been very thorough with checking his statements and keeping him accountable."
She did credit Trump with tapping into voter frustration on his way to election in 2016.
"You've got working-class people who are out of work, their jobs are not the same. People are very frustrated," Roberts said. "Trump spoke very much to those concerns, and that connected with people."
Roberts also addressed the Me Too movement, during which women have begun openly speaking out about sexual abuse and harassment by power men in politics and entertainment. She's not surprised at the number of men who've been caught in the crosshairs and said there could be many more, if women continue to come forward.
"I think there are a lot of men out there who are quaking in their shoes," she said. "And not just in politics."
She said the Me Too movement is "a very interesting inflection point in our history," and one that actually could lead to something positive.
"I hope it results in more and more women running for office, because that's how you start to change policy," she said.
Roberts said her visit to Youngstown wasn't her first.
"Youngstown is always an important place to come during a political campaign, and I've covered a lot of important political campaigns, so, yes, I've been here before," she said. She specifically recalled covering stories involving former area congressman James A. Traficant Jr. and his predecessor, Lyle Williams.
Tricia Perry, funding officer at WYSU, said the station was thrilled when Roberts agreed to come to town. "We just asked and she said, 'Yes,'" Perry said.
More like this from vindy.com