The Austintown library offers doggone helpful reading program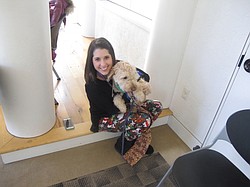 Photo
Neighbors | Zack Shively.Pictured is Dana Patrick and her dog, Reese, at the "Read to Reese" event at the Austintown library on Dec. 9. Patrick works as a second-grade teacher at Austintown Elementary School and her dog has been certified as a therapy dog. They help children read better independently through their monthly program.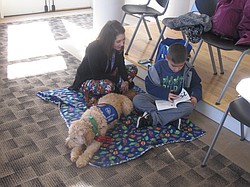 Photo
Neighbors | Zack Shively.The Austintown library has a "Read to Reese" program every second Saturday of each month for children to read to a trained therapy dog and grow as independent readers. Pictured, Enrique Martinez read to therapy dog Reese and Dana Patrick.
By ZACK SHIVELY
The Austintown library gave children a chance to read to a therapy dog in their small meeting room on Dec. 9.
Dana Patrick, a second-grade teacher at Austintown Elementary School, brought her dog, Reese, to the library. A wide-range of school-age children take the opportunity to practice their reading skills with the dog.
Patrick said reading to the dog helps the children step away from their parents and gain some experience and confidence reading independently. The dog helps remove the stress of reading for some students while Patrick's experience as an elementary teacher allows for students to get help with certain words from someone who is trained to help children.
The children choose their own books to read, though the library will offer a few books on the table outside of the meeting room. The library tries to put a theme to the stories they offer, such as holiday books in December.
Reese is a trained therapy dog certified from Pet Partners. He has been certified for four years.
Patrick asked the library to bring in the program about two years. Since then, they have gotten around 12 children signed up for the program every month. The program runs every second Saturday in the month.
More like this from vindy.com