Speaker takes audience around the world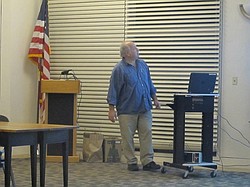 Photo
Neighbors | Zack Shively.Tim Seman, a genealogy librarian at the Main library in Youngstown, gave a presentation at the Austintown library on Dec. 7 on Christmas traditions throughout the world including countries such as South Africa, India, Australia and Italy.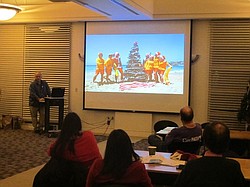 Photo
Neighbors | Zack Shively.The presentation, both fun and informative, was the finale of Seman's genealogy programming throughout the PLYMC. He asked the audience about their own Christmas tradition and explored his own as well.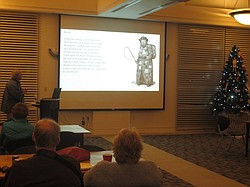 Photo
Neighbors | Zack Shively.Tim Seman's presentation focused on the mythology of certain traditions. Pictured, he explained the companions of St. Nicolas in Germanic regions.
By ZACK SHIVELY
The Austintown library had a speaker give a talk titled "Jingle Bell Genealogy" on Dec. 7 about Christmas traditions from other countries and cultures.
Tim Seman, a genealogy librarian at the Main library in Youngstown, researched how other cultures celebrate Christmas. His research led him to creating the "Jingle Bell Genealogy" presentation he gave at the library.
Seman said the event allowed him to end the year in a festive manner while getting feedback from the audience about the types of genealogy programs they want offered throughout the PLYMC.
He took the audience around the world one continent at a time, beginning with Africa. While in Africa, he explained a few countries that celebrate Christmas, like Nigeria and South Africa. South Africa, as well as other countries in other continents, observe Christmas the way the British or Unites States do because of imperialism.
He showed humorous pictures of people near the equator celebrating Christmas on the beach, as well as Australians observing the holidays during their summer season. While talking about Australia, he explained the meaning of Christmas Island, which was named on Christmas Day.
Some countries, such as China, do little in terms of celebration for Christmas. Other countries, like the Philippines, do a great deal of celebrating for the holiday. According to Seman's findings, the Philippines begin their Christmas celebrations as early as September.
He talked about the older mythology of Christmas in Europe, where St. Nicolas was said to have companions, such as Knecht Ruprecht and Krampus. Both would beat misbehaved children, and Krampus would even abduct children and send them to the underworld.
Throughout the various cultures, Seman found ties connecting their celebrations. Most cultures have traditions involving the family to bring them closer together. Many also observe Christmas to coincide with the solstice, using light in their traditions.
After he finished his presentation, he talked about some of the Slavic and Polish traditions his families took part in. He also said that he celebrates other traditions with friends outside of his heritage.
He finished his talk by speaking about the different resources available at the library for genealogy research. He told the audience to contact him with any questions about genealogy and made note that he has genealogy programs monthly throughout the year.
More like this from vindy.com