Tressel isn't interested in running for Senate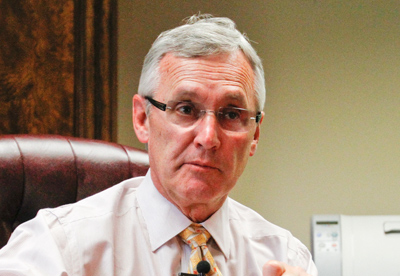 ---
YOUNGSTOWN
Ohio Republicans are attempting to recruit Youngstown State University President Jim Tressel to run for the U.S. Senate, according to a report.
But Tressel tweeted that he's remaining at the university.
The Washington Examiner reported that Tressel has not expressed interest in the seat, but that hasn't stopped top Republicans from hoping he would entertain the idea of a campaign.
One anonymous Republican is quoted in the article saying about Tressel: "I wish he was" interested.
Tressel, YSU president since 2014, couldn't be reached by The Vindicator on Thursday to comment.
But he wrote on Twitter: "Appreciate so much the kind words regarding the US Senate campaign. Such an important role. Admire what our Senators do. Ellen [his wife] and I are committed to continuing our work at YSU. Much accomplished. Much to do! #YandProud #AmericanandProud"
"He's obviously a great campaigner because you've got to work hard to recruit young talent against everybody else," U.S. Rep. Dave Joyce of Russell, R-14th, told The Washington Examiner. "Tressel's certainly an interesting idea."
Meanwhile, Republican U.S. Rep. Jim Renacci quit the gubernatorial race Thursday to run for the Senate.
In a letter to supporters, Renacci said he was invited to a meeting at the White House – it occurred Wednesday – "at which I was asked to help protect the future of President [Donald] Trump's agenda by entering Ohio's 2018 race for the United States Senate. While my strong distaste for Washington and the political establishment is as fervent as ever, so too is my commitment to advancing the president's agenda for a stronger and more prosperous America. And for that reason I've agreed to answer the call to service and enter the race for United States Senate."
Last Friday, state Treasurer Josh Mandel made a surprise announcement that he was quitting the U.S. Senate race because of an illness to his wife.
That left investment banker Mike Gibbons as the only Republican candidate for Senate before Renacci's announcement.
On the Republican side, it becomes a race between two staunch Trump supporters.
Gibbons, who's served as a Trump campaign finance chairman, said: "Only an outsider can beat Sherrod Brown. The last thing the voters of Ohio want is another opportunistic career politician who's only looking to jump from one office to the next – and Jim Renacci can't even decide what office he wants to jump to."
Also, there are reports that J.D. Vance, author of "Hillbilly Elegy," is considering a Senate run as a Republican.
Incumbent Sen. Sherrod Brown, a Democrat, is seeking his third six-year term.
Brown's campaign reported raising more than $2.6 million in the fourth quarter of last year and entering this year with $9.8 million cash on hand, double what the campaign had going into 2012.
"Rep. Jim Renacci is the poster boy of Washington Republicans who've spent their time in office betraying middle-class workers to make life easier on the wealthy and well-connected," said Jake Strassberger, Ohio Democratic Party spokesman.
In the governor's race, Dayton Mayor Nan Whaley is withdrawing today from the Democratic primary and will endorse the ticket of Richard Cordray and Betty Sutton.
More like this from vindy.com