Freezing rain, snow expected to pummel region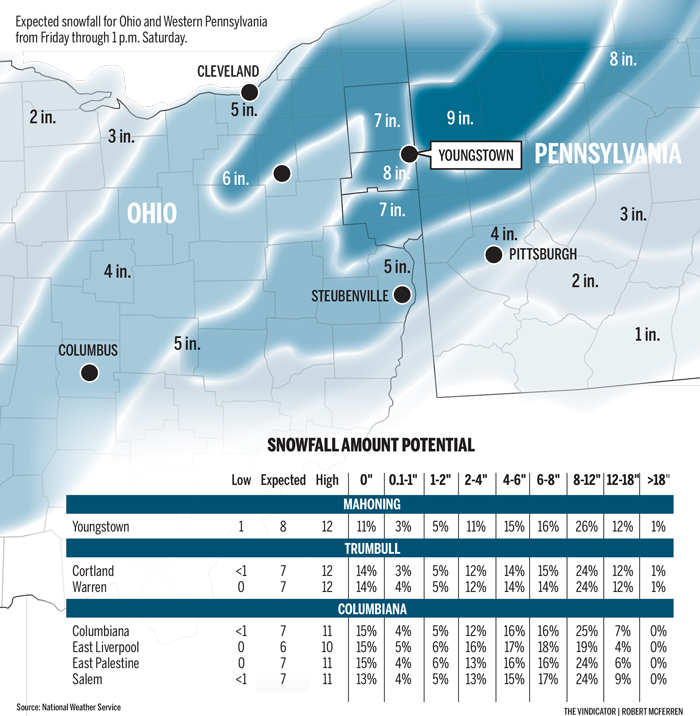 ---
By David Skolnick
YOUNGSTOWN
After an unseasonably warm Thursday, the weather in the Mahoning Valley is about to get ugly – fast.
Today "is not a day to be out if you can avoid it," said Jess Briganti, weather anchor for "WFMJ Today," the morning show of The Vindicator's broadcast partner 21 WFMJ-TV. "It is going to be quite a dicey afternoon for people. This is weather you don't want to deal with if you can help it. It's not a day to be out."
It's going to rain until 11:30 a.m. or noon with a high in the upper 40s in the morning, but the temperature will drop all day. The rain will turn to freezing rain between noon and 1 p.m. and fall until about 6 p.m., Briganti said.
From there, the area will get sleet until about 7:30 or 8 p.m. and then snow, she said.
And it could be a lot of snow.
On top of the 0.1 inch of freezing rain, about 4 to 8 inches of snow is expected. More than 8 inches is expected in the northern parts of Trumbull and Mercer counties, she said.
If the storm goes the wrong way, the amount of snow can be as much as 12 inches and even more in the snowbelt areas. Also, there could be more freezing rain, Briganti said.
"It's still changing; it's still an ongoing hour-by-hour update," she said. "There's potential for some pretty dangerous road conditions. It will be white-knuckle driving home Friday."
The snow won't stop until about 6 a.m. Saturday.
"Then the cleanup begins," Briganti said.
The snow won't melt because it's going to be cold for the next several days.
The high Saturday will be only near 20 degrees with a low around 4 at night.
"It's going to be just miserable," Briganti said.
The high temperature for Sunday will be about 17 with a low around 4. For Monday, the high is expected to be about 24 degrees with a low of 12.
The impending freezing rain and snow already have resulted in some parking bans.
There are bans in effect in Struthers and Campbell for 6 p.m. today to 6 p.m. Saturday. In Liberty, the ban is from 5 p.m. today to 8 a.m. Sunday. Niles has a ban starting at 3 p.m. Friday and going until noon Sunday.
In addition, local schools will dismiss students two hours early today due to icy weather conditions.
Some of the early dismissals include Boardman, Canfield, Jackson-Milton, Youngstown and Austintown schools.
Several after-school events are canceled including both Austintown and Canfield basketball games.
More like this from vindy.com