Elementary students learn Spanish after school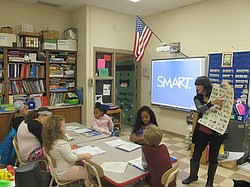 Photo
Neighbors | Zack Shively.Market Street Elementary School offers Spanish classes after school for students who want to learn the language. Pictured, instructor Enid Maldonado reviewed the Spanish alphabet with the students.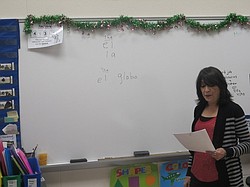 Photo
Neighbors | Zack Shively.The students at Market Street Elementary's after school Spanish program learn basic Spanish lessons. The class is open to students from first to fourth grade, with kindergarten students joining by request.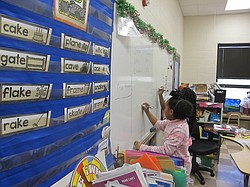 Photo
Neighbors | Zack Shively.Enid Maldonado kept a laid back approach to teaching the Spanish class, with group work and games. Pictured, students played Pictionary using the words they learned during the day's lesson.
By ZACK SHIVELY
Students at Market Street Elementary School met after school for a lesson in Spanish on Dec. 6.
Enid Maldonado teaches children weekly in an after-school program to teach them the Spanish language. They learned about nouns and the gender of words in Spanish.
She said she wants the lessons to let "the students to know that there's nothing they can't do." She makes everything positive in the lesson. She said they can not learn if they do not make mistakes.
The students learn very basic Spanish skills since they are elementary students. For example, they learned the Spanish words for book, clock and calendar during class. They also placed "el" and "la" before the words depending on if the words are masculine or feminine in the Spanish language.
However, Maldonado does give extra lessons to students that want them. One of her students has learned to conjugate some Spanish words and speak in multiple tenses, which most students will not do until they are in middle or high school.
She uses multiple forms of instruction in the class. She gives them worksheets that they work through together. The students received a Spanish workbook to help them learn. She incorporates games into lessons to let the students have some fun while learning. She works concept the students already learned into future lessons to continue to review those concepts.
She said she keeps a laid back environment for the classroom. For example, if the students begin to struggle, she will have them partner up to alleviate some of the stress they feel.
Maldonado began the program in Canfield schools in 1996. Once that program disbanded, she created her own program at a number of schools, including Market Street Elementary. The program runs for 21 weeks at the elementary. She also offers the program at Center Intermediate School and Glenwood Junior High School.
More like this from vindy.com