Class of 2018 hosts annual craft show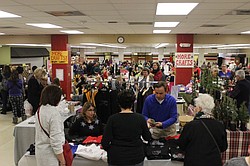 Photo
Neighbors | Abby Slanker.Thousands of shoppers browsed the more than 200 vendors throughout the day at the Canfield Senior Class Craft Show on Dec. 2.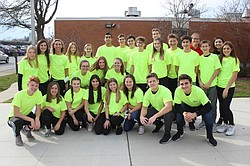 Photo
Neighbors | Abby Slanker.Canfield High School students from all grade levels volunteered to help with the 29th annual Canfield Senior Class Craft Show on Dec. 2.
By ABBY SLANKER
The Canfield High School class of 2018 hosted the school's 29th annual Senior Class Craft Show on Dec. 2. The show, which offered 202 vendors, is the sole senior class fundraiser and attracted thousands of shoppers throughout the day.
The vendors offered a variety of wares, including holiday items and crafts, jewelry, homemade jams and jellies, homemade baked goods, handmade hats and sweatshirts, scarves, gloves and mittens, homemade soaps and lotions, wooden birdhouses, framed original prints, homemade candles and blinged out T-shirts and sweatshirts.
Senior class co-advisors Anthony Holben and Candy Reed helped the senior class officers plan the event.
"The money raised here today will go toward helping to pay for two dances sponsored by the senior class, our graduation ceremony, gifts to the school, including the senior class gift, and local charities," Holben said.
With about 180 students from all grades helping throughout the day, Senior Class Vice President Tina Maalouf also acknowledged the parents who help with the craft show.
"Senior class parents help us out in all areas of the craft show. They attend meetings prior to the craft show to help plan it and are in charge of the 50/50 raffle, concessions and the Chinese auction. While we have many students helping us today, it is the parents who really deserve a huge thank you for making this fundraiser a great success," Maalouf said.
Senior class Executive Committee Members Connor Dye, Alana Petracci and Amanda Petro agreed that all the hard work put into the craft show pays off in the end for the senior class.
"It is a rewarding experience to be able to help with the craft show which raises money for our dances, graduation, the school and local charities," Dye said.
"It is a long process, but in the end it's all worth it because this craft show raises money to help our senior class," Petracci said.
"We offer to any senior who works four hours at the craft show to have his or her graduation cap and gown paid for. This really helps to bring in the volunteers and gives them the opportunity to help their class. We have about 180 student volunteers here today," Petro said.
A group of 40 student volunteers, referred to as the A-team, will put in about 15 hours between setting up for the craft show the day before, working the show the day of and tearing down when the show is over. Students can earn service hours for their time.
"I think this is one of the highest number of A-team members we've had," Maalouf said.
More like this from vindy.com