Texas administrator training to be Canfield city manager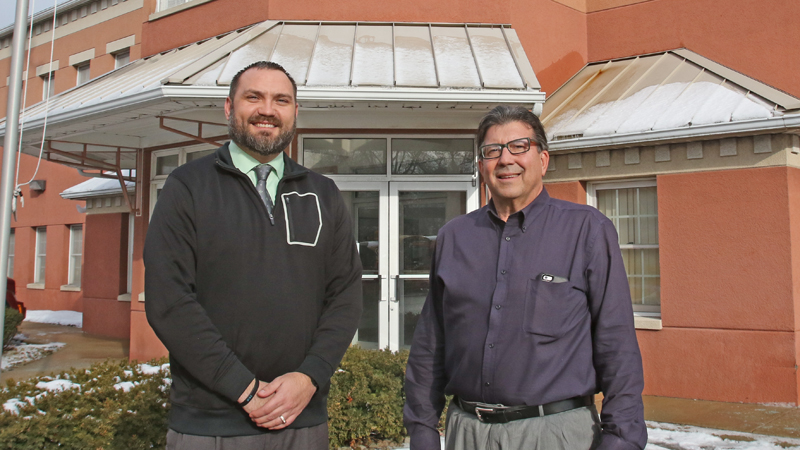 ---
By BILLY LUDT
bludt@vindy.com
CANFIELD
Canfield's new city manager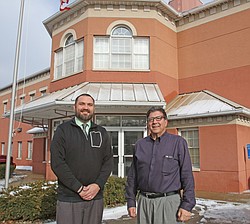 Video
Ellsworth native Wade Calhoun, left, from Dalworthington Gardens, Texas, is Canfield's new city manager, replacing Joe Warino, who is training him.
Wade Calhoun, incoming city manager, was given a proper Mahoning County greeting when he arrived in the state Jan. 1: freezing weather.
"Welcome to Northeast Ohio," outgoing city Manager Joe Warino said.
Calhoun is the former city administrator for Dalworthington Gardens, Texas. He's currently training with Warino, getting up to speed with the ins-and-outs of Canfield's city government.
Calhoun was born and raised in Ellsworth, graduated from Western Reserve High School and earned his degree in political science and public administration from Youngstown State University in 2005 before moving to Texas.
After about 10 years in Texas, Calhoun felt compelled one morning to open up the Ohio Municipal League's website to look at job listings. There he saw the job posting for city manager.
"It's one of those rare opportunities in local government to do what you love in a city that you know," Calhoun said.
Calhoun was selected by a search committee composed of current and former city council members and community members.
Taking over, Calhoun plans to focus on economic development in the city through different means: commerce, residential or business. From his experience in Texas municipal government, Calhoun said drawing businesses to cities is a shared concern.
"Having that experience and having that goal for the city of Canfield will bode well – having that outsider perspective," he said.
Calhoun's also taking the position with three new members of city government: Council members Christine Lucarell-Oliver and Bruce Neff, and Mayor Richard Duffett.
The most immediate major issue facing the city, Warino said, is another proposed joint economic development district and additional annexation of Canfield Township land. Warino said the JEDD and annexation was a point of focus of training Calhoun over the last week.
This possibility was something covered during interviews for the position.
"It's nice to be able to have a family, to be in a community that has all the check boxes you look for when you're looking for a community to move your family," Calhoun said.
After nine years in the position, Warino said it just felt like his time as city manager was done. He and his wife Linda both worked from the time they were 15, and Warino worked positions and had offices in local government since the 1970s.
All three of the Warino children live out of the area, and they're kept busy traveling to see their eight grandchildren.
"You don't want to miss out on stuff like that," Warino said. "You just can't work this job at 50 percent."
So he's looking forward to having some time off. But Warino said he's confident Calhoun can pick up where he left off as city manager.
"I again feel very fortunate to bring Wade back here to the [Mahoning] Valley," Warino said.
Accomplishments Warino reflects on from his time as city manager are two projects funded fully through outside means, and not city money: complete replacement of signal lights in the city, and improvements on North Broad Street, the latter project valued at $1.6 million.
More like this from vindy.com