Mohip pleads for more progress, stands by dire outlook remarks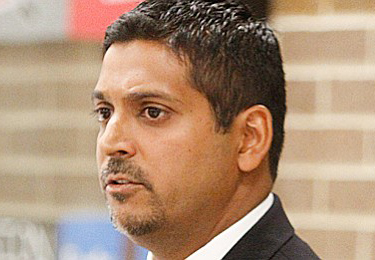 ---
YOUNGSTOWN
Mohip addresses private comments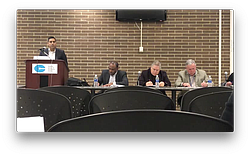 Video
Youngstown schools CEO Krish Mohip begins his CEO Update Meeting by addressing comments made public that he made during a private principals' meeting Monday.
Youngstown City Schools CEO Krish Mohip said he stands by a grim future for the district he forecasted at a private Monday meeting with principals.
"I wanted to try to hammer home the reality that could exist if we fail," he said during Wednesday evening's CEO Update Meeting. "I was painting a picture of reality of what failure looks like."
Mohip said his comment should not have been made public, but he stands by it.
It came out during Tuesday's regular board of education meeting. Board member Jackie Adair said a person who attended the principals meeting Monday told her Mohip said, "There is a 60 percent chance I won't be here next year and 90 percent chance Youngstown [schools] will be turned into a charter school district by then."
Mohip told district spokeswoman Denise Dick on Tuesday that he said something along those lines in a "heat-of-the-moment discussion," but was unsure of his exact wording and the percents he mentioned.
"We do live in a reality where failure could mean charter [school]," he said Wednesday. "I don't believe that public education can fail. I never set out on my course in education to be anything but a transformational leader in public education."
Mohip also took the time to respond to school board members' pleas for information also made during Tuesday's meeting.
"I want to know what is or is not going on in the school district," Adair said Tuesday. "I have not heard a mumbling word about the last state report card. Where do we stand on reading and math scores? Science teachers need to bring sleeping bags to school and never leave, based on the abysmal science scores we have."
Mohip said he was taken aback because the information Adair referenced has been reported during CEO Update Meetings, in the news and on the district's website.
"You have to come to our meetings to see that," he said simply.
More data will be available in the coming months once students take their midyear assessments at the end of this month, said Tim Filipovich, district curriculum executive director.
"You'll be able to see that growth from the beginning of the [school] year until now," he said.
Parents also will soon be able to see their students Preliminary Scholastic Assessment Test, PSAT and National Merit Scholarship Qualifying Test scores.
Filipovich announced that the results came in and each school building will soon be mailing them home with documentation to help parents better understand what the scores mean.
Soon there will be a system put in place for students to practice their skills to hone their scores.
"We are working on getting a system going so students can ... have a personalized learning plan developed to try to improve their scores," Filipovich said.
More like this from vindy.com