Nationwide shortage of IV products impacts several Valley hospitals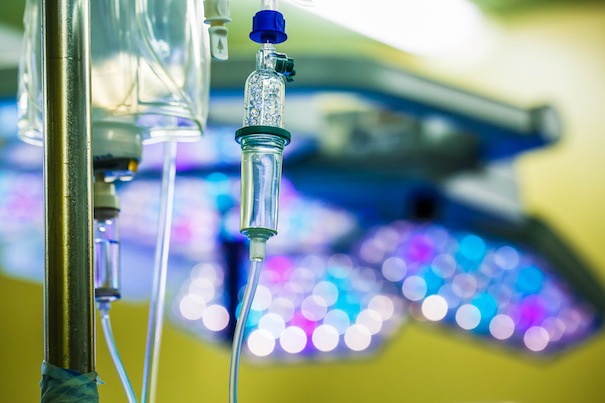 ---
FDA believes issues will start to ease over the next few weeks
By Kalea Hall
YOUNGSTOWN
Hurricane Maria's impact has hit home.
Local hospitals report a shortage of intravenous products that are made in Puerto Rico.
Both Mercy Health and Akron Children's Hospital said they have a shortage of IV products produced by Baxter International Inc., a global health care product company, whose manufacturing plants lost power in the Caribbean island.
"Restoring reliable product supply for our patients and customers remains our priority, and we are making progress on the road to a full recovery of our operations," the company said in a statement sent to The Vindicator on Wednesday.
The shortage is a nationwide issue and concern of hospitals, especially since it is flu season.
The U.S. Food and Drug Administration said last week it believes shortages will start to ease over the next few weeks, but stressed "the production situation in Puerto Rico remains fragile."
Baxter operates three manufacturing facilities in Puerto Rico.
Two of these facilities are involved in the production of IV solutions. Baxter manufacturers "MINI-BAG," or small-volume parenterals, medicine or liquid that is injected under the skin, and "MINI-BAG Plus Container Systems."
All the facilities are connected to the electric grid and are running. The last facility was connected in late December.
"Reliable and stable electric power is key to our ongoing efforts to restoring sustainable manufacturing operations," the company statement said.
"All facilities will continue to have backup diesel generation in case of power interruptions, which still occur."
Mercy Health, which operates St. Elizabeth Youngstown Hospital, St. Elizabeth Boardman Hospital and St. Joseph Warren Hospital, said it has shortages in small-volume IV solutions for normal saline and dextrose, select types of large volume IV solutions, parenteral nutrition solution products, some types of irrigation solutions and injectable pain medications.
"Within the Mercy Health-Youngstown region, weekly inventory reviews of on-hand solutions and pain medications are assessed and where possible, physicians have been able to substitute oral therapy and solutions to conserve IV bag use," said Barry Shick, chief pharmacy officer for Mercy Health in a statement.
Akron Children's Hospital has a shortage of IV saline bags manufactured by Baxter.
"Patient care has not been affected in any way, but we are concerned that supply levels have not improved since September," said John Lepto, director of pharmacy for Akron Children's.
"We are carefully monitoring the situation and looking at all of our options, given that we are in the midst of influenza season."
Steward Health Care, which operates Trumbull Regional Medical Center, Northside Regional Medical Center and Sharon Regional Medical Center and Hillside Rehabilitation Hospital in Howland, said it has "never had this national shortage affect any aspect of patient care here locally."
Baxter noted that contrary to some reports, it does not manufacture its large volume solutions in Puerto Rico.
To help support the U.S. market facing short supply of products, Baxter worked with the FDA to import certain products, including small-volume parenterals, from Baxter facilities in Ireland, Australia, Canada, Mexico, England and Italy.
Baxter has brought in additional units to the U.S. market through a recent permanent approval from the FDA for IVs produced in a Baxter North American manufacturing plant.
The company expects products made in Puerto Rico to return to more normal supply levels in coming weeks. In addition to the impact from Hurricane Maria, Baxter also faced higher product demand for crisis situations with the Las Vegas shooting and the California wildfires.
On Monday, federal officials said more work crews and supplies will be arriving in Puerto Rico in coming weeks to help fully restore power to the island.
Contributor: Associated Press contributed to this report.
More like this from vindy.com