Top Hat theater presents Driving Miss Daisy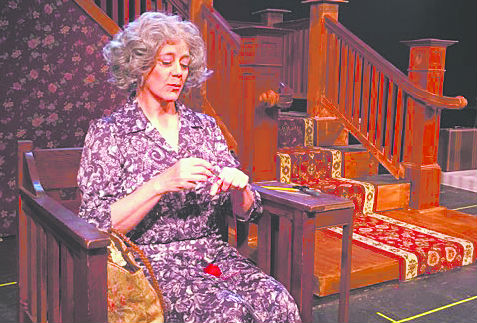 ---
By GUY D'ASTOLFO
YOUNGSTOWN
There are a few reasons why "Driving Miss Daisy" is a good fit for Top Hat Productions.
The Pulitzer Prize-winning play that became an Oscar-winning film has familiarity and pedigree, but certainly isn't overproduced on the community level.
It's also in keeping with Top Hat's effort to add plays to its lineup, which is usually all musicals (the only other play the theater has ever done was "The Boys Next Door" in 2011).
But "Driving Miss Daisy" also has an uplifting message that is in tune with the times.
The play's two main characters find common ground and friendship, despite their differences in race, religion and social class.
Top Hat's production of "Daisy" opens Friday at its theater on Youngstown Poland Road and runs for four performances.
Brian Palumbo is the managing director of the theater company and is also helming "Daisy." He believes the time is right to put the show on his stage.
"A lot of things are happening in our country right now," he said. "For some reason, politics or whatever, the world is not as tolerant and is more on edge. It feels like we are going backwards instead of forward."
The show is set in Georgia in the post-war years up to the 1960s; it's the civil- rights era and a time of sharp change in the Deep South. Racism and discrimination are among its themes.
"It's about [an unlikely pairing] of people who see through their differences and become best friends," said Palumbo.
The stage version of "Daisy" is very similar to the film, but sharpens its focus by having just three characters. Connie Cassidy plays "Daisy" Werthan, the elderly Jewish widow; DC Colvin plays Hoke Colburn, her African-American driver; and Mike Robinson plays Boolie, Daisy's son.
"That's how it was done on Broadway," said Palumbo. "Everyone else that is in the story is talked about, but they are not present."
Every scene that is in the movie is also in the play, with lighting and some projection and other theatrical techniques employed to move the story along.
"It goes from the car rides, to a trip to the Piggly Wiggly [store], to a Christmas party," said Palumbo. "It doesn't miss any element that the movie had."
Much of the action takes place in Daisy's living room, and Top Hat has put together an attractive set that recreates the interior of a stately old home.
In Palumbo's opinion, the live version offers more than the film, which won the Oscar for Best Picture in 1990.
"I loved the movie but I feel like with any show in our theater you will be right there, a part of the story, with maybe 100 other people and there isn't a bad seat. When you experience it live, you experience it more."
Up next for Top Hat will be a late February dinner-theater production of "Mangia," which includes an Italian meal.
That will be followed by the Easter musical "The Upper Room," which was co-written and composed by Palumbo and Robert Noble of Struthers.
"It's taken from an angle never seen before," said Palumbo. "Christ is never in the show. It starts from when the apostles run from the garden in fear and tells the story in a backhanded way where everyone sees it from a different angle."
More like this from vindy.com