Struthers robotics class takes on the world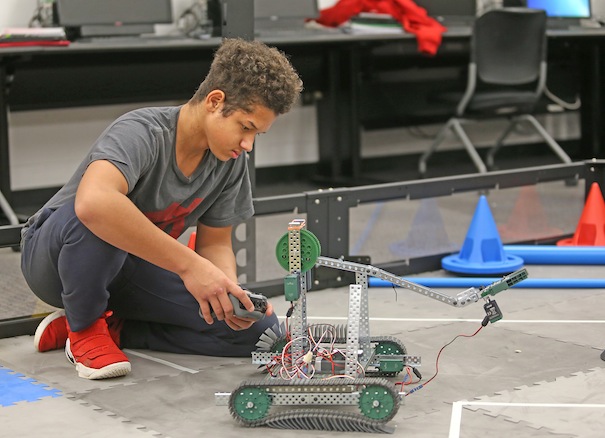 ---
STRUTHERS
In a 12-by-12-foot ring, a rectangular, treaded robot zipped around the floor, its mechanical arm opening and closing around the edges of yellow cones scattered about the enclosure.
The robot was controlled by one of 16 Struthers High School students enrolled in the school's robotics program, and they were practicing for an upcoming competition.
Mike Donatelli, an autocad and robotics teacher at Struthers High School who leads the class, said the program incorporates programming, fabrication and critical thinking, and gives the students a fun and practical outlet for testing the skills they've acquired.
"We're participating in a program called the Vex Robotics Competition, which is actually a worldwide competition. We just had our first competition, so we took six robots in to compete. Now we're working to improve their times," Donatelli said. "On top of the technical skills they learn, the process of designing and building and improving the robots helps develop the students' teamwork and problem solving skills."
During competitions, the students' robots compete by stacking and moving colored cones against a timer, with points awarded for the number of cones stacked and the number of cones moved into specific scoring zones. Robots from opposing teams stack at the same time, and can interfere with each other's progress for the duration of the match.
The program was made possible through a $10,000 donation from the Struthers School Foundation. The foundation has awarded more than $140,000 in grants to programs in the Struthers School District since 2003.
Dontre Mastronarde, 16, and Nicolas Lupi, 17, are two of the students participating in the robotics program this year.
For Mastronarde, the draw to the program was as much a creative outlet as it was a technological one.
"I'm fascinated by robots. I like building and I like being creative and seeing how things work," he said. "We get to see our work in action. It's all fun for me."
Lupi, an Italian exchange student who is returning to Italy next year, said when he returns home he may continue to pursue programming and robotics in the future.
"I like robots and seeing our work come to life," Lupi said. "I have a year of school left once I'm back home but I may continue to pursue engineering after."
Andrew Hirt, vice president of the Struthers School Foundation, said the group was committed to funding special programs like Donatelli's class because they help the students learn to think outside the box and solve problems on their own.
"We don't want the kids just memorizing information. We want them developing their own problem- solving methods," he said. "We want to make smart kids here in Struthers."
More like this from vindy.com