Cardinal Mooney rallies to topple Warren JFK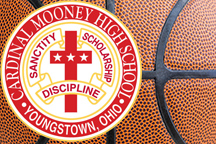 ---
Mooney rallies to topple JFK
By Dan Hiner
youngstown
With over three seconds left, Cardinal Mooney's Pete Haas fought around a screen at the left elbow. Haas caught the ball and put up a 3-pointer over two Warren JFK defenders to tie the game at 57.
Warren JFK shot 33 percent in overtime, only hitting 3 of 9 shots as Mooney went on to beat the Eagles 68-64 in overtime Tuesday night.
"I thought we were ready for this moment because in practice we would do stuff like this," Haas said. "We were just hungry for a win and we got it."
Mooney's Anthony Fire scored five of his 11 points for the Cardinals (1-6) in overtime. Fire also grabbed 10 rebounds for a double-double.
The Cardinals scored six points in the final 30 seconds of regulation. The run began after Warren JFK's Hyland Burton picked up a technical foul with 30 seconds left.
"We've been in so many of those games this year," Cardinal Mooney head coach Carey Palermo said. "We were in a four-overtime game the first game of the year. We played an overtime game last week. Five of our six games have been decided by six points or less.
"I'd like to say we have enough experience. I'd like to say I don't think anything will faze us the rest of the year."
The Cardinals stayed in the game in the first half after playing Vinny Gentile off the bench. Gentile created a matchup problem for the Eagles in the paint due to his size and finished with six points, two steals and a block.
"Vinny's been starting for us all year," Palermo said. "We kind of wanted to switch things up and bring him off the bench to give us a little bit more energy, a little bit more size when he comes in. He was the guy in there blocking shots, rebounding, finishing underneath."
Warren JFK (4-4) led 34-22 with 2:31 left in the second quarter. But the Cardinals went on a 6-0 run to end the first half, including a buzzer-beating 3 from Johnny Murphy to cut the lead to 34-28.
Tyler James led Warren JFK with double-double. James scored a game-high 21 points to go along with 12 rebounds and three blocks.
In a season filled with tight games, Palermo said Tuesday's win was the first time his team finished a game.
"We just hung around. We've lost four of our six games where we've had the lead with three minutes to go in the fourth quarter," Palermo said. We've just haven't been able to finish games. Tonight we finished the game. That's been our theme the last couple weeks, just finish quarters off."
Palermo credited Warren JFK for its offense and said they are "one of the best offensive teams in the area."
Warren JFK head coach Mark Komlanc took responsibility for the loss.
"We kind of get lackadaisical and we don't value the small things in the game," Komlanc said. "We improved a little bit defensively from game to game with our rebounding, but tonight we were in position to box out and we just kind of stood there. And that killed us in the second half. I told them in the fourth quarter, 'If we don't rebound the basketball and keep them out of the lane, we are gonna be in for a dog fight.'
"We just let them hang around. I mean it's on me. I just can't let them think they're good enough to just show up and win."
More like this from vindy.com