Celebration for Al Adi Saturday Jan. 6 was a success
---
Al Adi PArty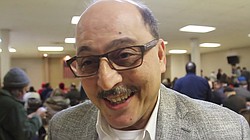 Video
Al Adi who owns a popular Youngstown store and eatery celebrated with friends, family and supporters after getting a stay of deportaion.
LIBERTY
What would have been a sad farewell for family and friends of Youngstown businessman Al Adi became a joyous celebration Saturday night after Adi was granted a delay of his federal government-ordered deportation set for today.
Hugs abounded, including one from Heider Haddad, 7, son of Fawzi and Karma Haddad of Mineral Ridge.
While wrapped in Ali's arms, Heider whispered: "Congratulations for staying in America."
"Tonight was to be a goodbye party. But once we got the stay, we wanted to keep it going. There is still a big fight in front of us. We have to be alert and on our toes," said Adi, who was born Amer Adi Othman in Amman, Jordan.
"This is my city, and this is my country. I'm not going nowhere," said Adi, drawing a standing ovation from the crowd packing the Arab American Community Center on Belgrade Avenue.
Adi said he expects to learn what his next step is at a meeting Jan. 16 in Cleveland with the U.S. Immigration and Customs Enforcement, which recently fitted him with an ankle bracelet to track his every move.
Adi said he is not relaxing.
"I don't want to think of anything except being alert," he said.
When asked if he would pursue U.S. citizenship if he were to be granted permanent residency status, he said: "Definitely. It's my right and I should do it."
Adi has lived in the U.S. 38 years, and most of that time in the Youngstown area. He has two businesses in downtown Youngstown: The Downtown Circle Convenience and Deli, which he opened in 2011, and the Circle Hookah Bar, which opened in 2015. Local business and government leaders have credited him as one of the driving forces behind the annual Arab American Festival of Youngstown and the renaissance of the city's downtown.
During his many years in Youngstown, Adi has earned the respect and friendship of a large number of people, including elected officials, some of whom spoke at Saturday's event.
This is a story about a community standing up for something that is right and opposing what is wrong, said one of the speakers.
Youngstown State University President Jim Tressel, in a note to Adi read by Mousa Kassis, a member of the center's executive committee and master of ceremonies for the event, said "Youngstown is a better place because of Adi's efforts."
Adi has also attracted bipartisan support for his cause.
Tracy Winbush, vice chairwoman of the Mahoning County Republican Party, said this is not about politics; it's about making the bad people leave and helping the good people, like Adi, stay. This is about an immigration policy that is broken and needs to be made fair, she said.
"I'm a Republican. So what? This is about people. We need to start working on systems. This fight is not over. I'm not in a battle, I'm in a war. I want Adi to have a path to citizenship," Winbush said.
"This is monumental, historic," said U.S. Rep. Tim Ryan of Howland, D-13th, of Adi's fight to stay in the U.S.
"I want to tell you this is a good country because we love each other and help each other. I've never been more proud to say that's my town, and that beneath all the noise, this is what America is all about. Diversity is our greatest strength," he said.
"I'm so proud of this community. We have to remember that voting does matter and that each vote counts," said state Rep. Michele Lepore-Hagan of Youngstown, D-58th.
Introduced as the "man of the hour," Adi, after introducing his wife and children, thanked and praised elected officials in attendance.
"Tracy Winbush has great love for this community," he said.
"You have no fear," he said of Rep. Ryan. "You say what you believe and are always helping people in need," Adi said.
He also thanked Youngstown Mayor Jamael Tito Brown for his help.
"Every day you came to the store and said, 'What can we do?'" Adi recalled.
More like this from vindy.com