New Boardman police chief plans to build on work of predecessor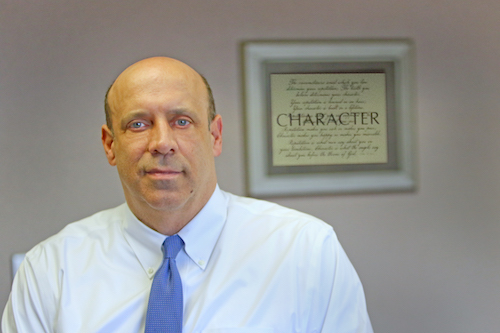 ---
Todd Werth_Boardmans Top Cop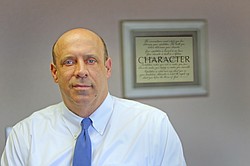 Video
Todd Werth, the township's new police chief, said he inherited a well-run organization and will continue on the path set by retired Chief Jack Nichols.
YOUNGSTOWN
Although a new leader is at the helm of Boardman Police Department, don't expect an upending of the ship.
Todd Werth, the township's new police chief, said he inherited a well-run organization and will continue on the path set by retired Chief Jack Nichols.
"I'm fortunate to come into a department made up of great people. It's very well led. It's very well supported by the administration and trustees. It's about continuing that and seeing where I'm at," he said.
Werth, a longtime township resident who recently retired as head of the local Federal Bureau of Investigation office, sat down with The Vindicator last week to discuss his background, his goals as he begins the job and his approaches to leadership and law enforcement.
COMMUNITY TIES
Werth grew up near Niagara Falls, N.Y.
He enlisted in the Army in 1988, and left nine years later as a captain. He then attended the FBI Academy, and was assigned to the Cleveland division, which oversees Northern Ohio. In 1998, Werth was sent to the Youngstown resident agency, which oversees operations in Mahoning, Trumbull and Columbiana counties. He's lived in Boardman for nearly 20 years, raising two daughters here with his wife.
At the FBI, "I worked a little bit of everything – public corruption, violent crime, organized-crime cases, white-collar crime cases," Werth said. He worked on the FBI's local SWAT team and violent-crimes task force.
In 2009, Werth was put in charge of coordinating training for the Cleveland division. He did that job for four years, then was promoted to head of the Youngstown office, a job he had for about five years before retiring from the FBI in December. He had heard a while ago that Nichols was planning to retire, and decided to prepare himself to apply for the Boardman job. He was selected by trustees in June and sworn in as police chief Dec. 28.
"My wife and I, we've had opportunities to move. I've had opportunities to take promotions in D.C. I've had opportunities to move back to [New York]," he said. "My wife and I, we just like it here. ... This was just a logical step. I like the community. I like the people here."
He readily acknowledges there is a steep learning curve transitioning from the FBI to leading a community police department, but said he was helped by several months of shadowing Nichols and his well-established local law-enforcement ties.
"I think one of the things that helps is the fact I've been here 20 years," he said. "I know and have worked with half the people here in Boardman Police Department. I've worked on a weekly, if not daily, basis with [Mahoning County] Sheriff [Jerry] Greene, and [Youngstown Police Chief] Robin Lees and [Austintown Police Chief] Bob Gavalier, so I know all the chiefs in the area. I know the departments."
"I have a lot of ties in the community," he said. "I'm not coming in from the outside."
GOALS
At the outset, Werth said his primary focus will be learning the ins and outs of the department.
Although much of his job over the next several months will be to learn about and assess the department, he does know some areas on which he plans to focus the department's efforts.
"How do we take care of our kids, and how do we protect the elderly in our community? They are two vulnerable groups. I know we already have a lot of programs in place ... but how do we take that to the next level?" he said.
Township Trustee Tom Costello also identified that as a priority on which trustees want Werth to focus. They also want Werth to steer the department further down the path of community-oriented policing.
"It's doing the little things that make the citizenry feel comfortable," Costello said.
He noted that BPD has four officers stationed in Boardman schools, and said officials want to see that involvement grow to other parts of the township.
"What we've talked about is, wouldn't it be nice if, when our guys have five minutes, they stopped into the local businesses?" he said. "We've asked Todd to continue and maybe expand what Jack has done there."
Technology and social media also are areas township leaders want Werth to work on.
"One of the things we are asking of Todd is to get our police department more social media friendly," Costello said. "Many departments, as we have seen, have information they are able to put out to the public that helps them do their jobs, and we're asking that Todd step up those efforts on behalf of the Boardman Police Department."
Another area of focus, of course, will be the department's response to the opiate epidemic and the crimes to which it leads.
Werth said he views law enforcement as being part of a solution that requires numerous other elements, including education and treatment.
Of law enforcement's role, he said, "It's basic: We enforce the laws. That's an important aspect of it. It's not the only aspect of it, but we enforce the laws that are on the books."
He said the focus of BPD needs to be on people who bring drugs into the community and distribute them.
"We're going to continue to attack those networks," he said. "And even people at the users level – if we can, through law enforcement, get them forcibly connected to those different entities that are set up that are going to help them ... we'll continue to do that."
"We need to do everything we can to be part of that whole process, not just putting cuffs on somebody, locking them up and forgetting about it," he said.
STEERING THE SHIP
Describing himself as a leader, Werth said he's known for being "reasonable."
"I don't need to micromanage. I don't need to do anything other than kind of steer the ship," he said. "It's about just being a reasonable person and reacting to things in a reasonable way."
As for his approach to law enforcement, Werth emphasized the importance of professionalism and empathy.
"You're not going to get rich in the profession. What you do is, you get paid through the satisfaction of helping people and being part of that brotherhood," he said. "My thought process in law enforcement is not so much a philosophy, it's how we deal with people in a professional, respectful manner to try and resolve [their] issue."
At age 52 and with a daughter in sixth grade, Werth plans to stick around for awhile.
"I'm excited. I feel very blessed and fortunate to have this opportunity," he said. "I feel like I've been part of the community, and this just solidifies it."
More like this from vindy.com