Austintown mom recounts son's struggle in obituary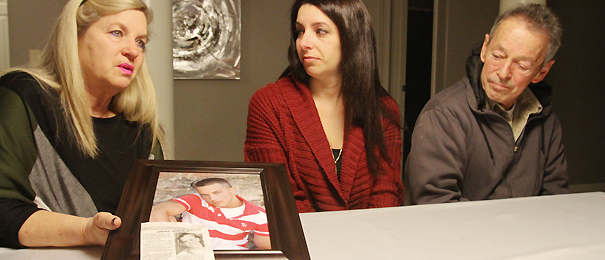 ---
By JORDYN GRZELEWSKI
jgrzelewski@vindy.com
AUSTINTOWN
Jordan Johnson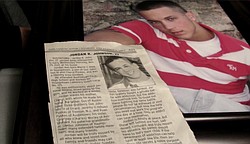 Video
Jordan Johnson, 27, recently died from a drug overdose. His family shared his story in hopes even one person would be helped.
On Nov. 30, Cheryl Puskas sat down to write her 27-year-old son's obituary.
She noted Jordan Johnson's love for personal fitness and his work as a model.
She listed the names of the loved ones he left behind, including her, his father, Gus Johnson III, his sister and three brothers, in-laws, grandmother, and many other relatives and friends.
She wrote about Johnson's "beautiful smile and his genuine, giant heart."
Beneath Johnson's smile, however, was "turmoil," she wrote.
Joining a growing number of families across the country, Puskas decided to use her son's obituary to share his story in the hopes of helping someone else.
"Jordan bravely fought a private battle with addiction, but the addiction overtook him," she wrote. "To those out there fighting the same battle, please do not be ashamed of your circumstances, but seek the help you need and work the program one day at a time. Only an addict can save themselves.
"Jordan is finally at peace, but those left behind are hurt, saddened, confused, and truly mourn his absence," she continued. "No parent should have to bury their child. If the awareness of addiction can help save at least one life, then Jordan's life served a noble purpose."
THE BIGGEST SMILE
Johnson was born March 7, 1990, in Youngstown.
He attended Fitch High School, and friends and family say he was well-known and liked in the Austintown community.
"If you lived in Austintown, you knew Jordan," said Josh Roman, a close friend.
The two grew up together and became friends in elementary school, Roman said. He described Johnson as energetic and selfless.
That's how his family will remember him, too.
"He would help everyone before he would help someone else. He had a heart of gold for everybody," Puskas said. "I didn't realize how many people he affected until the calling hours."
His family believes Johnson's trouble started when he was a teenager. What they believed to be sometimes excessive partying to keep up with friends eventually turned into something more serious.
About two years ago, he sat down individually with his mother and his sister, Courtney (Puskas) Worley, and told them just how deep the problem went. It came as something of a shock, given how good he had been at hiding it.
"No matter what Jordan was going through, he still kept the biggest smile on his face," Worley said. "Anyone would tell you, he had the biggest heart and the biggest smile."
His family recalled how he devoted himself to physical fitness, sometimes going to the gym multiple times a day.
Sometimes, they knew he was using again when they noticed him backing away from physical fitness, not eating and losing weight.
Like other families in which someone is addicted, Johnson's substance abuse took its toll not only on him, but on his loved ones. Puskas urges family members to attend support groups and to rely on faith to help them.
Worley, who had a close relationship with her brother, said they grew apart because of his addiction. Even so, he still confided in her, and he was excited about some happy news in her life: She is pregnant, with the baby girl due in March.
Puskas recalled the agonizing fear – at times, the certainty – that she would lose her son.
"I kept telling him my biggest fear was finding him dead. And he agreed with me," she said.
She even kept a news story about a young woman who died of an overdose attached to her fridge. It was a reminder to Johnson of what could happen if he continued down that path.
Puskas felt frustrated, too.
"What's heartbreaking is I've been a nurse for 39 years, and I couldn't help him," she said. "You can't do it for them, and that's the hardest thing."
She thought back to one middle-of-the-night phone call – for many loved ones of people with addictions, their worst nightmare – and was relieved to learn that Johnson was in jail.
"You got what you want, Mom," he told her.
"Yeah, you'll live another day," she replied.
HELPING OTHERS
Recently, there was some cause for hope.
Johnson had gone through detox, rehabilitation, and a stay at a sober living house, and was doing well for a little while. He and his family enjoyed a couple of months of his sobriety together, but at some point he relapsed.
He died of an overdose Nov. 29.
His family wishes his treatment process had worked out differently, and hopes others will learn from it.
"Anyone who has his type of addiction, I would say a year or more" of treatment is necessary, Puskas said.
That is why she decided to write about Johnson's addiction in his obituary. It won't bring her son back, but she hopes that by speaking out, her son's story will help someone.
"If it would save one life, his obituary, that's what I wanted," she said.
More like this from vindy.com