Jakubec's school board term ends, but not involvement in schools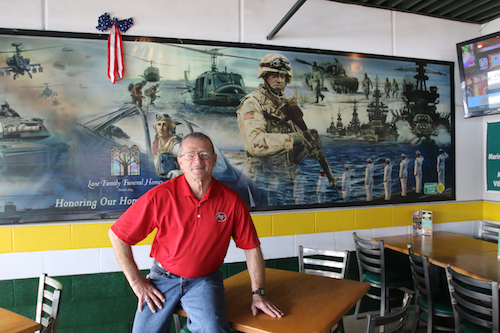 ---
By Billy Ludt
AUSTINTOWN
Two days after his term on the school board ended, Ken Jakubec was seated in a barstool at Quaker Steak & Lube looking over a chart detailing estimated student enrollment numbers by grade level and program in Austintown schools for the 2018-19 school year.
He may not officially have a seat on the board any longer, but Jakubec said that doesn't mean his involvement with the schools is over.
"I felt I've done my job," Jakubec said in regard to serving on the school board.
He didn't seek re-election this past fall after another four years on the board. Collectively, Jakubec served 20 years, the first 16 years from 1987 to 2003.
"I think I'm the only one that ever came back," he said. "I never thought I'd be running again. At the last meeting I said, 'I hope you don't see me up here again.'"
The Jakubec family has a long-running legacy in Austintown schools. Every decade since 1939, at least one close relative to Jakubec has graduated from Fitch High School.
What drove Jakubec to run for the school board again after 11 years off was members elected during that time.
"I saw what happened in 2003 when I got off," he said. "I don't want that to ever happen to our school district again."
After his time on the board ended, Jakubec's biggest effort was establishing better communications between the school district and township residents.
Jakubec works for Quaker Steak, supervising locations in Austintown, Warren and Boardman. Before Quaker Steak, he worked for General Motors Lordstown for 361/2 years. Before that, he served in the Marine Corps.
But Jakubec's employment history doesn't include the abundant list of volunteer efforts in regional and state athletics, schools and veteran organizations he managed to accomplish while working and raising two children with his wife, Lena.
A penchant for service predates Jakubec's time on the school board by decades. He enlisted in the Marines three days after he graduated from Fitch in 1964, at age 17.
"It was the best thing I ever did," he said. "It made a man out of me."
He earned the rank of sergeant and served in the Marines Air Wing in Marine Helicopter Squadron One, a squadron responsible for transporting the president. Jakubec was given "Yankee White" clearance, meaning he worked with – and could touch – the president.
After four years of service, Jakubec was up for a promotion from sergeant to staff sergeant, but he was on the fence about staying in the corps or taking a job back home.
"It was the hardest decision I ever had to make in my life, really," he said. "It tore me apart, but I knew I could get a job at GM."
Jakubec was discharged from the Marines on Oct. 5 and took a job at General Motors Lordstown Assembly Complex on Oct. 16.
In his years of employment there, he missed three days of work.
"Guys told me that, 'You're going to go in there one day and know you've had enough,'" he said.
But like Austintown schools and the Marines, Jakubec's involvement with GM didn't end after he left. Several years after starting at Quaker Steak, he was helping organize a classic-car show at GM.
"I can't sit still," Jakubec said. "I'm a guy that needs to work. A lot of guys retire and sit on their couch all day. I can't do that."
Jakubec was born in and has lived in Austintown for his nearly 71 years. His role in the school district will continue in the form of athletics and assisting a veterans-oriented student group – and Jakubec said if anyone from the board asks, he'll be available to help.
"I don't care less if I get a penny," he said. "I just love my school."
More like this from vindy.com