Book on Trump White House draws local interest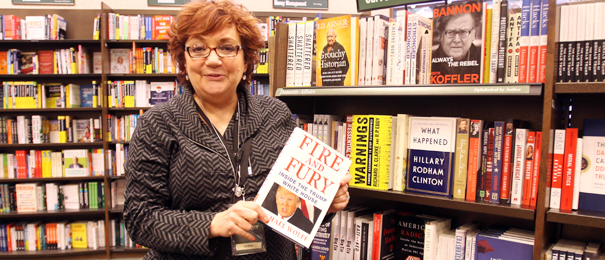 ---
SEE ALSO: Book release blows open feud between president, Bannon
By GRAIG GRAZIOSI
ggraziosi@vindy.com
YOUNGSTOWN
President Donald Trump's attorneys attempted to block the release of a new book, "Fire and Fury: Inside the Trump White House," which portrays his administration as chaotic and incompetent, but the move may have spurred even more interest in the expose.
Michael Wolff's book is filled with anecdotes about Trump's staff belittling him behind his back and salacious details that would further stoke the fires of Trump-Russia collusion claims.
At Barnes & Noble in Boardman, store manager Kerrie DelGreco and her staff were fielding requests for the book most of Friday morning.
"They're all gone today. We're holding onto copies for customers who've ordered them for the rest of the day, then we'll sell whatever hasn't been picked up," DelGreco said. "We should get a new shipment in by Monday."
DelGreco said the people who have shown the most interest in "Fire and Fury" aren't her regular readers.
"The drama is really what's driving interest," she said. "It's been great for our sales, and it's definitely bringing us new customers."
The book flew off the shelves at Books-A-Million at Eastwood Mall in Niles. The store stocked about 20 copies of the book Friday morning and sold out by the early afternoon.
Brad Phillips, assistant general manager, said they received more than 30 calls asking about the book the morning of its release.
Some people have expressed concerns the book is propaganda meant to slander the president, Phillips said, but he expects it to be one of their best sellers.
"It's too early to tell, but I think it's going to be a big liberal book. It's definitely meant to showcase the more negative parts of the White House. I think it's going to be super popular for a while; the author is smart on how he is doing publicity," he said.
Local politicians have mixed feelings on the book, with attitudes following party lines.
David Betras, chairman of the Mahoning County Democratic Party, spent a good part of Friday reading the book.
"It's fascinating. I can't put it down," he said. "It's a page-turner. I've been reading it nonstop. Trump didn't think he could win, the campaign was in shambles and he pulled off the biggest upset probably in the history of mankind."
Betras said he is greatly enjoying the book.
"It reads like fiction, but it's real," he said. "It reads like something you would make up or could never happen, but it did. What I find fascinating about it is many of the things we all thought were true turned out to be true. Even the sycophant who thinks Donald Trump is next to Jesus Christ would find it fascinating to read."
Mark Munroe, county Republican Party chairman, who hasn't read the book, said, "It's hard to watch any news without getting some snippets. The president has many critics, but they continue to discount his talents at their own peril. Trump continues to confound his critics by simply working to keep his promises and work for the American people."
Munroe added, "Palace intrigue and gossip are interesting, but results are what count. On that score, the president is doing pretty well."
U.S. Rep. Tim Ryan of Howland, D-13th, also hasn't read the book, but has heard excerpts on television. His thoughts are quite different from Munroe's.
"It confirms a lot of what we've been hearing in the rumor mill in Washington in the last year," Ryan said. "It raises some very, very deep concerns about the president's lack of interest in the issues he's dealing with. His inability to focus and concentrate on the tasks at hand is very scary. I don't think he fully appreciates the games he's playing and the ramifications are scary."
Ryan added: "These issues are so complex and complicated. The president of the United States has got to be on top of it to the best he can be. You also have to surround yourself with super-intelligent people and take their advice. For his inner circle to say he doesn't read and doesn't want to learn, that's fine. But don't be president. It's disrespectful to the people of the country for him to show no interest in learning about important issues."
The book likely will be a hit with those who eat and breathe politics, though local political expert Paul Sracic, professor and chairman of Youngstown State University's Department of Politics and International Relations, said he wasn't planning on reading the book.
"People aren't going to be reading this book to learn about policies or trade or political strategy. People are buying it because it's drama," Sracic said.
He urged caution to those looking to the book as a fully factual account of Trump's first year in office.
"I cannot overstate the fact that this writer is known for over-the-top writing," Sracic said. "What we have right now is a reality-TV presidency where the cameras are always on and we can constantly peek behind the scenes.
"But reality TV often isn't very real."
Contributors: Staff reporters David Skolnick and Samantha Phillips
More like this from vindy.com