North Phelps downtown closes Monday for 6-month project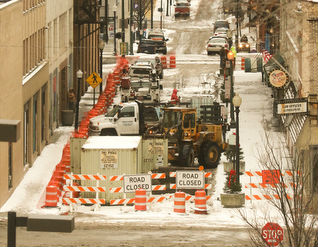 ---
YOUNGSTOWN
North Phelps Street from West Federal to West Commerce streets will be closed for at least six months beginning Monday.
The downtown project will include the installation of an AT&T duct bank containing telephone conduits and the rerouting of telephone lines, including about 20,000 splices, said Charles Shasho, the city's deputy director of public works.
The project was to occur five years ago, but it came to a stop after only a month of work when it was discovered that underground utilities, primarily AT&T lines and three duct banks, were directly in the path of the sewer line.
"There was no way to reach the sewer so it was decided to relocate the duct banks," Shasho said. "Instead of three, AT&T will have one [duct bank], and with the several thousand splices needed, it's going to take some time."
Vehicular traffic will be closed during the work, he said.
Also, pedestrian traffic on the east side of the street will remain open at all times, but it will be restricted on the east side to only the entrances to buildings, Shasho said.
Read more about the project in Saturday's Vindicator or on Vindy.com.
More like this from vindy.com