Mahoning Valley Chapter hosts "Salute to Veterans" meeting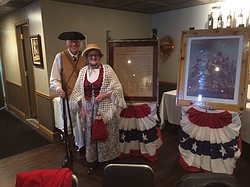 Photo
Neighbors | Submitted .Bob and Dorothy Hurd reenacted the parts of American Revolutionary historical figures Lieutenant Jeremiah Greenman and his wife Mary Eddy Greenman at the Salute to Veterans event put on by the Sons of the American Revolution on Nov. 11. Lieutenant Greenman served in the Continental Army from 1775-1783. Bob and Dorothy Hurd are part of the Living History Program.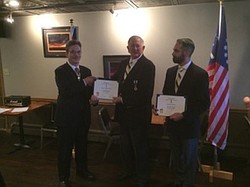 Photo
Neighbors | Submitted .On Nov. 11, the Mahoning Chapter of the Sons of the American Revolution met at the Manor in Austintown to swear in two new members and hand out awards. Pictured are Shawn A. Cox, Scott M. Davis and Adam S. Davis. .
The Mahoning Valley Chapter Sons of the American Revolution gathered at the Manor restaurant in Austintown to recognize the sacrifice of Veterans on Nov. 11.
Joining the Chapter for the meeting was First Vice President Shawn Cox, who helped welcome the two new members, Adam Scott Davis and Jonathan Morgan Davis. Following the swearing in by Chapter President Phil Bracy gave awards in the form of the Ft. Laurens Challenge Coins to support the foundation.
Recognized for helping develop and support the Chapter, giving their time, talent and treasure were John Opre, Vice President, and Jim Alexander, Chaplin. Scott Davis was also recognized for those attributes, as well as setting up the Facebook page, a dedicated e-mail and his efforts with the youth programs.
Speakers for the meeting were Lieutenant Jeremiah Greenman (Bob Hurd) who served in the Revolutionary War and his wife, Mary Eddy Greenman (Dorothy Hurd). They highlighted events of the Revolutionary War
and the Career of Jeremiah Greenman who was born in 1758 in Newport Rhode Island and enlisted in the Continental Army in May 1775, served all eight years and rose to the rank of Lieutenant by war's end. In 1784 he married Mary Eddy and they had one son together. Greenman kept meticulous journal notes from his campaigns from Quebec to Philadelphia and shared them in his book "Diary of a Common Soldier in the Revolutionary War." He died in 1828 and is buried on the family farm in Waterford, Ohio. After his death. Greenman's wife, Mary, shared her story. Mrs. Greenman passed in 1839 and was buried in McLean, Ill. Mr. and Mrs. Hurd, who portrayed the Greenmans, are part of the Living History Program.
More like this from vindy.com