Community helps earn deportation delay for Adi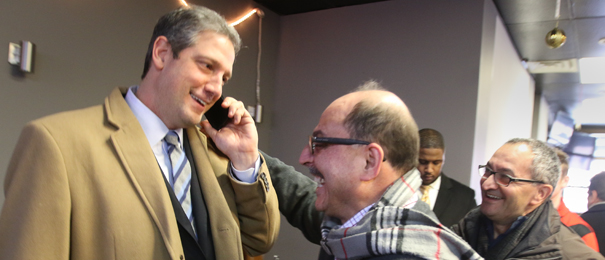 ---
Adi Deportation Delayed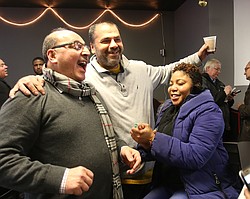 Video
In a last-minute development, U.S. Rep. Tim Ryan of Howland, D-13th, announced today that after working with Al Adi's attorney, David Leopold, and the House judiciary committee, a decision was reached to grant Adi a stay of deportation. Al Adi is the owner of Downtown Circle Convenience and Deli and Circle Hookah and Bar in downtown Youngstown and faces deportation after living in the country for nearly four decades.
By GRAIG GRAZIOSI
ggraziosi@vindy.com
YOUNGSTOWN
Al Adi isn't going anywhere, for now.
In a last-minute development, U.S. Rep. Tim Ryan of Howland, D-13th, announced Thursday that Adi will receive a temporary stay of deportation.
The stay is a result of the efforts of Ryan, Adi's attorney David Leopold, Mahoning County Republican Party vice chairwoman Tracey Winbush, U.S. Sen. Rob Portman, R-Ohio, and the House Judiciary Committee.
At Circle Hookah and Bar in downtown Youngstown, Adi walked out from the back room of his business and was greeted by a crowd of family, friends and supporters who had gathered to celebrate the news. With a broad smile, he greeted the group and said, "OK, OK, everyone back to work!"
The joke earned a laugh, and before long Adi was swallowed by the group, all eager to show him support.
Adi said the deportation would not take place Sunday and that he will know more details after checking in with immigration officials later this week.
"I feel great. Fantastic," Adi said. "I truly love this city and am thankful for all the support from the community and from Congressman Ryan and Tracy Winbush and Mayor Tito Brown and everyone who worked to help me and my family."
Ike Omran, a longtime friend of Adi's and owner of several area gas stations, said without Adi telling his story, he doesn't think the situation would have changed.
"This is victory to the media in Youngstown and to everyone who worked on his case," he said. "That picture on the front page of The Vindicator – it got everyone to speak loud."
Omran is now hoping that Adi will be able to receive his green card for legal residency status.
"He is good for our community," Omran said. "He is for good for the Youngstown community and the Arab community."
Earlier today, Lina Adi, Al Adi's daughter, launched a Change.org petition addressed to Ryan asking for help to keep her father from being deported.
"I had no idea when I made the petition today that this was going to happen," she said. "I didn't believe it at first, but then I saw Tim Ryan was here and we found out it was really true. I was shocked."
Ryan, who said he was in tears when he learned about the development, said the stay was made possible through bipartisan pressure applied to the House Judiciary Committee.
"It's been a priority for us since we found out about Al's situation, and so we bulldogged it and eventually we found a sympathetic ear," Ryan said. "It's been amazing to see the city coming out for Al. We've got people of all races and religions and from all over the city showing up to be supportive. But we have to keep the pressure on."
Adi's lawyer, Leopold, said members of Congress nationwide should look to Ryan's efforts as an example of what standing up for a constituent looks like.
Brandon Kovach, owner of Kovach Companies in downtown Youngstown and a longtime political activist, was present when Adi got the news Thursday morning.
"He hugged me for five minutes," Kovach said. "He's got the biggest heart of anyone I know. I come down here every day for lunch, and when I first moved my business downtown, he made me feel included and introduced me to people in the community. He's one of the reasons why I kept my business downtown."
Kovach also was present while Ryan and Winbush's teams worked together to secure the stay.
"It was amazing to see Democrats and Republicans put aside everything to make this happen during one of the most polarized times in American politics," he said. "It just goes to show what we can accomplish when we put aside our differences."
Portman's spokeswoman Emmalee Kalmbach offered a comment regarding the day's developments.
"Senator Portman has spoken with Congressman Ryan, our staff has been in touch with Mr. Adi's attorney, and we have reached out to ICE about his case," she said.
Winbush said she and Adi are longtime friends and that she began working with Ryan when she learned about Adi's upcoming deportation.
"Al is an asset. The Mahoning Valley does not need to have business owners and supportive members of our community removed from the region," she said. "This was a bipartisan, community-driven effort. This is why we do what we do."
Though the mood at Adi's business was celebratory, his lawyer cautioned that Adi isn't out of the woods yet.
"It's a travesty of justice that he was ever up for deportation to begin with, but it's a step in the right direction that ICE [Immigration and Customs Enforcement] is reviewing the case," Leopold said. "But there's still a lot of work to do, and a lot that needs to happen before we can start celebrating."
When asked for comment, a spokesman for ICE referred to the agency's freedom – thanks largely to a President Donald Trump administration executive order – to deport individuals regardless of investigations related to congressional private bills.
"Just to clarify, there is no stay in place. The removal is temporarily postponed while ICE finalizes removal arrangements," the spokesman said.
Leopold characterized ICE's statements as semantics, saying that the postponement and stay are effectively the same thing, and that Adi would find out in the future how long he has until a final decision is made.
"This situation can be concluded very easily. Mr. Adi's wife wants to sponsor her husband for a green card. They just won't let her. That's all it would take to solve this whole issue," he said.
In the meantime, Adi plans to continue to fight for his status and will continue to run his downtown businesses. He still plans to attend his goodbye party Saturday night at the Arab-American Community Center, though the mood will be significantly different.
"We will still have the party Saturday," Adi said. "But now it's a victory party."
Contributor: Staff writer Kalea Hall