Allegiant flies last flight out of Youngstown-Warren Regional Airport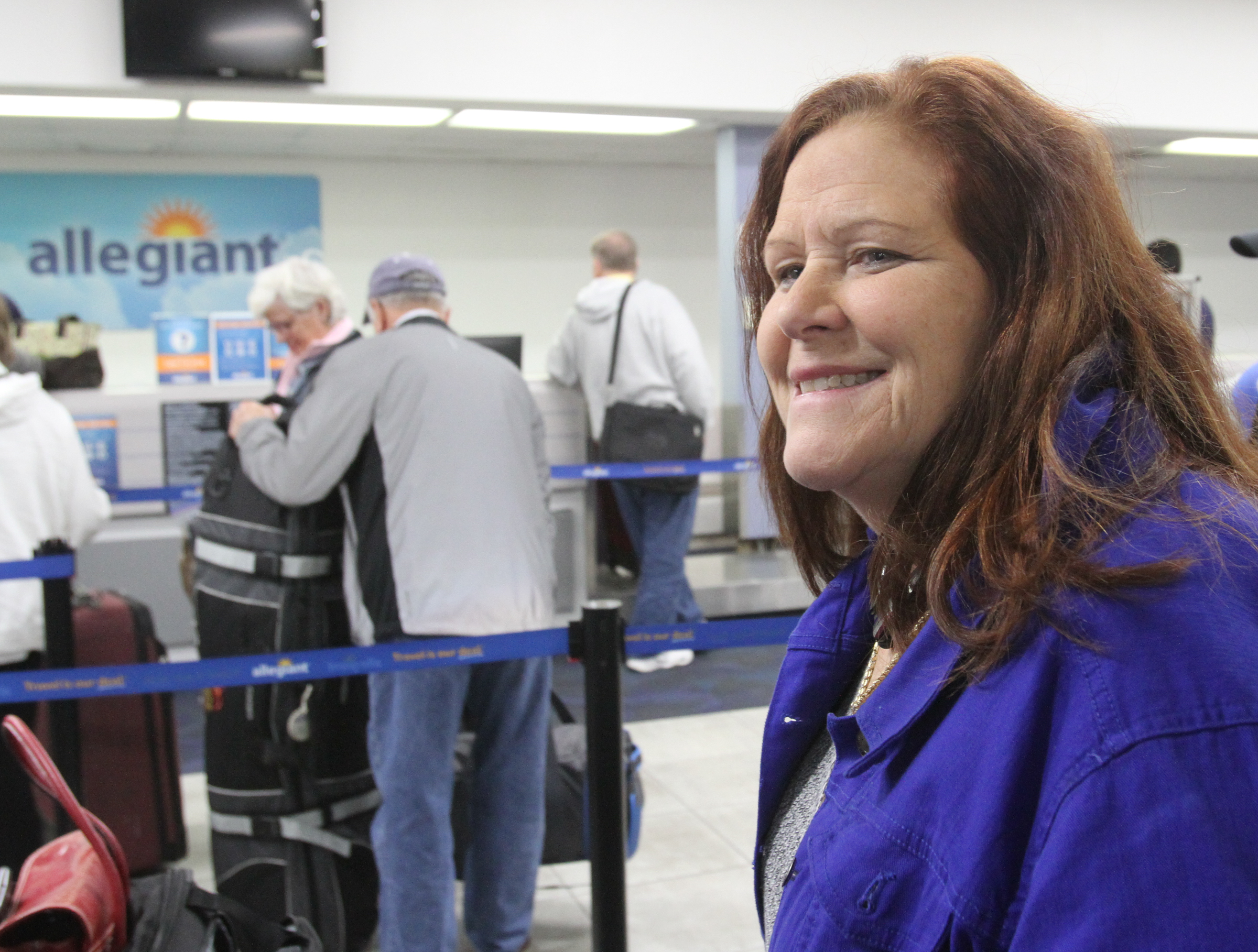 ---
By Kalea Hall
VIENNA
One word was heard again and again from passengers who were checking in for the last Allegiant Air flight out of Youngstown-Warren Regional Airport: disappointment.
"We are just sorry this is closing," said Dorothy Nugent of Jefferson.
After 11 years of Allegiant flights out of the local airport, the Las Vegas-based airline announced in August that it would take its last flight Thursday.
Allegiant's last flight – to St. Petersburg/Clearwater International Airport in Florida – took off after 8 p.m. Thursday after being delayed several hours because of a mechanical issue.
Nugent and her family flew in and out of the Vienna airport on Allegiant several times a year. The airline and the airport were "very convenient," Nugent said. Now, Nugent and her family will have to use Cleveland Hopkins International Airport.
Karen LaPresta of Safety Harbor, Fla., also was a frequent passenger on Allegiant flights to visit her family in Austintown. She was sad to hear the Allegiant flights to and from Youngstown would end.
"I couldn't understand why because this flight is always booked – completely," she said. "Hopefully, they will get a new carrier soon."
Allegiant Air was the only commercial airliner at the airport.
Allegiant came to Youngstown-Warren in 2006 with service to Sanford/Orlando, Fla. In 2011, Myrtle Beach, S.C., and St. Petersburg, Fla., flights were added. In 2013, the local airport received its fourth Allegiant flight to Punta Gorda, Fla.
From 2009 to 2014, the Vienna airport was Allegiant's fastest-growing service area.
"Demand in the area was simply not high enough to continue service at this time," Allegiant said at the time of the announcement.
"We are grateful for the many years of partnership from the airport and the Youngstown community," said Lukas Johnson, Allegiant senior vice president of commercial, in a statement sent to The Vindicator. "We hope our loyal, sun-seeking passengers in the Northeast Ohio area will continue to fly with us from other nearby airports with Allegiant service."
The airport also was grateful to Allegiant for its service, said Dan Dickten, director of aviation at the airport.
Youngstown-Warren "was one of the initial airports and communities where Allegiant began its very successful low-frequency, low-cost vacation service that made it possible for many in our region to fly to a vacation destination in Florida or South Carolina, who were otherwise unable to do so," Dickten said. "We would welcome the opportunity to work with Allegiant Air again in the future."
The airport and the Western Reserve Port Authority, which oversees the airport, are actively seeking other airlines to start commercial service here.
"We feel that it is a very important service to the people of the Mahoning Valley," said John Moliterno, executive director of the port authority.
Within the last four months and in the next couple of months, the airport is talking with at least six airlines, Moliterno said.
Mississippi-based Southern Airways Express came to the airport in early December to discuss the possibility of bringing service to Youngstown-Warren. Specifically, the airline discussed the possibility of service between Youngstown-Warren and Coleman Young Airport in Detroit and Baltimore-Washington International Airport. The company, founded in 2013, uses 22 nine-passenger Cessna Caravans and offers regional air service to more than 20 cities in the Gulf and Mid-Atlantic regions.
"We are still having ongoing conversations with Southern Airways," Moliterno said. "We are excited about 2018 because we feel we have renewed interest in our airport. The success of Allegiant out of [the airport] has shown other airlines that you can fly out of Youngstown and be successful."
More like this from vindy.com