Youngstown businessman to be deported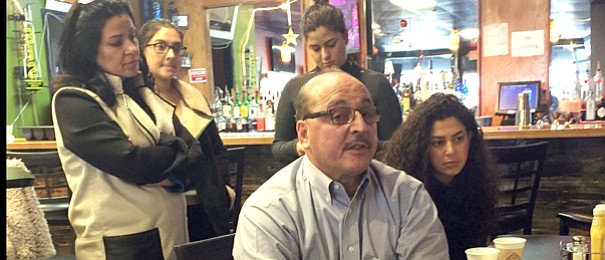 ---
Linda Adi Affidavit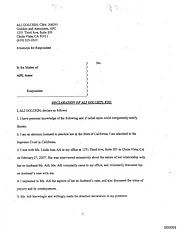 Document
Affidavit regarding Amer Adi and his relationship with his ex-wife, Linda Adi.
By KALEA HALL
YOUNGSTOWN
When Amer "Al" Adi Othman, known locally as Al Adi, lifted his pant leg to show the ankle bracelet from Immigration and Customs Enforcement tracking his every move, cries of shock were heard in his downtown hookah bar.
Adi, a longtime Youngstown businessman who is credited among the people who began downtown's renaissance, also shed some tears.
Adi must go back to Amman, Jordan, after living in the U.S. for 38 years, building a business and raising four daughters with his wife of 29 years, Fidaa Musleh, a naturalized citizen.
A party for Adi will take place starting at 6:30 p.m. Saturday at the Arab Community Center in Youngstown.
"I strongly believe I belong here," Adi said. "This is my town and my country, and I am a U.S. citizen even though Trump says no."
As Adi tells his story, his employees at the deli fix lunch, play lottery numbers and chat with his everyday customers. Lunchtime here is always busy with a fast-moving line of businessmen and women, everyday folk and students.
Three daughters, Lana Adi, 18, Lina Adi, 24, and Rania, 19, listened and watched – tears streaming down their faces – as their father spoke of how hard he fought to become a citizen and how that fight ended in September when he found out he would be deported.
"They didn't even trust the fact that I do not have a record," 57-year-old Adi said. "They gave me this [showing the bracelet] so they would know exactly where I am at. I don't think what happened is right. I think everyone should know about this story."
Adi, who twirled white beads in his hands Tuesday as he told parts of his story to reporters, his friends and family, came to the U.S. when he was 19. He settled in San Diego, Calif., and worked at a diner, where he met his first wife. The two were married about 21/2 years and through her, he applied for his green card and received it.
After they divorced, Adi moved to Youngstown and met and married Fidaa. Adi and his wife left the country for three years and when they returned, his green card was taken. In the early 1990s, his second wife applied for Adi to receive a new green card, and the application was denied.
"They said the reason was because my first marriage was fraudulent," Adi said. "We never had the chance to go defend ourselves in front of a judge."
In 2007, Adi's ex-wife went to an attorney and filed an affidavit recanting the statement she signed in 1990 stating that the marriage was a fraud.
In the affidavit obtained by The Vindicator, Adi's ex-wife says the Immigration and Naturalization Services came to her house in 1990, and she signed the statement under duress.
"Nobody listened," Adi said. "I started fighting this case."
Adi fought until he could not fight anymore, and that came in 2013.
U.S. Rep. Tim Ryan of Howland, D-13th, came forward to help out by sponsoring a private bill on Adi's behalf that prevented his deportation and granted him legal status. The bill was not a law, but for a time prevented the Department of Homeland Security from deporting anyone who is a subject of pending legislation.
That changed under President Donald J. Trump's administration when deportations were no longer delayed because of a private bill.
Ryan condemned the deportation of Adi on Tuesday.
"Here's a guy who took a risk and went downtown," Ryan said. "[His business] contributed to the come back of the downtown Youngstown and that's not even being recognized now. The president is trying to scare everyone and make every immigrant look like a violent criminal who needs to be deported. This is all part of this larger problem we have, the lack of immigration reform."
Adi is leaving on a one-way ticket to Jordan on Sunday. His wife is staying by his side and going with him, but they will leave behind their four daughters Lana, who studies engineering at the University of Cincinnati; Lina, who manages a hotel in Denver; Rania, who attends Kent State University; and Haneen Adi, 26, who is an English professor at Birzeit University in the West Bank. All his daughters were raised locally and attended Liberty High School.
They watched for years as their dad fought to stay home.
"To have to lose your parents ... I don't know many 18-year-olds that have to go through that," Lana said.
The hardest part for Adi is not being able to come back to the U.S. and having to leave his daughters.
"I think it's a tragedy to break up a family," Adi's wife said. "I have four children. I know they're adults but I still think they need us."
He has a manager in place to run his businesses, the Downtown Circle Convenience and Deli, which he opened in 2011, and the Circle Hookah Bar, which he opened in 2015.
"It's disappointing to hear because he was a pioneer for the downtown renaissance," said Mayor Jamael Tito Brown. "He was one of the first to invest in the renaissance, so it's going to be a big loss for the city of Youngstown."
Adi plans to continue to fight for U.S. citizenship despite the order.
"Over the last decade, Mr. Othman's immigration case has undergone exhaustive judicial review at multiple levels of the nation's courts, including before the immigration courts, federal appeals courts and U.S. district court," ICE officials said in a statement to The Vindicator. "In each review, the courts have uniformly held that Mr. Othman does not have a legal basis to remain in the U.S. In an exercise of discretion, the agency has allowed him to remain free from custody while timely finalizing his departure plans, rather than be detained and deported."
The only silver lining for Adi in his deportation story is he gets to see his 90-year-old mother again.
More like this from vindy.com