Canfield home lost in Tuesday morning blaze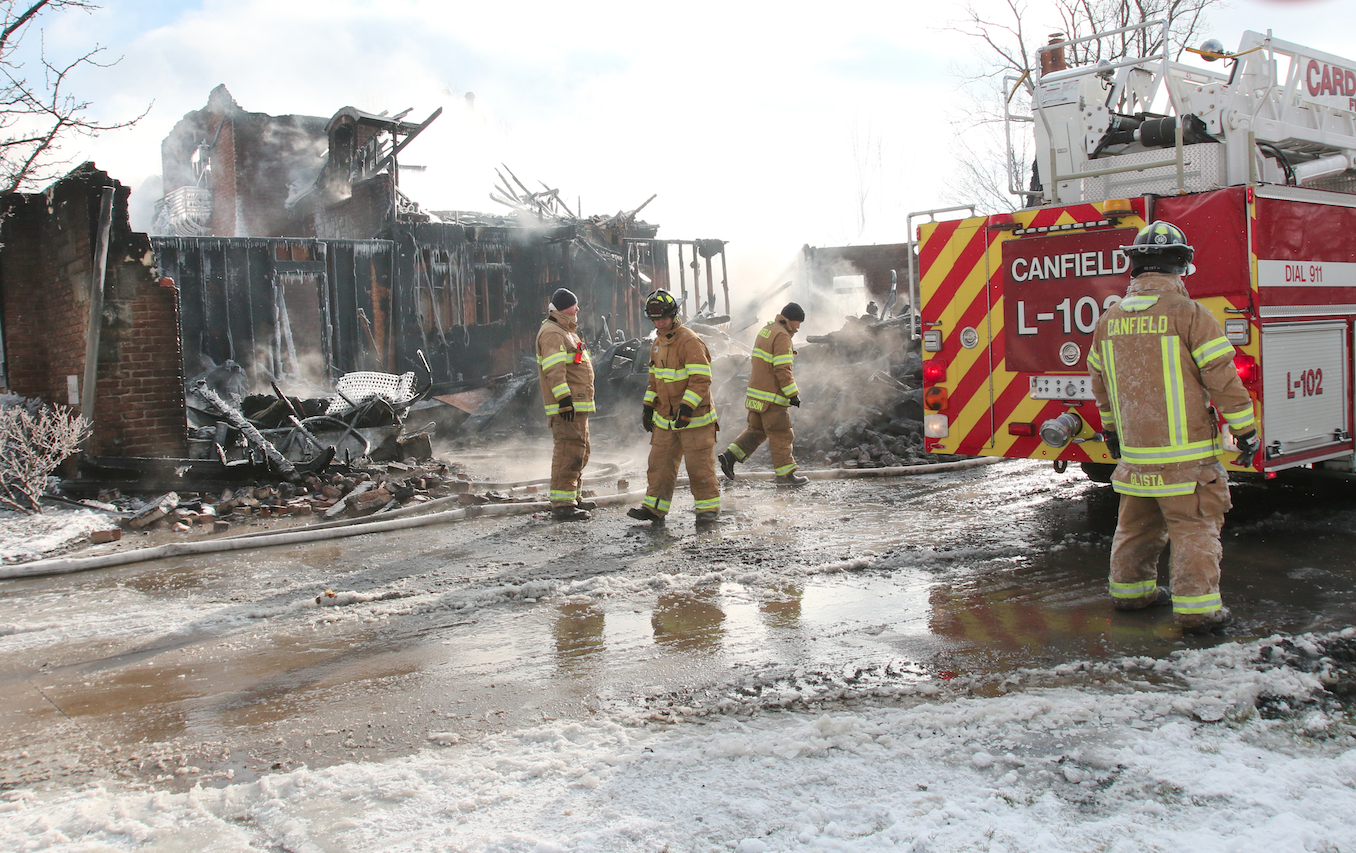 ---
By BILLY LUDT
CANFIELD
Little of a $1 million home in Canfield stands after catching fire early Tuesday.
The home was declared a total loss, but Winchester family members said they're just happy everyone made it out of their home alive.
"It's just a house," Dr. Tara Winchester said. She and her husband, Roan, were calm – but shivering from the cold – as they walked on their property after the fire was put out.
A home alarm system alerted the family to the fire about 3 a.m. Perplexed by the fire alarm, Roan Winchester looked around the home and noticed orange light reflecting off of glass.
He said as soon as he saw the fire, he and his wife grabbed their children, 5 and 7, and fled their house.
"It didn't take long for us to get out of here," he said.
Cardinal Joint Fire District received the fire alert and headed to the Winchesters' home. But by the time fire crews responded, the home's garage and the house were on fire.
"It had such a head start," Fire Chief Don Hutchison said. "We couldn't stop it."
The chief said crews had to back out of the home after entering through the front door, due to the severity of the blaze. Winds Tuesday morning fed the fire, and single-digit temperatures froze nozzles on fire hoses when shut off.
About 9:45 a.m., the home's basement was still burning, and clouds of smoke spread throughout the Villa Rosa development.
"We've been trying, trying and trying to put this fire out," Hutchison said.
The house's roof caved in, trapping the fire below a pile of rubble, out of fire crews' reach.
Firefighters were able to put the fire out by Tuesday afternoon after pushing rubble away with an excavator. At 4 p.m. after the fire was extinguished, the home on Montereale Drive was still smoking.
Much of the home's remaining structure was covered in icicles, and a truck sits melted and charred where the garage once stood.
The family is staying with friends, and neighbors have offered assistance.
The Winchesters purchased the 6,600-square-foot home in 2013, valued between $1 million and $1.2 million.
Cardinal Joint Fire District was assisted by Boardman and Austintown fire departments.
The fire's cause has not been determined, and is under investigation.
More like this from vindy.com