Adi's deportation shows flaws in arbitrary immigration rules
YOUNGSTOWN
Linda Adi Affidavit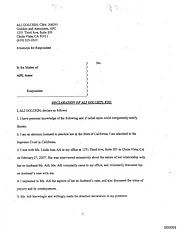 Document
Affidavit regarding Amer Adi and his relationship with his ex-wife, Linda Adi.
When Al Adi leaves the United States on Sunday, he will do so as a casualty of the red tape that can strangle the country's immigration system.
Amer "Al" Adi Othman, known locally as Al Adi, is the owner of Downtown Circle Convenience and Deli and Circle Hookah and Bar in downtown Youngstown, and he will be deported Sunday to Amman, Jordan.
Adi joins the ranks of those deported despite having no criminal convictions and being an active member in his community. To date, more noncriminals have been deported from the country than individuals with criminal convictions, according to data from the Department of Homeland Security.
Though a large part of this trend is a result of apprehensions at or near international borders, there are still thousands of cases of individuals with no criminal convictions living within the U.S. who are targeted and removed each year.
Deportations peaked in 2013 under the Barack Obama administration, with approximately 435,000 individuals removed from the country. Of those 435,000, about 237,000 had no prior criminal convictions. Since 2013, deportations have steadily declined, largely due to the Obama administration's shifting focus to prioritize criminals over noncriminals.
Under President Donald Trump's administration, deportations overall have continued to decline – between January and September, Trump's administration deported fewer than 150,000 people, compared with 240,000 total deportations in 2016 – though the number of incarcerations related to immigration have increased more than 40 percent since 2016.
In the case of Al Adi, a now-recanted statement given to Immigration and Naturalization Services agents in 1990 was all that was necessary to seal his fate.
"He was never before a court, never allowed to defend himself," his attorney said.
In addition, said a Cleveland immigration attorney, "Ultimately, immigration officials are the ones who decide if a waiver or a statement is legitimate or not, and it really can be quite arbitrary."
Read more about the matter in Thursday's Vindicator or on Vindy.com.
More like this from vindy.com