Youngstown's improved food service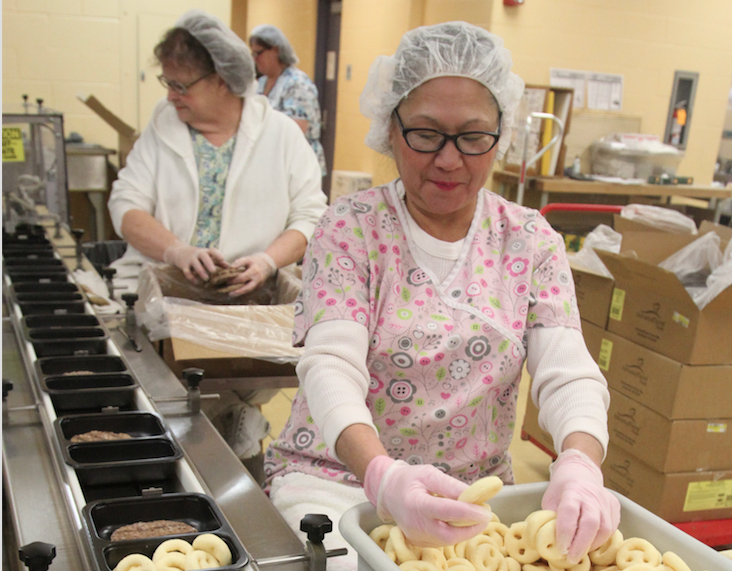 ---
YOUNGSTOWN
Youngstown City Schools has revamped its food-service program to accommodate the many changes implemented this school year.
"It all breaks down into a science," said Sue Paris, district food service chief. "But what we do is one of the most important things – we are feeding these kids."
Feeding the students involves a number of factors to ensure guidelines are followed so the food service department receives 100 percent reimbursement from the U.S. Department of Agriculture's Child and Adult Care Food Program and Healthy Hunger-Free Kids Act.
Guidelines for both programs ensure students are receiving certain nutrients in their food with each meal.
But Youngstown is under more pressure because the school offers breakfast, lunch, dinner and a snack.
Tascin Brooks, food service coordinator who recently joined the Youngstown team, said the huge undertaking of adding dinner to students' days was completely overwhelming.
"The sheer numbers of what we're doing is crazy and there are so many different things going on at once," Brooks said.
In October, 170,255 meals were served – 65,047 breakfasts, 89,826 lunches and 15,382 suppers. There were 3,097 breakfasts, 4,277 lunches and 905 suppers – 8,279 total meals – served daily during October.
Organizationally, when CEO Krish Mohip rolled out the reconfiguration, the food-service department had to figure out a way to effectively and efficiently feed students in 11 school buildings.
The reconfiguration put students in kindergarten through eighth grade in schools closer to their homes to rebuild pride in the neighborhoods.
"It's definitely been a big learning process," Brooks said.
But, as Paris said, they have now got it down to a science.
"We do things now like look at the weather and figure out what day of the week we'll have the most meals," she explained. "Sometimes it's kind of a guessing game."
And the game doesn't end there.
Brooks said the team works to ensure students have different foods for different meals every day.
"While doing this we are also meeting and jumping through certain hoops to maintain proper nutrition," said Fran Buzzacco, food service coordinator.
Paris said feeding students is definitely a team sport.
Paris, Buzzacco and Brooks have a five-week cycle in which no food components or meals are repeated.
Student input is also valued as the team schedules food component uses, Buzzacco added.
Involving students is another important facet of the revamped food-service program in Youngstown.
Brooks said students are learning about the importance of nutrition and what they put into their bodies.
"We are teaching them the importance of choices," Brooks said. "It is teaching kids to make good decisions about what they want to eat."
Despite the seriousness of their jobs, Paris said what food service workers do is a labor of love.
"We love helping our kids," she said.
Buzzacco said she feels that working in the inner city she is able to make the most difference in her capacity.
"No where else do you have the possibility of impacting a students life just by serving them food," Brooks said.
Buzzacco agreed.
"We are feeding [students'] bellies so their brains are ready to learn," she said.
More like this from vindy.com