Hundreds at Youngstown church mark 155th anniversary of freedom for slaves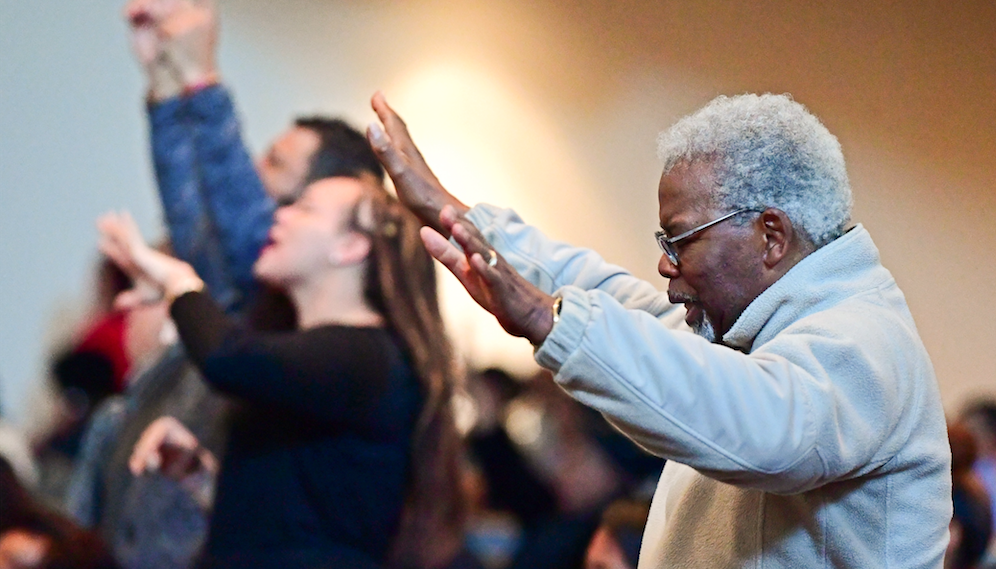 ---
By Sean Barron
YOUNGSTOWN
No matter how wealthy, prestigious, well-connected, sophisticated or famous one is, those virtues fall flat if they're not accompanied by a God-led agenda, a Warren pastor contends.
"All that matters is that his purpose and promises are fulfilled," the Rev. Todd A. Johnson told a crowd of a few hundred that attended Monday's annual Community Emancipation Proclamation & Installation of Officers service at New Bethel Baptist Church, 1507 Hillman St., on the South Side.
Sponsoring the 21/2-hour event were the Interdenominational Ministerial Alliance of Youngstown & Vicinity and the Baptist Pastors Council of Youngstown & Vicinity.
The Rev. Kenneth L. Simon of New Bethel served as host pastor.
The Rev. Mr. Johnson, pastor of Second Baptist Church in Warren, was the guest speaker for the celebratory program, the crux of which also was to recognize and honor the 155th anniversary of the Emancipation Proclamation. The historic document President Abraham Lincoln signed Jan. 1, 1863, "changed the federal status of some 3 million enslaved people of color," Mr. Johnson noted.
Despite the ways the Emancipation Proclamation helped to dismantle slavery, the document was still a work in progress largely because it applied only to men in the so-called rebellious states and didn't cover those in the border states, he explained.
"It had far more to do with strategy than with society," Mr. Johnson added.
Also during his sermon, the pastor used the struggles of slavery to point out that many of society's ills – racism, segregation, corruption, Jim Crow laws and discrimination – have precedent.
"Sometimes you have to look back before you can look forward," he continued.
Mr. Johnson then read from Joshua 4:1-7, which talks in part about how God instructed Joshua to take 12 men from among the children of Israel and have each man carry a large stone over his shoulder to cross the Jordan River. He used that section as a metaphor to illustrate how God makes promises to people, but that such promises require courage, strength, fortitude and work to possess.
The Emancipation Proclamation, which was an executive order from Lincoln, changed many slaves' legal status. It did not, however, affect those in Union areas who later would be covered by the 13th Amendment, which formally abolished slavery after having been ratified Dec. 6, 1865, noted Elder Bryant Smith, pastor of Temple Emmanuel Seventh Day Adventist Church.
Other core themes of the program were invoking God's guidance toward rebuilding communities and rooting out corruption, something for which the Mahoning Valley has a long and sordid history, a few speakers said.
Also during the program, the Rev. Dr. Morris W. Lee, who began his pastorate in September 1960 at Third Baptist Church in Youngstown, was awarded the 10th annual Rev. Elizabeth Powell Heritage Award for his community work, commitment toward human rights, leadership and service to others. The award was named for the late Rev. Mrs. Powell, a longtime activist whose crowning achievements include being founding pastor of the World Fellowship Interdenominational Church Inc., organizing the Southside Prayer Band that ministered to area women and their families and being part of the Youngstown Human Rights Council, among numerous other organizations.
The Rev. Mr. Lee, a past president of the IMA and the Mahoning Valley Council of Churches, shared several humorous recollections of his longtime friendship with the Rev. Gena Thornton, retired pastor of Grace AME Church in Warren, who handed him the award, and her husband, Robert. In addition, he reflected on the first time he met Mrs. Powell, as well as on stories of conversations they had over the years, which included her unwavering desire to build the World Fellowship Church – something that came to fruition when Mrs. Powell was age 95.
"I appreciate knowing this dear soul, I appreciate working with this dear soul, and I appreciate serving with this dear soul ... and I thank God for her," Mr. Lee said.
Making additional remarks were Elder J. Dwayne Heard, pastor of Elizabeth Missionary Baptist Church; the Rev. Lewis W. Macklin II, pastor of Holy Trinity Missionary Baptist Church; the Rev. Julianne Smith, pastor of Prince of Peace Lutheran Church in Poland; and Dr. M. Rosie Taylor, the IMA's president who gave the benediction. Delivering the invocation was Bishop Chorrethers M. Jenkins Sr. of Grace Evangelistic Temple Church.
More like this from vindy.com