Schiavoni gets the Mahoning Democratic endorsement for governor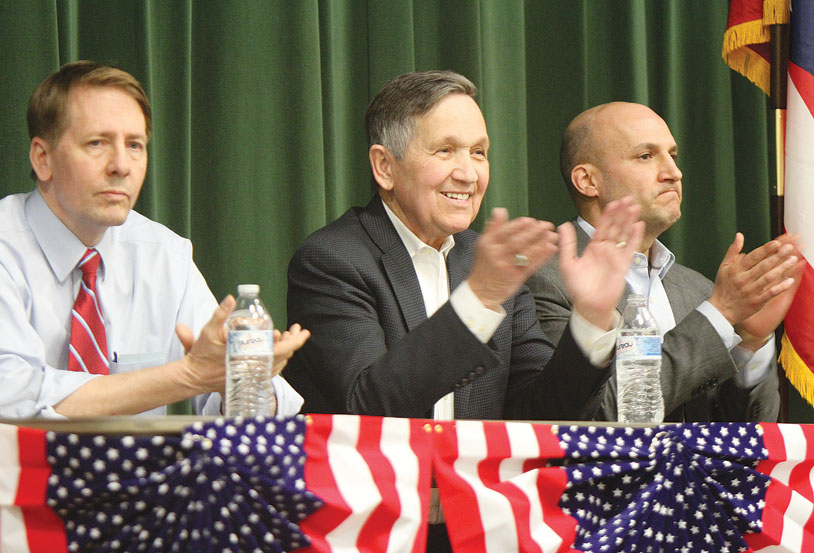 ---
BOARDMAN
When it came to endorsing a candidate for governor, the Mahoning County Democratic Party overwhelmingly went for one of its own.
The central and executive committee, which met Tuesday at St. Luke Parish hall, backed state Sen. Joe Schiavoni with 75 percent of the vote in its endorsement.
Richard Cordray, a former state treasurer and attorney general, finished second with 21 percent and former U.S. Rep. Dennis Kucinich was third with 4 percent.
Former Ohio Supreme Court Justice Bill O'Neill declined to seek the endorsement. He didn't attend Tuesday's meeting though the other three candidates were there.
After winning the endorsement, Schiavoni of Boardman, D-33rd, said: "I love the people of the Valley. They understand we're a team. People in this community know I'll always fight for the Valley and fight for them."
Schiavoni received the endorsement earlier this month of the Trumbull County Democratic Party.
"We'll keep working," he said Tuesday. "People are going to have a choice. People across the state want something new and want something good, and I'm going to provide that to them."
Cordray and Kucinich said they weren't surprised Schiavoni won the endorsement of his home county's Democratic Party.
"We know that there was going to be a lot of sentiment for a local candidate, but we have to also think hard about this primary so we can win in the fall," Cordray said. "We're all going to be mindful of that."
Kucinich said: "This is Joe's territory, and I congratulate him."
The party also endorsed David A. D'Apolito, a county court judge, for the 7th District Court of Appeals and incumbent Commissioner Carol Rimedio-Righetti. Both have opponents in the May 8 primary. The opponents didn't seek the party's endorsement.
The 7th District race was once crowded with four candidates running in the Democratic primary. Now there are only two.
Aaron Hively withdrew last week, and Mark A. Hanni quit the race Tuesday.
In a letter to the party, he wrote: "The only reason I even considered running again was due to a call received from you. The Democratic Party was having a difficult time finding someone willing to put in the effort to run in such a large area."
He threw his support behind his sister Holly Hanni, who declined to seek the party's endorsement.
The party also gave a rare dual endorsement in the county common pleas court race between Magistrate Dan Dascenzo and Anthony Donofrio, a Youngstown deputy law director. Party Chairman David Betras said the two are excellent candidates and members of the committees like both of them.
The party voted in two other races Tuesday.
Poland Trustee Eric C. Ungaro won the endorsement for the 59th Ohio House District seat with 62.5 percent of the vote, beating Boardman Trustee Larry Moliterno, who received 37.5 percent of the vote.
Also, Shawna Roberts was endorsed in the 6th Congressional District primary with 54 percent of the vote compared to 46 percent for Werner Lange.
More like this from vindy.com