---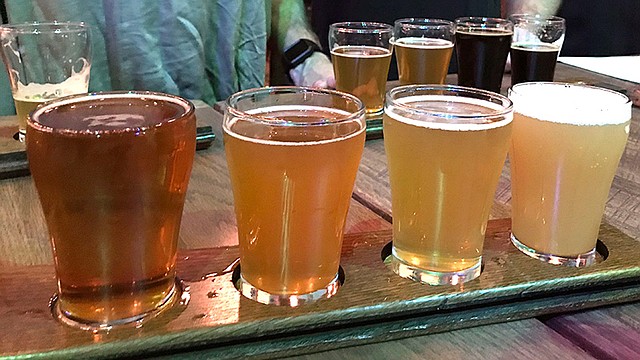 Tuesday, February 27, 2018
IF YOU GO
Where: Noble Creature Cask House, 126 E. Rayen Ave., Youngstown
Hours: Thursday and Friday: 2 to 10 p.m.; Saturday: noon to 10 p.m.
Available for Purchase: Flights, pints, growlers and merchandise.
Website: www.noblecreaturebeer.com
By Jim Cyphert,
Mahoning Valley Flight Crew
For many Mahoning Valley residents, their love of craft beer is sort of like a religion.
Thanks to Ira and Marcy Gerhart, craft beer lovers can now stop by a former Youngstown church for outstanding craft beer.
Noble Creature Cask House
Just before Christmas, the Gerharts opened Noble Creature Cask House in the former Butler Memorial Presbyterian Church at 126 E. Rayen Ave. in Smoky Hollow. It was much anticipated, as Noble Creature is the only operating craft brewery within city limits.
Noble Creature has 12 beers on tap. From a Berliner Weisse to IPAs to a Helles Lager to a Russian Imperial Stout, there's something for everyone.
According to Ira, Noble Creature is committed to brewing quality beers of all styles, but will focus on barrel-aged sours, fine lagers, ales and kombucha.
When you meet the Gerharts you sense their passion; you can see it in their eyes. It's a passion for making great beer. But also for making connections with the people of the Valley.
Noble Creature Cask House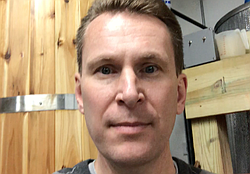 Video Set
"We believe in Youngstown," said Ira. "We love this town. We encourage positive, open-minded, forward-thinking individuals to come out and share a pint with the people that make this place so weird and wonderful."
Ira envisions Noble Creature being an important part of Youngstown's revitalization.
"We want to be a launch pad for bringing Youngstown back," he said. "We're doing what we can to make this a sustainable community-driven project with a healthy future."
The brewery was hustling and bustling when we visited. For this review, we made two visits (we take our craft seriously!). There was a festive atmosphere, and we could feel the energy. The Gerharts greeted us as if we were the only people in the place. We get the sense they like to treat everyone that way.
Here are the beers we liked best:
Dave Shively
Caterwaulin' (6.8 percent ABV)
"What's in a name? The question was posed centuries ago by Juliet in Shakespeare's lyrical tale, "Romeo and Juliet." In today's crowded craft-beer marketplace, a beer's name determines how it stands out in the crowd. On a night the Flight Crew was presented with 12 distinct beer choices, Caterwaulin' was the first I sampled. According to Ira, Caterwaulin' is a Youngstown-style IPA, deriving its unique taste from the type of yeast used, Brettanomyces. This IPA has an up-front hop profile followed by a slightly tart finish. The name you ask? That comes from one of the co-owner's favorite expressions, "Quit your caterwaulin'." That's what Marcy says to Ira when she feels he's guilty of bellyaching! My advice to you is to quit your caterwaulin' about nothing to do in the Yo and head over to Noble Creature to give this beer a try!"
Jim Cyphert
OHvercast (7.3 percent ABV)
"I've watched my fair share of local weather forecasts over the years. No offense to Andrew DiPaolo or Jess Briganti — both craft beer lovers in their own right — but most of their forecasts call for overcast skies." And that was the inspiration for this beer, according to Ira. OHvercast is a well-balanced IPA with a cloudy haze reminiscent of our overcast days in Youngstown. It has a beautiful blend of Simcoe, Centennial and Columbus hops, which add a complex hop aroma of pine and citrus to its rich, malty base. New England Style IPAs are extremely popular, so I recommend you get some OHvercast in your immediate forecast."
Jason Jugenheimer
Doobles (7.0 percent ABV)
"As a dog and beer lover, it's nice when the two can be blended together. A lot of craft breweries tend to be dog friendly or name breweries or beers after man's best friend. Doobles is no exception. Named for their dog, Dobby, the New England style IPA lives up to the style. Loaded with hops, including a generous helping of Citra and Amarillo, Doobles is super juicy. This hazy beer has a nice citrus aroma and invokes flavors of orange, mango and tangerine in its hop profile without being overly bitter on the finish. IPA lovers will enjoy it, and dog lovers will enjoy that a portion of the proceeds gets donated to Friends of Fido and the Mahoning County Dog Pound."
Roger Gillespie
Wick Perk (5.3 percent ABV)
"There's just something about this weather we're having that draws me away from IPAs toward a good Stout. Noble Creature has an excellent offering with its chocolate coffee oatmeal Stout affectionately called Wick Perk. This beer is brewed and dry beaned with Wick Perk coffee from local Stone Fruit Coffee. It brings a modest 5.3 percent ABV. Smooth and enjoyable, this beer is one I highly recommend."
Brian Long
Thin Lips (4.2 percent ABV)
"If loose lips sink ships, then Noble Creature's Thin Lips enjoys more sips. Named for the Gerharts' dog with the thinnest of thin lips, this Berliner Weisse comes in just above the average for this style at 4.2 percent ABV. It's a very light, refreshing sour ale with a yellow cloudy haze. Just recently, Ira did a batch with cranberries and raspberries, adding a little extra tartness and a very unique color to this version."
Joe Sanfilippo
Petrushka (8.3 percent ABV)
"You may remember Petrushka, the thoroughbred racehorse back in the day. But now we have our own Petrushka right here in the Mahoning Valley. This Russian Imperial Stout is loaded with flavor. It has tons of chocolate and coffee malt and finishes with Simcoe and Centennial hops. Petrushka is a must try the next time you're at Noble Creature."
Recommended Flight Pattern: We usually shy away from politics and religion, but our counsel after this review is to go to church — Noble Creature Cask House, that is. It'll be a sin if you don't.