YSU sweeps Horizon League track tourney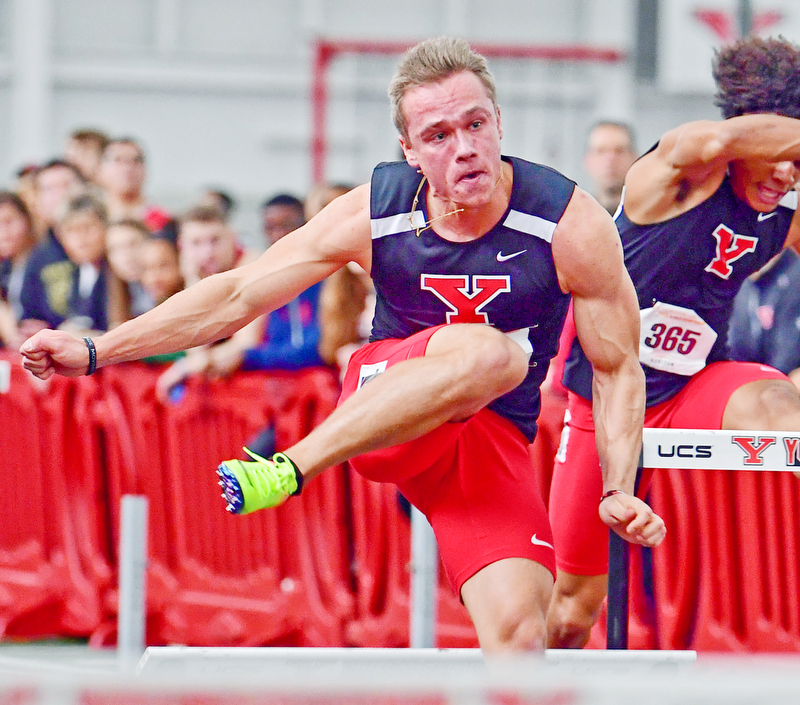 ---
Horizon League Indoor Track Championship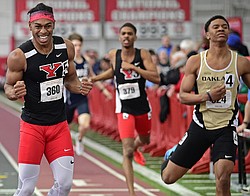 Gallery
Youngstown State University hosted the Horizon League Indoor Track Championship at the Watts Indoor Facility on the campus of Youngstown State on Sunday February 25, 2018.
By BRIAN DZENIS
bdzenis@vindy.com
YOUNGSTOWN
After some stumbles Sunday morning, Youngstown State's men's track team ran away with the Horizon League's indoor title and the women's team decisively completed the title sweep.
After some setbacks in the heptathlon and shot put, Milwaukee had a 14.5 point lead on YSU.
But after junior All-American Chad Zallow had his say, the title was firmly in the Penguins' hands. He swept the 60m dash, the 60m hurdles and the 200m dash as YSU finished with 201 points.
"After the first day, we thought we had the meet on lock. Then we had some injuries here and there and some things didn't pan out. That's track and field," Zallow said. "We just came out there, executed and did everything we can to help in the big picture. We focused on ourselves and we were all right."
The women's team won with less drama, winning the League with 203.83 points, blowing past runner up Oakland's 121.
Sunday marked the third consecutive year of the men winning the League. The women won their fourth title in five years. Coach Brian Gorby won his 34th and 35th conference title ring in 25 years.
"This is special. We're going to tell the kids that we appreciate this a lot," Gorby said. "We want to make sure the kids don't take this for granted and understand that these things aren't hard to win. There's seven-to-eight teams that want to win this.
"We're going to celebrate this for a few days. I can guarantee that."
The men were set back with injuries to some of their marquee specialists. Tim Holzapfel was on pace to set a new Horizon record in total points in the heptathlon. But a pulled groin caused him to take a DQ in in the pole-vault leg and not finish the 1,000m leg. He finished in 10th place.
Mineral Ridge graduate Ryan Booth was expected to win the weight throw and shot put, but he took 10th and second, respectively, while also struggling with an injury.
With mere minutes between each of Zallow's races, it was just as much a test of endurance as well as speed for the sprinter from Warren JFK High School.
"It was big mental game. Especially when you get to the 200 on the second day. Your body is running on fumes," Zallow said. "I know my team needed points coming in, so I had to do it for my team.
"I was scared and I cramped during that 200, but I still got the 10 points."
Zallow qualified for national competition in the 60m hurdles. He'll report to Texas A&M for that tier of competition on March 9.
Another local who stepped up for the Penguins was Girard's Collin Harden. He dropped a full second off his preliminary time to beat his third-place projection and the field in the 400m with a time of 47.64. He is YSU's first winner in the event.
"That came from within," Harden said. "I did the best I could. I saw my teammates and heard them cheering for me and that gave me the extra push.
"I got the second push out and it was great."
Shortly after Harden crossed the finish line, he had to be helped off the track where he collapsed just inside the infield — at the feet of YSU President Jim Tressel.

"I didn't know [it was him]. If I did, I would have got up and said a couple words to him," Harden said. "It's so great to have the president out here to support us, especially at events like this."
On the women's side, the Penguins picked up 24 points in the shot put alone. Jaynee Corbett won her second-straight shot-put title and set a new League record in the event with a heave of 15.81m. Teammates Kaitlyn Merwin and Nicolette Kreatsoulas took second and third, respectively.
High jumper Abby Jones won her event in an three-round jumpoff — the events equivalent of overtime. Jones and Illinois-Chicago's Janeka Stokes topped out at 1.72 meters. In a jump off, the bar is lowered by a centimeter until there is a winner. Jones won at 1.69m.
"My coach said 'it's just one more jump and I kept thinking it every single time and eventually it was the last one," Jones said. "It was my first jump off ever.
"I hope I don't have to do that again."
On the track, Amber Eles took the 60m hurdles. Keishawnna Burts and Jaliyah Elliott took the 200m and 60m dashes, respectively, before the pair teamed up Teneisha Myers and McDonald grad Iva Domitrovich to with the 4x400 relay.
More like this from vindy.com