---
Sunday, February 25, 2018
Vision Property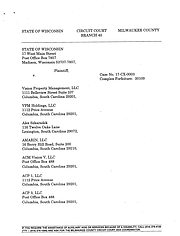 Document
Wisconsin v. Vision Property Management
LEASE-TO-OWN CONTRACTS LAND MANY IN ANGUISH
GET On The Bus
There's still time to join Youngstown Neighborhood Development Corp. on its trip to Vision Property Management's offices in Columbia, S.C.
WHEN: The bus leaves at 4 a.m. Saturday and returns at 5 a.m. Sunday.
WHERE: The bus departs from St. Edward Catholic Church at 240 Tod Lane.
HOW: Call YNDC at 330-480-0423.
By Justin Wier
YOUNGSTOWN
When an East Side woman learned she could enter into a land contract – or a lease-to-own agreement – instead of renting, she thought it would leave more money in her pocket.
"Before I got into this home, I was paying close to $700 just for a three-bedroom house," she said. "When you have a program that comes in and says, 'Hey, rent to own, $200 a month, $300 a month,' you think half of that money goes to food."
The Lincoln Knolls neighborhood home was vacant for two years, and she learned she had to bring the house up to code in order to pass inspections to receive utilities. The home lacked a hot water tank, copper piping in the basement appeared to have been stolen, and there were electricity problems.
Vision Property Management, a South Carolina company, purchased the home for about $5,000. It then offered the woman, who asked to remain anonymous because she worries the company will evict her, a $29,000 land contract. With interest and other costs, she will spend nearly three times that amount by the time she completes her 20-year contract.
The home's market value is less than $10,000.
The Vindicator spoke to her and two others who entered into land contracts with Vision Property Management.
The Youngstown Neighborhood Development Corp. and the Alliance for Congregational Transformation Influencing Our Neighborhoods plan to take a bus to Columbia, S.C., on Saturday to bill the company for demolitions and other costs associated with the company's properties in Youngstown.
Vision markets land contracts, also known as rent-to-own or lease-to-own agreements, to prospective buyers who don't qualify for home-mortgage loans, local officials say. Those buyers then assume the responsibility for maintenance and staying in compliance with city housing codes.
Vision still holds the deed, so if the buyer under the contract defaults on a payment, Vision keeps the money collected and the home.
Ian Beniston, YNDC executive director, said the bill for demolitions, grass cutting and other maintenance is in the tens of thousands of dollars. It's difficult to determine an exact figure because the 30 or so properties Vision limited liability corporations own in the city frequently change hands, he said.
The company's tactics have garnered media attention in outlets including The New York Times and landed it in court.
Wisconsin recently sued Vision in an attempt to forbid it from doing business in the state.
The lawsuit describes a "false, misleading and deceptive business scheme to induce Wisconsin consumers to lease, rent or purchase uninhabitable properties to their economic detriment."
Fannie Mae, the government-backed mortgage giant, stopped selling foreclosed properties to Vision last year.
LOCAL IMPACT
Mahoning County recorded 1,390 land contracts between 2003 and 2016, 617 of which were on properties in Youngstown, according to data provided by the Cleveland Federal Reserve Bank.
But many land contracts – including those for all three people interviewed by The Vindicator – go unrecorded.
The East Side woman regrets the day she became involved with Vision Property Management.
"They basically just feed off of the people who are in desperate need, or not even necessarily desperate need, it could be that they have bad credit like in my case," she said. "I thought 'OK, this is my chance to buy a home,' and it turns out to be a scam more than anything too good to be true. It's just heartbreaking."
A waterline break on her property recently resulted in expensive water bills, but the city's water department said it can't help with payment plans because she technically doesn't own the home.
"If I would have known this when I got into the home, I probably honestly wouldn't have gotten into it," she said. "I definitely feel the city of Youngstown should do something about it, but I honestly hope that none of these people get kicked out. I don't have anywhere else to go."
Shirin Moorehart, who lived in a Vision home at 528 Tenney Ave. in Campbell for about a year and half, suffered that fate.
She estimated she and her husband, Franklin, put $10,000 into the home for various repairs including replacement of missing water- lines in addition to their $660 monthly payments.
An LLC related to Vision purchased the home for $13,130, according to the county auditor's website.
At $660 a month, Moorehart would have paid $158,400 toward the house on her $60,000 land contract over 20 years.
When she and her husband began struggling to make payments due to health and other issues, she said Vision lowered the payments to $570 per month over 30 years, which would have added up to $205,000.
The Mooreharts ultimately moved out, losing the money they put into the home and the payments they made.
"It's been a nightmare for us," she said. "It really has."
Vision currently has the home listed for $1,000 down and $777 per month, which would total $187,480 over 20 years for property the auditor values at $52,700.
Beniston said YNDC sees the proliferation of predatory land contracts as a major problem.
"We believe land contracts can be an alternative path for someone if they're fair," he said. "But to put someone in a land contract where I'm charging you $80,000 for a $10,000 house and you have to make all the repairs ... It doesn't make any sense."
Moorehart's story didn't surprise him. Many people perform repairs on houses before defaulting on their land contracts, allowing the company that issued it to re-market the house at an increased value, he said.
He chose to lead the trip to Vision because it serves as an example for many issues facing the city.
Many of its properties, including one at 226 E. Lucius Ave. with a collapsing roof over its porch, are vacant with obvious problems. Beniston also sees Vision as an unresponsive out-of-state property owner.
"We've called and been met with deaf ears, so that's why we're taking this approach," Beniston said. "By their standards of maintenance, they clearly have no respect for our community."
YNDC's demands of Vision include funds for the demolition of 226 E. Lucius Ave. It also seeks reimbursement for the demolition of 4010 Lemoyne Ave., which YNDC took into receivership. Vision also marketed land contracts on that house.
On Thursday, Vision contacted the groups and agreed to a meeting, Beniston said.
A Vision representative told The Vindicator it is "working with all stakeholders involved to address any concerns."
A bill introduced in the Ohio House of Representatives by state Rep. Michele Lepore-Hagan of Youngstown, D-58th, seeks to rein in abuse of land contracts.
The bill would require companies to conduct appraisals and bring the home up to code before offering land contracts. It would also place a cap on interest rates.
A study from the Federal Reserve Bank of Atlanta documented a high percentage of land-contract properties in minority neighborhoods. In Youngstown, a high percentage of land contracts in the city are on the South and East sides, maps provided by the Federal Reserve Bank show.
Rose Carter, lead organizer for ACTION, said she's been in talks with 2nd Ward Councilman T.J. Rodgers about coming up with local solutions to the problem.
"We don't just want to take it nationwide," Carter said. "We also want to do something here locally for the city of Youngstown."
Cincinnati could provide a model. Similar to Wisconsin's lawsuit against Vision, Cincinnati filed a lawsuit against Harbour Portfolio – a Texas company with a similar business model – to prevent it from operating in the city. That lawsuit remains unresolved.
ANOTHER STORY
Kevin Nieves entered into a land contract thinking it would finally put his family on a path toward home ownership.
Unlike a bank, Vision did not appear concerned about his income or credit rating.
"[Vision] was like, 'Oh, well, the credit really doesn't matter,'" Nieves recalled.
The company required a down payment and told him the house was in livable condition – he just had to make minor repairs.
After he signed the contract, he discovered major problems with the home: the plumbing and water tank appeared to have been stolen, the electricity was not up to code, and the furnace needed repairs.
Under terms of the contract, that was his responsibility.
"I had not even a month and a half [to make repairs] because the city was trying to fine me because the house wasn't up to code," Nieves said.
Nieves investigated and determined that Vision purchased his Clarencedale Avenue home for $2,507, according to the county auditor's office. The home's current value is $19,070.
Vision then offered Nieves a $22,000 land contract, but at $300 per month. Nieves will have paid $72,000 at the end of 20 years.
The remaining $50,000 goes toward taxes, interest and insurance, Nieves said. But when his gutter fell off during a recent snowstorm, he was informed the insurance carries a $10,000 deductible.
Nieves said Vision does not report payments to credit agencies, so he's not even improving the bad credit that prevented him from obtaining a bank loan.
Nearly three years later, he regrets trying to purchase the South Side home where he lives.
"It's been backwards," Nieves said. "Instead of me bettering my situation, it's gotten worse."