Scouts meet for for annual Whispering Pines Klondike Derby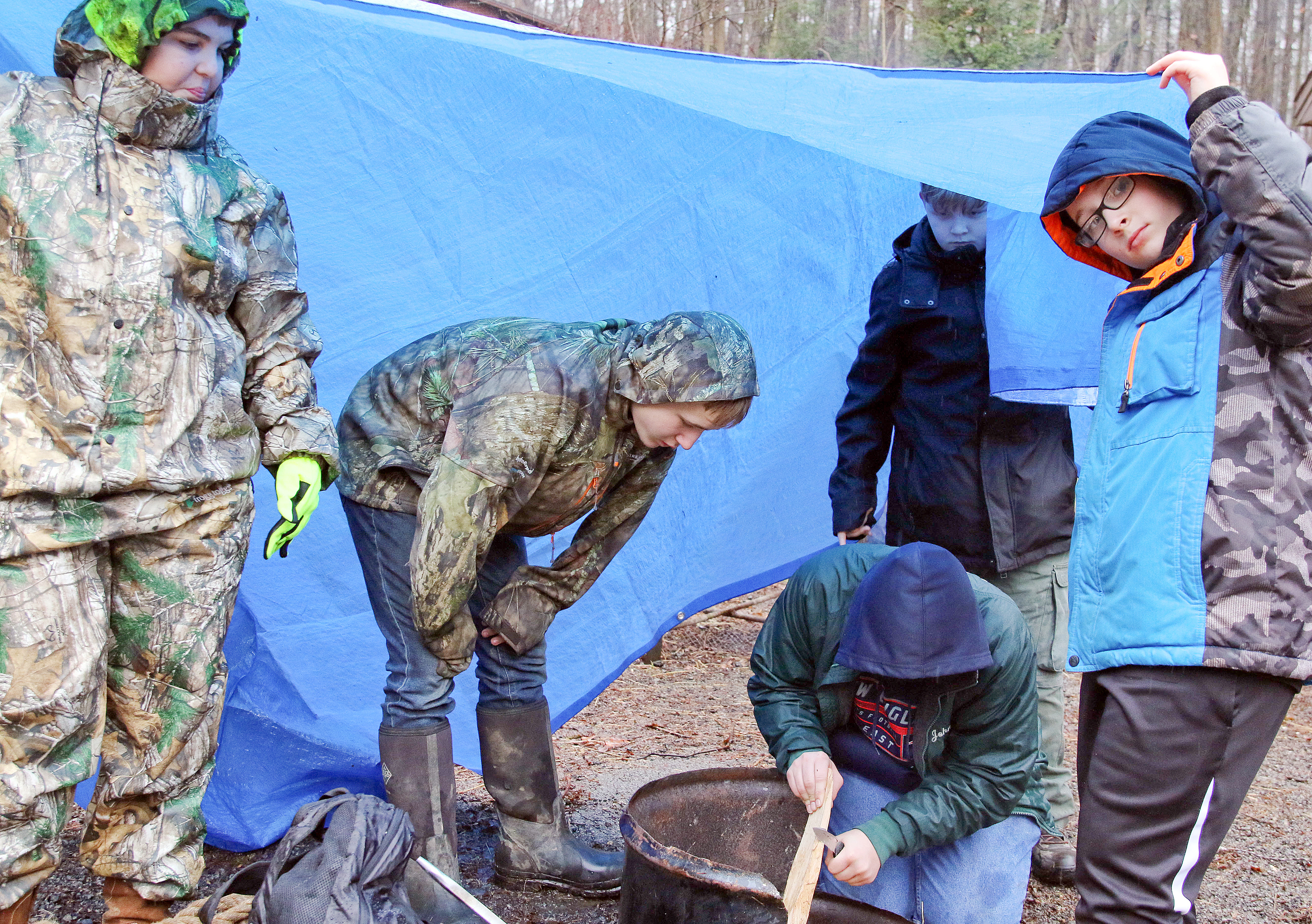 ---
By SEAN BARRON
news@vindy.com
CANFIELD
One of Bryson Harris' main duties Saturday was to position a tarpaulin over pieces of wood to keep them dry, so his fellow Boy Scouts could start a fire. But suffice it to say that the lessons he's learning will endure long after the flames are extinguished.
"It's definitely leadership and hard work until the very end," the 15-year-old member of Boardman-based Boy Scout Troop 46 said about what he sees as a top virtue of his five years in scouting. "I learned to always stay pleasant and happy with the people I'm working with, and to take on challenges that might seem too hard."
Klondike Gold Rush at Camp Stambaugh

Gallery
Local Boy Scout groups participated in the Klondike Gold Rush at Camp Stambaugh on Saturday February 24, 2018. Photos by Dustin Livesay.
Bryson was among more than 150 Scouts and dozens of leaders from Mahoning County and Hubbard who took part in the two-day rescheduled Whispering Pines Klondike Derby 2018 event, which got underway Friday at Camp Stambaugh, 3712 Leffingwell Road.
The festivities had been set for early January but were canceled because of extreme cold.
The annual gathering is based largely on the adventures and struggles of the men who crossed the frozen Klondike in the 1890s near Alaska in search of wealth and gold, organizers have said.
Bryson's duties were made more difficult Saturday, thanks to a cold, persistent rain and having to slosh through plenty of mud. Nevertheless, he was pivotal in ensuring the fire got started as part of the fire building and cooking activity, one of seven such stations that made up the Klondike Derby.
The scouts' multi-tasking abilities were put to the test, because Bryson and the others were challenged to start a fire by constructing a "bird's nest," a ball-shaped combination of dry grass, dryer lint and pieces of wood shavings stripped from twigs. They also were tasked with boiling water outdoors, as well as preparing individual pancakes that adhered to specific guidelines while following certain safety rules, noted Ted Kegley, a Scoutmaster with Troop 105 of North Jackson.
"I get to taste-test it, no matter how bad it is," he said with laughter.
The scouts were awarded points mainly for their skill level and teamwork, along with bonus points for completing other tasks, he added.
Kegley said that the skills learned in Scouting also have had an influence on his son, Ty, an Eagle Scout who attends Hocking College in Nelsonville, Ohio, because the experiences were instrumental in his decision to study for a career in wildlife management and forestry.
"We try to teach them some survival skills that'll be beneficial to them later in life," the elder Kegley continued.
Among the other stations were first aid, where participants learned to treat then transport someone with a broken leg; a teamwork area, in which some participants used a tarpaulin to lob small balls, called "gold nuggets," over a high bar to have others catch them; pioneering, which allowed the Scouts to build a chair, a table and a tool rack with sticks and staves (narrow lengths of wood with slightly beveled edges); and trivia, in which they answered questions about the history and protocol of scouting, proper ways to tie knots and other topics, noted John Boyd, event chairman.
"It's sort of a grab-bag of things," he said.
Despite the nagging rain and temperatures in the 40s, a few dozen Scouts forged ahead in the pioneering event to make a chair shaped like a small hammock while others constructed a small table. Members of Poland-based Troop 44 worked diligently on a tool rack.
"It's to test the scouts' skills, problem-solving and ingenuity," said Paul Lattanzie, a volunteer and Eagle Scout with Troop 122 of Howland who helped oversee the activity.
More like this from vindy.com