Quiz kids at Boardman High go for 57th win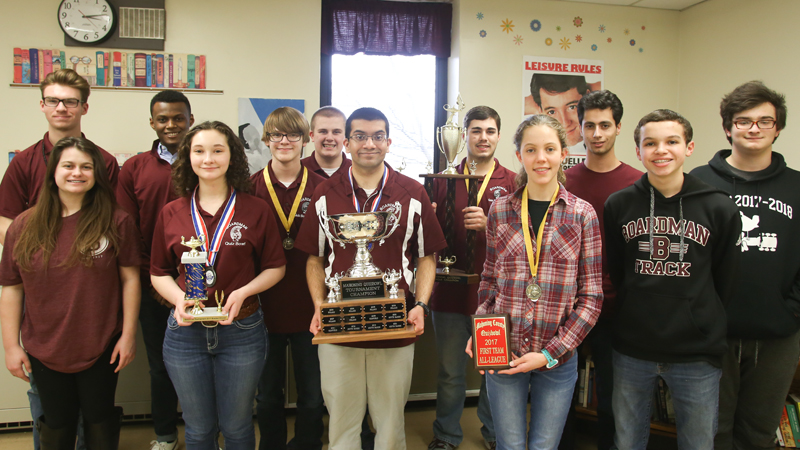 ---
By JORDYN GRZELEWSKI
jgrzelewski@vindy.com
BOARDMAN
At a recent Boardman High School Quiz Bowl practice, team members buzzed in to answer questions of a dizzying variety.
They answered questions about Martinique's flag and June 2017 events in Venezuela.
They correctly answered trivia about the children's novel "The Secret Garden," and named the location of the country's oldest continuously operating streetcar line (New Orleans, in case you were curious).
Each team member has an area of expertise.
Sophia McGee , for example, is a science whiz.
Judy Garzanich is an expert in "trash" – quiz bowl slang for popular culture questions.
Team captain Pranav Padmanabhan is good at geography, current events, literature and more.
Together, the team is unbeatable.
If it wins the Mahoning League Championship tournament Saturday at the high school, it will mark its 57th consecutive win in the Mahoning League. The team hasn't lost a league match since 2014. Padmanabhan said the team is ranked fifth in the state and 93rd in the world.
"It's very exciting, but actually not surprising, because of how hard they work," coach Randy Nord said of the team's success.
In addition to regular practices at school, team members hone their trivia skills outside of school. On Sundays, they use an online quiz simulator to practice. The team also goes to extra tournaments outside of their league whenever possible, and some members have gone to summer Quiz Bowl camps.
They do all of this because they love the game.
"I think the reason we have such a good winning streak is because we really enjoy playing," Padmanabhan said.
Padmanabhan, who has been named the league's "Player of the Year" the past two years, said he loves Quiz Bowl because of what he learns from it.
"The No. 1 thing probably is learning new things, and learning really interesting things you don't necessarily learn in school," he said.
He said he also enjoys making friends in the Quiz Bowl community and representing his school.
Twenty-six teams from school districts in Mahoning, Trumbull and Columbiana counties will compete in the league championship.
The local champion will be crowned, but the season doesn't end there.
Boardman, along with several other local districts, will head to state and national competitions later this year.
The national competition will take place over Memorial Day weekend in Atlanta.
The BHS team is raising money for the state and national trips. A fundraiser at Chipotle is scheduled for March 20.
More like this from vindy.com