Lady bulldogs edge Irish in OT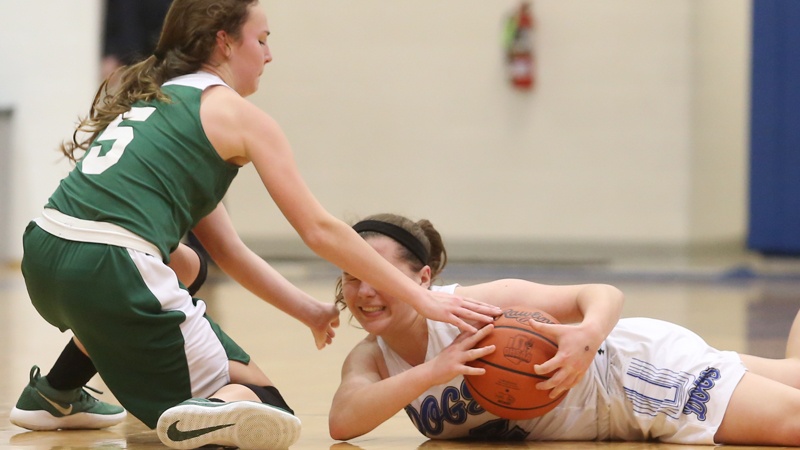 ---
Ursuline Poland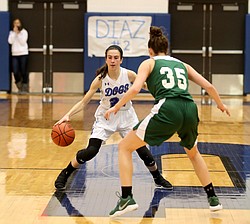 Gallery
Ursuline Poland Girls Basketball.
By JOHN BASSETTI
sports@vindy.com
POLAND
For both teams, it was four quarters of close, followed by four minutes of almost for Ursuline.
That's the summation of Thursday's Division II sectional final as fourth-seeded Poland edged No. 5 Ursuline in overtime, 50-49, to advance to the Austintown Fitch district semifinals against top-seeded West Branch.
"I knew it was going to be a great game, but that exceeded even my expectations," Poland coach Nick Blanch said. "That was two great teams going back and forth and, unfortunately, somebody had to lose.
"We were on the other end of that last year – great game, but lost 72-71 to Southeast – so we know what that feels like. We know what they're going through, so, hats off to them. This game could have very easily been a district final."
Heartache was felt inside the Ursuline locker room and tears were flowing outside of it as players left after Sarah Bury's two free throws with 10.2 seconds remaining that put Poland (18-4) on top.
After an inbounds pass from freshman Cara McNally, Dayshanette Harris sped downcourt and tried to plow through a pack of Poland defenders. Harris' shot came off the backboard and teammate Lindsay Bell's putback attempt bounced off the rim as the overtime period expired.
"With no timeout, you've got to kind of get your best player the ball," Ursuline coach Vannessa Dickson said of her team's final stab at victory with Harris speeding upcourt. "Obviously, you don't want the ball in anyone else's hands.
"We tried a screen-and-roll and she tried to get a shot up, but it didn't fall," Dickson said. "So be it. Lindsay [Bell] had another opportunity and that one didn't fall. That's kind of how the ball rolls sometimes."
Poland's Kat Partika and Bury scored 17 and 16 points, respectively, while Harris had a game-high 29 points for Ursuline (13-10).
Ursuline's Anisah Moorman made a basket that forced overtime at 43-all.
"That was a huge shot for her," Dickson said of the team's third-leading rebounder. "She had an offensive rebound and putback and that's kind of where she's been putting herself all season long."
A layup by Moorman with 47.3 seconds remaining gave the Irish a 49-47 lead before Bury made one of two free throws to pull the Bulldogs within 49-48.
Ursuline's Anyah Curd stepped to the foul line with 18.5 seconds left, but missed the front end of a 1-1 attempt.
"That was very uncharacteristic for her," Dickson said of the 6-0 junior's miss. "She's been very clutch in the second half of games making free throws for us. It was just one of those situations, but it doesn't come down to one play. That will hurt a little bit."
Dickson said she was satisfied with the season.
"No seniors, just juniors, sophomores and freshmen, so this group will be coming back," she said.
"I'm pretty satisfied that we incorporated a lot of freshmen in the lineup; it takes time to develop that. But we had a really good season and played a really tough schedule, so we'll see what happens with that group coming back next year."
More like this from vindy.com