Corey Linsley watches Spartans win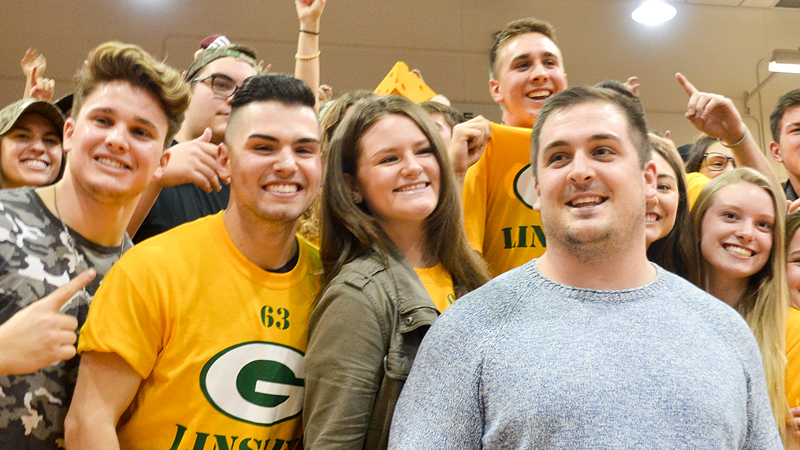 ---
By BRIAN DZENIS
bdzenis@vindy.com
BOARDMAN
Boardman was Little Wisconsin on Friday night.
There was more yellow and green – the colors of the Green Bay Packers – in the stands than the traditional maroon and white. That's because the Spartans were welcoming home Corey Linsley, a Boardman graduate and the starting center with the Packers.
"Everything seems smaller, but I guess I'm a little bigger," Linsley said. "It's so awesome coming back here and have a warm welcome and show some Spartan pride."
Friday also marked senior night for the boys basketball team, who rallied from a first-half deficit to beat Austintown Fitch, 51-41.
Corey Linsley Visits Boardman - Fitch Game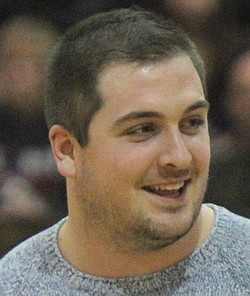 Gallery
2009 Boardman graduate and Green Bay Packers center Corey Linsley stopped by Boardman High School on Friday February 23, 2018 for the Boardman vs Austintown Fitch basketball game. Here is a photo gallery from the event.
Linsley was a fifth-round pick of the Packers in the 2014 NFL Draft. The former Ohio State center was expected to be the backup to then-starter JC Tretter, but Tretter got hurt and the rookie was forced into action. The Packers have stuck with Linsley since and in December, he signed a three-year, $25.5 million contract extensions.
"It's nice, but the thing a lot of people don't understand is that while it as a contract all of that money isn't guaranteed," Linsley said. "It's the same thing that it's always been. There's no free rides anywhere you go. I'm going to work for it and I'm thankful just to have the opportunity to begin with."
Linsley was honored between the first quarter and second quarter and was introduced as a standout football player, track athlete, member of the marching band and as "the worst lab assistant." Linsley wore the title with pride.
"I was supposed to take AP human geo and I dropped out of it – I don't remember why – [Eric Simione] taught it and he made me a lab assistant," Linsley said. "I was awful. I would sit in class and I would joke around with my buddies and raise hell a little bit.
"It was funny thinking about my AP class. It was a good time."
Boardman coach Pat Birch noticed the brief exodus of fans as they made their way into the hall, where Linsley signed autographs.
"It's not every night that you get an NFL guy in here," Birch said. "Corey is a great guy. He was a senior my first year as a teacher and it's cool to see all the success he's had."
Fitch took and 18-7 lead in the first quarter as Emmanuel Dawkins hit three threes. Randy Smith also contributed nine first-half points, but Boardman put themselves at five points back at halftime and the Spartans overtook the Falcons by limiting them to six points in the third quarter.
"They were doing a good job breaking us down on the basketball. Smith was having his way getting into the lane," Boardman guard Mike Melewski said. "After halftime, we tried to contain him, keep him in screens and double him a bit. We really responded it the third quarter and made life hard for him."
The duo of Smith and Dawkins were the top scorers for Fitch with 10 and 11 points, respectively, but combined for one point in the second half.
"That's the story all year. We have a really hard time maintaining our offensive efficiency through four quarters," Fitch coach Brian Beany said. "We have some good quarters and some really bad quarters."
Derek Anderson led Boardman with 16 points and Melewski added 14.
More like this from vindy.com