Hubbard students write letters supporting survivors in Fla.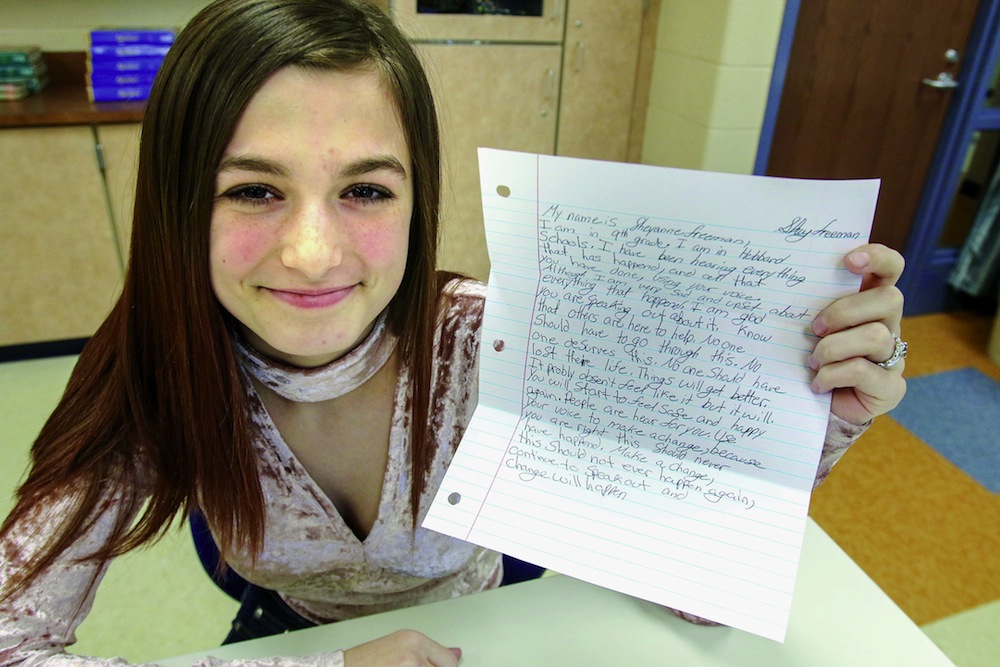 ---
HUBBARD
"We all as a nation grieve the loss and pain of the wonderful people of Stoneman. ... As we stand here today, we may not be certain as to what life might bring tomorrow, but we can turn from the past and make a better tomorrow," wrote Chase Powell, a freshman at Hubbard High School.
Chase chose his words carefully, knowing a student from Marjory Stoneman Douglas High School will read them when the Florida students return to school next week.
On Feb. 14, a 19-year-old entered the Parkland, Fla., high school and killed 17 people with an AR-15 within minutes.
Chris Moriarty, English teacher, saw a tweet posted by Diane Rogers, a high-school teacher at Marjory Stoneman Douglas, requesting that people from across the country send letters of positivity and encouragement for the students after experiencing the traumatic event.
Moriarty discussed the idea of having freshmen and sophomores write letters to the survivors of the mass shooting with other teachers and administrators.
"We knew the letters would be heartfelt. We have great kids," Moriarty said.
About 85 students wrote letters as an assignment Wednesday after a discussion about sensitivity and empathy, and about 30 of them will be sent to the survivors.
In Chase's letter, he focused on positivity.
"It's hard to understand what they are going through. But when I wrote the letter, I felt like I had the chance to make an impact on them. I hope they live the rest of their lives in a hopeful and positive manner," he said.
Laura Pierson, an intervention specialist who co-teaches with Moriarty, said some students normally detest writing, but they were all focused on writing their letter. Their compassion was reflected in their words.
While Moriarty knew his students had big hearts, he said the exercise taught him just how much they care about others.
Moriarty and Pierson told their students to feel free to ask any questions they had.
"A lot of the kids are very honest. We asked them not to write things like 'what was it like to hear the gunshot?' We really stressed to make it positive because it is the first thing they are going to read when they come back," Pierson said.
One student asked Moriarty how they can remain positive when something terrible happens.
"That opens up the conversation of, how do you stay positive? How can you turn any bad situation around? How do you make the best of a bad situation?" he said.
Moriarty pointed out the shooting survivors are traveling to speak to government leaders about legislative reforms they want to see, and he wanted his students to learn a lesson from that action.
"You are going to government leaders and saying we want change, we can effect change.
"We both kind of preach in here that your opinion matters, your voice matters," Moriarty said. "That's huge. Kids need to know they can create change."
More like this from vindy.com