China Tate leads Liberty over Heartland Christian
Liberty vs Heartland Girls Basketball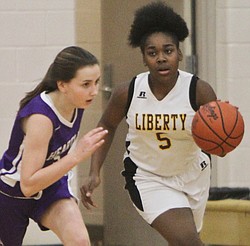 Gallery
Liberty vs Heartland Girls Basketball
Tate scores 22 points as Liberty advances
By BOB ETTINGER
LIBERTY
It was all about the hands for the Liberty girls basketball team as it battled Heartland Christian in a Division IV sectional semifinal. The Leopards used their hands to limit the Lions' ability to shoot or handle the ball effectively in a 53-15 victory Wednesday night at Liberty High School.
"We moved the ball well and we stayed aggressive defensively after we got it together," Liberty coach Deidre Watson said.
The fourth-seeded Leopards (16-7) will host fifth-seeded Valley Christian in a sectional final 1 p.m. on Saturday.
"We'll look to play our game," Watson said. "We're not worried about who is on the other side of the court. If we show up and play our best game, we have the opportunity to beat anyone."
When the Liberty defenders, led by Sydney Duncan in the paint, had their hands up, they made it difficult for Heartland Christian's shooters get off shots.
"We told the girls to make sure they keep their hands up and stay aggressive," Watson said. "If they altered a shot, then they had to go get the rebound."
The Lions (1-22) were just 5 of 49 (10.2 percent) from the field and 1 of 19 (5.2 percent) from the perimeter.
"Our team percentage is pretty low [for the year]," Heartland Christian coach Jennah Honeycutt said. "We averaged 17 points per game past year. This year it was 35, so it's going up. We usually shoot a lot better. We've had to talk them into being mentally tough. They're getting better. There are going to be times when there isn't an easy shot and you can either throw it up or do nothing at all. Doing nothing at all means we can't score."
A big reason the Leopards were able to force so many misses was they forced the Lions to shoot from further away from the basket than they'd have liked.
"We're vertically challenged," Watson said. "We're not the tallest team. A lot of teams like to get the ball inside against us. We pack the middle and try to stop the drive, stop penetration."
The Leopards did their best to simply make life difficult for anyone who got her hands on the ball for the Lions.
"We teach them to keep their hands active," Watson said. "There's always a moment when the ball is unprotected if they turn or turn their heads. That's when we teach them to poke at the ball."
Heartland Christian turned the ball over 20 times.
"Honestly, we haven't played a team as athletic or up in our face as [Liberty]," Honeycutt said. "It's hard to prepare for that."
China Tate took the ball away from Heartland ballhandlers and scooted in for layups five times as the Leopards had 16 steals. Duncan had three and Delia Watson and Nysa Gilchrist each chipped in with two.
"China is aggressive and fast and she has quick hands," Watson said. "She knows her game and plays it well. She gets a good read on the player she's defending and finds the weakness with her hands. She feels out the girls she guards pretty well."
Tate led everyone with 22 points and Delia Watson had 10 while Sydney Ogden paced the Lions with seven points and Jeanna Morgan added five.
More like this from vindy.com