LaBrae vs Poland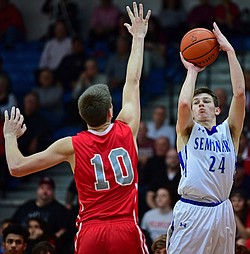 Gallery
Poland ends LaBrae's 45-game winning streak
By BOB ETTINGER
POLAND
Poland executed its game plan for LaBrae to near perfection Tuesday, handing the Vikings' their first loss, 86-68.
"We were pumped up for this," Braeden O'Shaughnessy said. "Last year we went over [to LaBrae] and looked pretty bad."
Poland coach Ken Grisdale said the Bulldogs had not forgotten.
"They were a good team," Grisdale said. "The kids remembered that and wanted to show how much they had improved. They did that. They were ready to play."
The loss ended LaBrae's 45-game regular-season win streak that dated to February 2016.
"It was 45 in a row going into tonight," LaBrae coach Chad Kiser said. "We didn't talk about the streak, but it's been in the paper and other teams know about and try to knock us off.
"It's made that bulls-eye on us even bigger. We just go out and expect to win. We can't do that against a good team. We have to play to win."
The Bulldogs (20-1) took control of the tempo early and turned the Vikings' own formula against them.
"We told the kids, from watching film, that if [LaBrae' got up early, [they] would look to get into their zone and control the tempo while still getting out and running in transition," Grisdale said. "We did a good job getting out and getting the lead.
"They knew if they didn't get a good start, they'd be behind the eight ball."
LaBrae (20-1) turned the ball over eight times in the first period and went down, 15-4 with 2:36 remaining in the opening period, following a 9-0 Poland run.
"The first thing we put on the board was 'No leakouts and get back on defense,' " Kiser said. "They have guys who don't rebound and they cheat out. There were six or seven times — 14 to 16 points — they scored on leakouts."
Poland, while pushing the tempo, scored the last 10 points of the first half, including a 3-pointer from O'Shaughnessy at the buzzer, to take a 48-25 advantage.
The Bulldogs were 20 of 34 (58.8 percent) from the field in the first half and committed just four turnovers. Meanwhile, LaBrae turned he ball over 16 times and was 10 of 24 (41.7 percent) from the field.
"That's when we're at our best," Grisdale said. "I'm not saying I enjoy it all the time because, at times, we turn the ball over too much. When we're able to get turnovers and run is when we're at our best. We were born to run."
The Bulldogs never really allowed the Vikings to string together any runs in the second half, though LaBrae did cut the deficit to 14 (75-61 with 3:07 to play).
"We weren't getting the two or three stops in a row we needed to turn it around," Kiser said. "We cut their lead to 14 in the second half, but every time they needed a bucket, O'Shaughnessy was there."
O'Shaughnessy finished with 24 points to pace Poland. Dan Kramer had 21, Mike Diaz had 18, Brandon Barrringer had 12 and Billy Orr chipped in with 11.
"We knew they'd want to run and jump," O'Shaughnessy said. "We wanted to blitz up the sideline. My shooting has started to come on better and better lately. I hit my first shot and when you hit that first one, it's a great feeling."
Aaron Iler led LaBrae with 21 points, Logan Kiser added 16 and Tyler Stephens had 13.
More like this from vindy.com