Summary of recent criminal activity in Poland and Boardman townships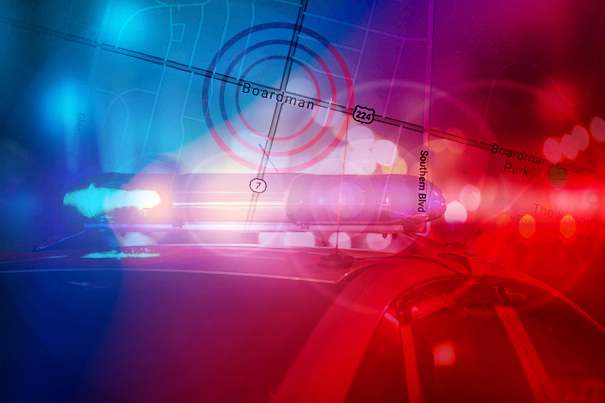 ---
EDITOR'S NOTE: This story has been updated to reflect the dismissal of a case.
A summary of recent criminal activity in Poland and Boardman townships:
POLAND
Feb. 16
Identity fraud: A New Castle Road woman learned that her identification had been used in a fraudulent manner regarding her credit-card account.
Feb. 18
Drugs: A plastic syringe, along with a spoon and a piece of paper with suspected heroin residue, was reportedly found as police assisted medical personnel in the 6400 block of Diana Drive, though no arrests were mentioned in the report.
Harassment: A Struthers woman said she was harassed at an apartment in the 6600 block of Katahdin Drive.
BOARDMAN
Feb. 15
Theft: Police booked Ryan W. Bevington, 40, of Pembrooke Avenue, Salem, on a theft charge after $310 worth of electronics items was stolen Dec. 14, 2017, from Walmart, 1300 Doral Drive.
Theft: After stopping his vehicle on Glenwood Avenue, authorities took Curtis M. Charlton of Glenwood, Boardman, into custody after ascertaining that Charlton, 18, was wanted on a warrant accusing him of stealing 15 articles of clothing valued at $225 last month from T.J. Maxx & More, 717 Boardman-Poland Road.
Breaking and entering: Officers at the Trumbull County jail took custody of Mason C. Powers, 31, of Orchard Avenue, Warren, who faced a breaking-and-entering charge after authorities had responded to a break-in Dec. 24, 2017, at Dollar General, 859 E. Midlothian Blvd. Surveillance footage showed someone using a brick to break a door window, then entering the discount store and opening a cigarette case before filling a garbage bag with 40 boxes of cigarettes, a police report showed.
Domestic violence: Ramsey J. Esmail, 34, of Overhill Road, Boardman, surrendered on a domestic-violence charge after his wife alleged Esmail had pushed her into a wall, causing the accuser to fall, during a confrontation about their daughter. On the prosecutor's motion, a judge dismissed the charges on Oct. 18, 2018.
Threats: A South Avenue woman and her boyfriend reported two people have sent them such messages, including threats of physical harm to them.
Drugs: Timmogene L. Howell Jr., 25, of Mill Creek Drive, Boardman, surrendered on a felony drug-possession charge after police investigated a possible shooting Nov. 22, 2017, at a South Schenley Avenue residence in which a woman later reported having been shot in the leg. A bag of suspected heroin was found in the apartment, a report stated.
Theft: A Boardman woman realized her wallet was missing while she patronized a South Avenue grocery store.
Feb. 16
Aggravated menacing: Authorities filed aggravated-menacing and inducing-panic charges against David B. Busse, 34, of Broadway Street, Masury, after several guests staying at Boardman Inn, 7109 Market St., reported a man had banged on their windows and, when refused entry to their rooms, threatened to shoot up the motel.
Arrest: An officer who noticed a possible vehicular accident near Market Street and Homestead Drive charged Charles N. Ramsey, 42, of North Main Street, Youngstown, with resisting arrest, possessing drug paraphernalia, obstructing official business and leaving the scene of an accident. Ramsey, who led authorities on a brief foot chase, had a suspected crack-cocaine pipe; he also was wanted on a probation-violation charge, a report showed.
Assaults: A woman and two other people told officers they had been assaulted during a large fight at an apartment in the 600 block of Cook Avenue.
Theft: Vanesha T. Starkey of Jean Street, Campbell, was charged with theft and drug abuse after being accused of intentionally failing to self-scan $140 worth of property while in Walmart. Starkey, 29, also had two packets of Tramadol pills, which are narcotics typically used to treat moderate to severe pain, with no prescription, police alleged.
Criminal mischief: Someone in the 50 block of Sugarcane Drive struck a car numerous times with eggs.
Criminal damaging: A Shadyside Drive woman alleged her daughter knocked on and perhaps unintentionally broke a door window, apparently in an effort to get the accuser's attention.
Theft: A township woman reported her wallet missing while at a Boardman-Poland Road store.
Theft: Police charged Jennifer L. Mshar, 31, after alleging Mshar, of Smithfield Street, Struthers, stole a tank top, a pair of women's leggings and a set of women's earrings from Kohl's, 383 Boardman-Poland Road.
Drugs: Officers on West Midlothian Boulevard pulled over then charged Johnathan A. Post Sr., 29, of Taylor Road, Negley, with possessing drug paraphernalia and drug-abuse instruments. Post had a spoon and a syringe, both with suspected heroin residue, a report said.
Feb. 17
Arrest: A traffic stop near Hillman and Market streets resulted in the arrest of Tiara D. Bells, 28, of West Evergreen Avenue, Youngstown, who was wanted on a city warrant charging her with making false alarms.
Burglary: Authorities charged Michael W. Bennett, 30, of Tippecanoe Road, Boardman, with burglary after someone reportedly had broken into a woman's nearby apartment via a rear door. Police found Bennett in a bedroom, they alleged.
Criminal damaging: A Shadyside Drive woman alleged her former boyfriend cracked her windshield and shattered a driver's-side window to her car, which resulted in a $500 damage estimate.
Menacing: An employee with a Southern Park Mall store alleged a co-worker threatened to slap her face after she had asked him to move to another area.
Burglary: To an apartment in the 800 block of Auburn Hills Drive through a rear window. Several pieces of costume jewelry were taken.
Theft: A man in a Pittsburgh Penguins jersey reportedly fled on foot after having stolen a $50 cellphone case from Walmart.
Menacing: A Boardman-Canfield Road man said a neighbor continually bangs on his apartment door and threatens him.
Menacing: A man reported another man had threatened to send others to damage his Kiowa Road residence regarding a debt the accuser apparently owed the second man.
Theft: Zuieyka K. Figueroa, 27, of Reed Avenue, Campbell, faced a charge, accused of purposely failing to self-scan $98 worth of items that included a chuck roast while in Walmart.
Arrest: Isha C. Butler, 27, who listed Youngstown addresses on East Glenellen and South Hartford avenues, was taken into custody after having been pulled over near Indianola Road when police discovered Butler was wanted on a Campbell warrant charging violation of a court order.
Theft: Girard police handed Charshell D. Tensley, 28, to township authorities. Tensley, of Wellington Avenue, Youngstown, was accused of stealing from Walmart two $35 knit tops and a tube of lip gloss in December.
Drug paraphernalia: After pulling her over near Melrose Avenue, officers charged Raeshawna L. Underwood, 36, of Bouquet Avenue, Youngstown, with having a suspected crack-cocaine pipe in a cigarette pack.
Arrest: A vehicle check near Indianola Road resulted in the arrest of Tishawn M. Crum of Miami Street, Youngstown. Crum, 33, was wanted on a probation-violation charge from Campbell.
Feb. 18
Arrest: A traffic stop on Market Street led to Shane D. Varner's arrest on a charge of operating a vehicle impaired. Varner, 22, of West Boulevard, Boardman, registered a 0.181 blood-alcohol content, which is more than double Ohio's 0.08 legal intoxication limit, a report stated.
Feb. 19
Theft: A 15-year-old Poland boy reported his $600 iPhone stolen while at Southern Park Mall.
Drugs: While responding to a car crash in the 7700 block of Glenwood Avenue, officers charged Kevin D. Schaefer, 42, of Meadow Wood Lane, Salem, with drug abuse and operating a vehicle impaired after alleging he had a bag that contained Alprazolam, commonly used to treat moderate to severe pain, without a prescription. Schaefer's blood-alcohol content was 0.0, but he exhibited other signs of impairment, a report showed.
Drug paraphernalia: Christopher Yarwood, 28, of Champlain Avenue, Youngstown, was charged with possessing drug paraphernalia after police pulled him over near Melrose Avenue. A suspected marijuana pipe and a device to grind marijuana were in a coffee can in his vehicle, authorities alleged.
Theft: An undisclosed amount of money was taken from a Southwestern Run Place medical group.
Criminal damaging: Three mailboxes in the 6300 block of Tara Drive sustained varying degrees of damage.
Arrest: Authorities picked up Robert J. Rosenberg Jr., 22, of Edenridge Drive, Boardman, at St. Elizabeth Youngstown Hospital on an inducing-panic charge, related to a Sept. 29, 2017, situation in which two people at a Market Street motel were reportedly found on a floor with shallow breathing. A bag containing four Alprazolam pills was found, and Rosenberg was given Naloxone to reverse or block the effects of opioids, a report stated.
Domestic violence: Police at St. Elizabeth Youngstown Hospital took custody of Amanda K. Stanley, 28, of Trotter Drive, Boardman, who was charged after an earlier fight in which her boyfriend alleged Stanley had struck him several times.
Arrest: A traffic stop on Market Street led to the arrest of Marquelle S. Boatwright, 28, after officers discovered Boatwright, of North Cadillac Drive, Boardman, was wanted on an Ohio State Highway Patrol warrant charging identity fraud.
Drugs: James R. Coffin of Sciota Avenue, Boardman, was charged with drug abuse and possessing drug paraphernalia after having been pulled over near Market Street. Coffin, 63, had in a piece of tissue paper a suspected crack-cocaine pipe with a scouring pad sometimes used for drug purposes; also found were two small bags that contained a rock-like substance, a report showed.
Arrest: Police in Youngstown picked up Nathaniel D. Bowles, 26, who listed addresses on Southern Boulevard in Boardman and Sandy Court in New Middletown and who was wanted on warrants charging him with one count each of obstructing official business, resisting arrest and disorderly conduct. Earlier, authorities reportedly saw him walking on West Boulevard and had to use a stun gun in an effort to arrest Bowles because he refused to follow their commands; he also refused to answer officers' questions, a report stated.
Robbery: Austintown police handed to Boardman authorities Darin T. Jenkins, 45, of Market Street, Boardman, who was charged with aggravated robbery after someone who claimed to have a firearm in a backpack robbed Dollar General, 4996 Market St., on Feb. 11 and left with five packs of cigarettes.
More like this from vindy.com