Struthers contains McDonald's top guns
Struthers vs McDonald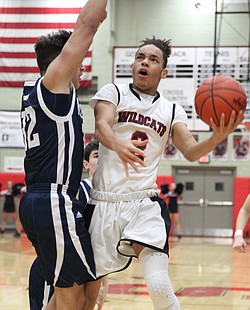 Gallery
Ryan's 15 points lead Wildcats
STRUTHERS
You could say that McDonald couldn't Poole this one out.
Entering Tuesday night's non-conference game between once-beaten McDonald and Struthers, Braedon Poole and Zach Rasile were mega-scorers for the Blue Devils.
For example, Rasile scored 37 points and Poole 35 in McDonald's game last Friday, a 95-74 win over Champion.
So, relatively speaking, Struthers kept the pair of point purveyors in check as Poole was held to 22 and Rasile to 18 in Struthers' 61-52 victory.
"To hold them to 52 was the key tonight," Struthers coach Jim Franceschelli said as his Wildcats finished 11-11 and take a three-game winning streak into the postseason. "We really stress guarding and God help us if we don't guard those guys like we did. We really weren't that great on the offensive end."
Carson Ryan led the winners with 15 points, while Kevin Traylor had 11 and Isaiah Torreance 10.
McDonald's lone three-point goal came from Zach Rasile, coach Jeff Rasile's son.
"Bigger school, more bodies," was how Jeff Rasile described losing to the Wildcats.
"We didn't play our A-game, but I've got to give them credit for that; they were constantly working [on Zach]," he said. "The third quarter was our downfall, there's no question.
"If you go into that [fourth quarter] even a couple of points [behind], that would have helped."
McDonald's best stretch was an 11-4 run that gave the state-ranked Division IV Blue Devils (19-2) a 28-25 halftime lead. Then Struthers took control and outscored the visitors, 19-9, in the third quarter.
Freshmen Brandon Washington and Trey Metzka had a significant impact on the outcome, Franceschelli said.
"We ask a lot of those two guys, but they played big minutes for us," he said.
Washington, a 6-foot-2 guard, entered the game in the second quarter, replacing starter Tyrese Hawkins.
"I thought he [Washington] did a good job guarding Zach and guarding Poole a little bit," Franceschelli said. "Going against those two guys is throwing him in the fire.
"Those two are the best in the area, hands down. I don't care if they are Div. IV or not, that's a huge win for us."
The 6-5 Poolemade double-digit rebounds.
In closing minutes, after a 3-point goal by Metzka and a layup by Traylor, Adrian Brown disrupted one of Rasile's layups and got the ball to Washington, who made a layup down the middle for a 55-45 lead.
"That kind of relieved the pressure for us," Franceschelli said. "Anytime you're asking that of a freshman, you've got to expect some mistakes, but he did a nice job. He's a special player — he really is."
Of Ryan, Franceschelli said, "He's our leader, he makes us go."
Asked if Struthers wore the Blue Devils down, Jeff Rasile said, "Usually, we wear people out, but maybe they wore us out.
"Our number one goal was to play on Struthers' gym prior to district," Rasile said in alluding to McDonald's top-seeded status in the upcoming tournament at the Struthers Fieldhouse. "We reached that goal, but I never like to lose. I'm a bad loser."
More like this from vindy.com