United Way 2017 campaign tops $3 million mark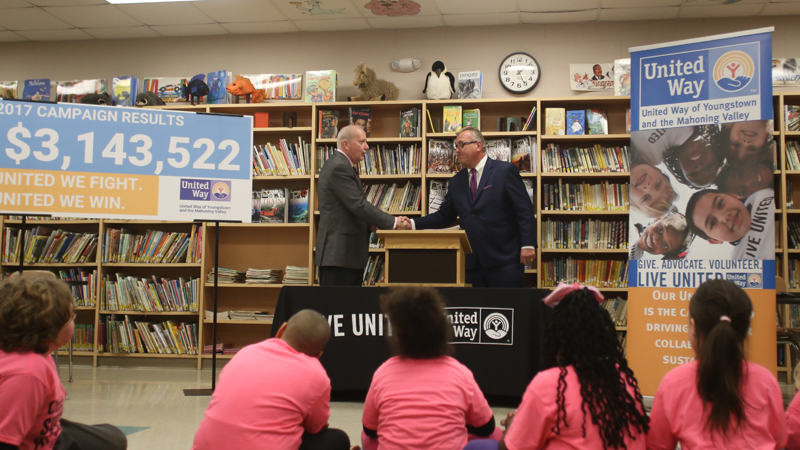 ---
By WILLIAM K. ALCORN
alcorn@vindy.com
GIRARD
The United Way of Youngstown and the Mahoning Valley's 2017 financial campaign topped the $3 million mark for the second straight year.
The 2017 campaign, led by Garry Mrozek, chief executive officer of Hometown Pharmacy Solutions, raised $3,143,522, exceeding the 2017 financial campaign goal of $2.9 million by $243,522, the local United Way announced Tuesday at a news conference at Prospect Elementary School.
"Our United Way's impact work, which focuses on early-education initiatives such as Success After 6 and Success by 6, drives the growth in our campaign," said Robert Hannon, United Way president.
Prospect Elementary is an example of which Hannon referred.
"Prospect is the first school outside of Youngstown to partner with United Way in the Success After 6 program. Our focus is on Youngstown children, but we realize that children in other districts can also benefit from the program," Hannon said.
A Success After 6 program started in Liberty Schools in January and another is expected to get underway in Campbell Schools in the fall, he said.
Prospect Elementary and the community have bought in to the Success After 6 program. The only cost to the district is transportation, Hannon said.
"The enrichment piece, which provided field trips, is wonderful," said Prospect Principal Debbie Gratz.
The Rev. Vicky Kelley, pastor of the Girard First United Methodist Church, and church member Sara Korb, a retired Girard teacher, are heading a campaign to get volunteers to participate in Project More, in which community members read with children in grades kindergarten through second.
"Our congregation sees it as a way to give back to the community," Pastor Kelley said.
In addition to the annual financial campaign, which is raised locally and funds the United Way's impact programs and 44 programs operated by 31 nonprofit agencies, the local United Way this year received $1 million in 21st Century federal grants, which are administered by the Ohio Department of Education.
The money can only be used for wrap-around programs, such as vision and dental, before or after school, Hannon said.
The grant not only funds wrap-around programs, its frees up general campaign funds previously used for those purposes, he said.
Mrozek, who was 2017 campaign chairman and chairman of the local United Way's board of directors, praised the "tremendous United Way staff, the volunteers and our many generous contributors who make this campaign possible."
"The United Way continues to create positive change by collaborating with partners to focus on the caring power of the people of our valley," Mrozek said.
More like this from vindy.com