Cookies for conversation on race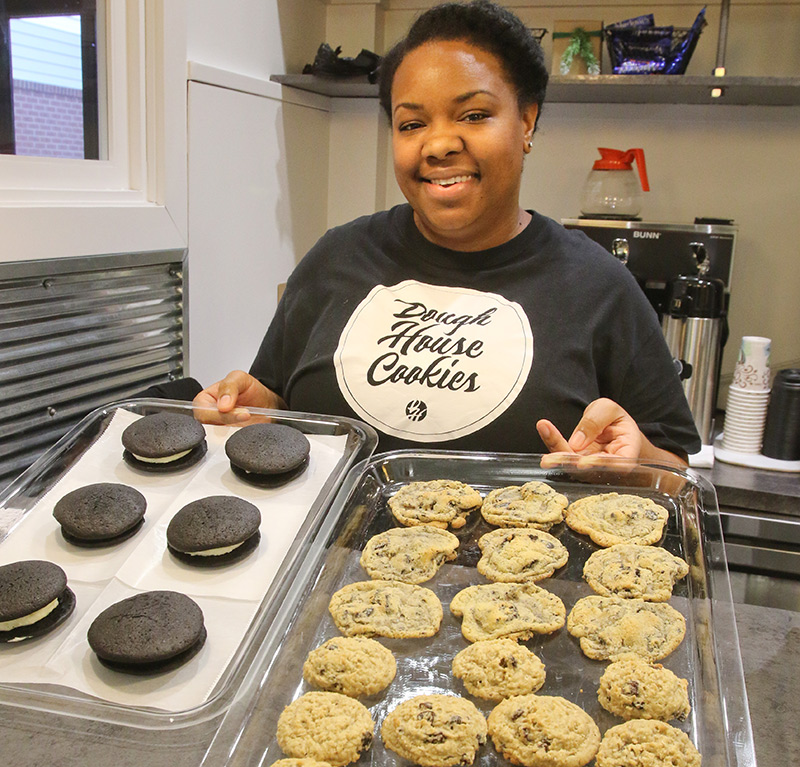 ---
Baker donates proceeds from sale of 'Black Panther' cookies
By Billy Ludt
CANFIELD
A baker hopes her cookies promoting the record-breaking movie "Black Panther" can help maintain conversations focused on representation for people of color in mainstream media.
"That is what I think the cookie is about," said TaRee Avery, owner of Dough House Cookies. "It's a really simple gesture."
The Marvel blockbuster opened this holiday weekend, and is running with $253 million in box-office earnings as of Monday.
Dough House Cookies at the Canfield Library, 43 W. Main St., baked Wakanda Whoopie Pies, a cookie made of two red velvet cookies, dyed black in honor of director Ryan Coogler's superhero flick, with a whipped cream cheese filling between. Wakanda is the mythical technologically advanced African nation in the film ruled by King T'Challa, the Black Panther.
Half the proceeds made from the $2 cookie will be donated to the Youngstown-Warren youth organization Inspiring Minds to send kids from low-income households to see the movie in theaters.
"Seeing visuals of themselves represented in superhero form is a message that they need to receive," Avery said. "But also knowing that there are local organizations and local businesses that support them and want to invest in that change is important to see."
Avery brought her business back to the Youngstown area after running a cookie shop in Nashville, Tenn. Dough House Cookies' mission, she said, is to provide a sense of home, and every quarter she selects an organization that aligns with that mission to donate her earnings, cookies or time to.
This quarter was Inspiring Minds, but Avery technically already made her donation to the organization. She posted a picture of the Black Panther-themed cookie and its purpose on Dough House's Facebook page Feb. 16, and within a couple hours had sold out.
After that, Avery decided she would keep selling Wakanda Whoopie Pies through the end of February, which is Black History Month.
"It was getting farther beyond our customer base," Avery said. "I was starting to think I really want to push the messaging that the movie is bigger than just entertainment. It's about continuing a conversation."
"Black Panther" is set in Wakanda, where vibranium, a precious metal and the hardest material on Earth, is located. Avery said seeing Wakanda on the big screen was important.
"Looking at what an un-colonized Africa would look like – that was huge," she said.
Actor Chadwick Boseman plays the Black Panther. The character made his first appearance in 1966 in issue No. 52 of the "Fantastic Four" comic book.
As a film, Black Panther has a cast and crew made almost entirely of people of color.
Representation in the film goes beyond people of color, and puts women in roles of great power, and tackles other issues like ageism, Avery said.
Something caught Avery by surprise after seeing the movie this past weekend. While leaving the theater, a boy who was so excited to see the movie that he dressed in a Black Panther costume was playing with his father. Both the boy and his father were white.
"There was nothing racial about it," she said. "I think I was so eager for there to be something for the black community. I was stuck on that. Almost like there was a little bit of bias to it. So I think seeing that little boy sort of reminded me that 'No, this isn't just for the black community, or people of color in general. It's so much bigger than that,' and I think that seeing a superhero of color is going to benefit people of color."
More like this from vindy.com