JA bowl-a-thon event marks 25th year for fundraiser Goodwill to spare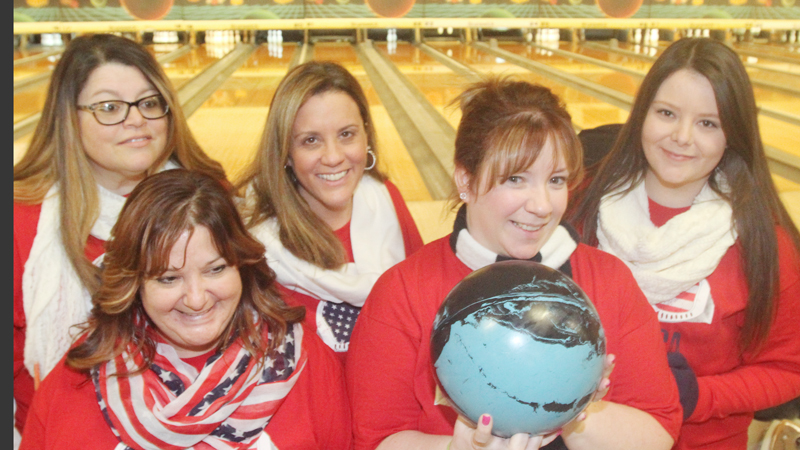 ---
By Bob Jackson
AUSTINTOWN
There was an abundance of balls and strikes Saturday afternoon, but there were no runs, no hits and no errors.
It was the Great American Bowl-A-Thon Challenge: Red, White and Blue, sponsored by Junior Achievement of Mahoning Valley. The event, in its 25th year, is the largest fundraiser each year for JA, said Marcy Angelo, program and special events coordinator.
A second bowl-a-thon, also to benefit JA, will be May 8 at Camelot Lanes in Boardman.
Angelo said proceeds from Saturday's event at Wedgewood Lanes should put the organization more than halfway toward its goal of generating $20,000 between the two events. JA will use the money to help pay for programming to promote financial literacy, work-readiness and entrepreneurship for some 13,000 students in grades K-12 in Mahoning, Trumbull, Columbiana and Ashtabula counties.
"Our mission is to inspire and prepare young people to succeed in a global economy," Angelo said, noting that Junior Achievement works with 91 schools in its four-country market.
Thirty-one teams, made up of employees from six area companies, took part in Saturday's challenge.
"This is one of our better turnouts in recent years," Angelo said.
Participating companies were General Motors Lords-town Complex, United Auto Workers Locals 1112 and 1714, Chemical Bank, HBK CPAs and Consultants, Advantage Video Productions and Leadership Mahoning Valley.
Angelo said Chemical Bank has participated in the bowl-a-thon for each of the 25 years.
"We've stayed involved every year because we believe in what Junior Achievement is all about," said Alicia Miller, a regional marketing manager with Chemical Bank. "We're a community bank that really enjoys partnering with organizations in the communities that we help."
Miller said Chemical Bank had 14 teams, with five people per team, at Saturday's event.
In keeping with this year's patriotic theme of red, white and blue, participants had the option of wearing theme-appropriate attire for the chance to win additional prizes. Most teams sported red, white or blue T-shirts, while at least one team mixed all three colors together with a tie-dyed look.
Melissa Keeley, Shauna Tipton, and Vincent Krpicak, all employees of Chemical Bank and all fans of Marvel's "Captain America," wore gray shirts with a Captain America shield on the front.
Keeley said employees enjoy taking part in the bowl-a-thon each year.
"It's for the kids who are going to benefit from JA and its programs," she said. "Plus, it gives us all a chance to get together and see each other outside the office."
More like this from vindy.com