Kramer scores 33 as Poland tops Canfield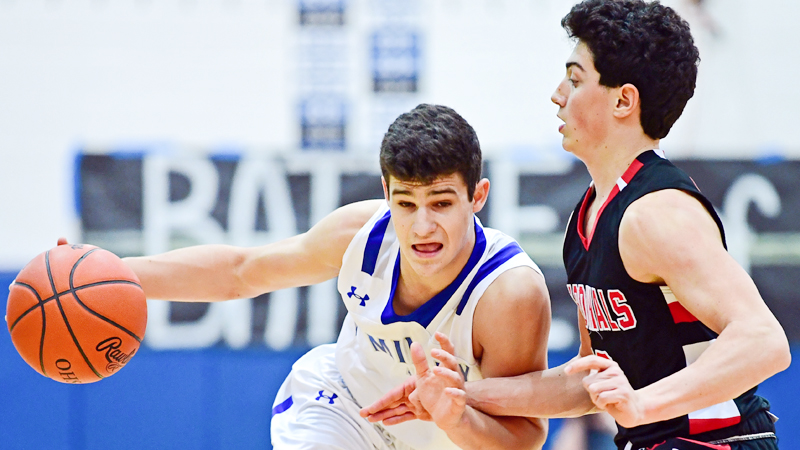 ---
Kramer dominates in Poland win
Poland Canfield Boys Basketball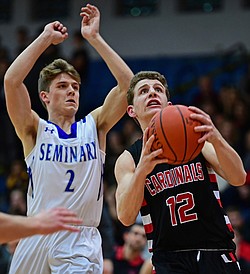 Gallery
Poland Canfield Boys Basketball
POLAND
The schools may have played their final basketball game as All-American Conference members, but despite ongoing differences between Poland and Canfield, the respective athletic departments endeavor to keep future competition alive.
And hopefully as entertaining as Friday night's game, won by Poland, 75-60.
Because of the clammy climate that existed between the entities, Friday's "Battle of 224," as it is affectionately known, could have had undertones of a "Blame Game."
But good sportsmanship prevailed on the court for four quarters in full view of a near-full house at Poland's gym, signalling that a warming trend may be on the horizon.
"I'm really sad to see the breakup of the league, but everybody has to do what's in their best interest," Poland coach Ken Grisdale said. "I'm very disappointed in the fact that some old rivalries will no longer exist, at least in the near future."
For Grisdale, it's bittersweet.
"As a person, I'm a Canfield graduate and a Poland coach, a Poland resident. It's a special situation between the two communities and I'm sad that politics have gotten in the way."
Canfield coach Todd Muckleroy echoed the sentiments.
"It's a shame because our student-athletes need to play in a game like this," he said. "I hate to see it go away. Can we find rivalries somewhere else? That's a question I can't answer."
Muckleroy said that the schools will play in the United Way Classic next school year.
"I don't know about a second time, but there will definitely be one time," Muckleroy said.
Canfield athletic director Greg Cooper alluded to a future game.
"At the athletic level, we've tried to keep things businesslike and in the case of this possibility of playing in the UW is looked at by both athletic departments as a possible opportunity that we're going to consider things as they take place and as we schedule and, perhaps, the door's not closed," Cooper said. "It's not closed on our side and, hopefully, it's not totally closed and locked on Poland's side."
Poland AD Brian Banfield said that he'd be agreeable to consider playing Canfield down the road.
On Friday, Daniel Kramer had a career-high 33 points for Poland (18-1), while Braeden O'Shaughnessy added 28. Ian McGraw scored 17 points for Canfield (12-8), while Ethan Kalina had 10 for the visitors, who saw 10-point leads of 27-17, 29-19 and 31-21 slip away as the second half unfolded.
Poland made 28 of 43 field goals and 15 of 24 free throws, while Canfield was 23 of 58 from the field and 5 of 6 at the line.
"It's special [taking the Battle of 224 Trophy home]," said Kramer, who scored 32 points last year as a sophomore. "You don't know how many more times it'll be around."
Kramer has Mike Diaz to thank for many of his baskets. Diaz had 11 of Poland's 22 assists and three steals. However, Diaz only had two points.
"It doesn't bother me as long as we come out with a win," the 5-9 guard said.
Of the one basketball game against Canfield next school year, Diaz said, "It sucks that [the current] underclassmen may not be able to play [more against Poland's longtime rival]."
O'Shaughnessy, a scrappy 6-foot-1 leaper-shooter, said that playing for the Battle of 224 Trophy motivated the Bulldogs.
"It's awesome to have it now," the junior said of the hardware that will be up for grabs when Poland and Canfield play in a non-league football game next fall.
Also for the winners, Billy Orr had a double-double of 10 points and a team-high 10 rebounds, while Brandon Barringer had nine rebounds and Kramer seven. Poland out-rebounded the Cardinals, 35-22.
Canfield suffered when Kyle Gamble had to sit with three fouls early in the third quarter. Gamble returned to the game and finished with eight points.
More like this from vindy.com