Fitch swimmers Direnzo, Lawrence set for districts at CSU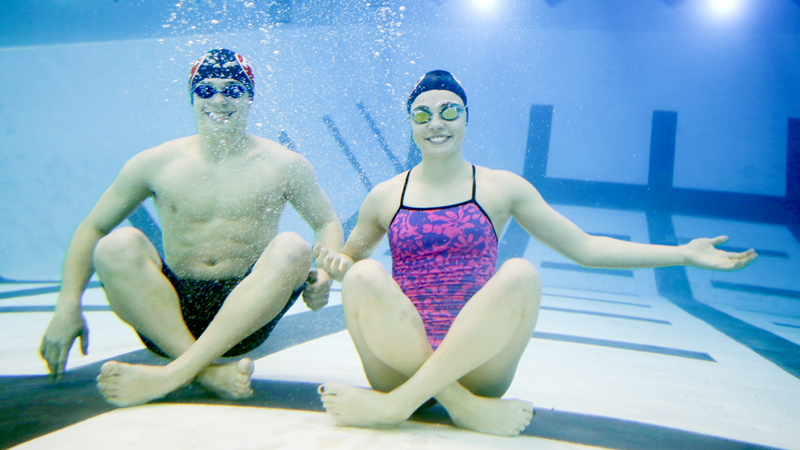 ---
By Dan Hiner
Youngstown
Fitch Swimmers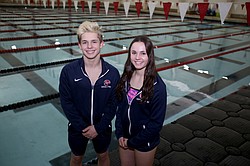 Gallery
Austintown Fitch had two swimmers qualify for this weekends Division I districts.
Gia Direnzo and Jake Lawrence will travel to Cleveland State University with completely different mindsets.
Direnzo said swimming "stresses" her out.
Direnzo's stress comes from the natural adrenaline of competition and a chip on her shoulder from last year's districts. Direnzo thought she could have swam better last season and has worked to better herself throughout the year. As a result, she practices twice a day, once in the morning and once in the afternoon.
"I think I learned a lot from last year," Direnzo said. "I don't think I was as prepared as I am for this year. Last year I didn't do as well as I hoped. This year I was more focused in practice and I think that will help on Saturday to see a drop in times."
Lawrence, a freshman, has a more relaxed approach.
"I just have fun. If you're not having fun, you're not going to swim well," Lawrence said. "And if you're not having fun then there's no reason to do it."
Lawrence said some people consider his "fun" approach to be a lack of commitment to the sport. But Lawrence said he approaches competition with a different perspective.
"People think I don't care, but I love this sport dearly," Lawrence said. "I give it my all, all of the time. I may laugh and talk a lot more than other people, like Gia, I'm just here to have fun and get better."
Direnzo, a junior, is making her third appearance in the district round. She will participate in the girls 100-yard butterfly and the 100 backstroke.
Lawrence is making his first trip to districts and will swim the 200 IM and the 100 backstroke.
Lawrence didn't want to swim the 200 IM this season. He originally wanted to participate in the 200 freestyle, but his coaches convinced him the IM was for him.
Fitch head coach Lisa Frederick believes Lawrence could become one of the best swimmers in the area if he continues to develop.
Frederick said Direnzo and Lawrence's ages are the reason they have different perspectives in the pool.
"Twice a week, Gia is [at Youngstown State] at 6 in the morning swimming. She's the only one doing that," Fredrick said. "But Gia's a junior. Jake's coming in a as a freshman. He's like a little powerhouse. He's one of those kids that's talented no matter what sport he's playing.
"He comes in and has fun. I can't even imagine, if he had the commitment Gia has, what he will do. I can't even imagine it."
The 2018 season was the first time Austintown Fitch fielded a varsity swimming team. Prior to this season, the Falcons' swimmers were considered part of a varsity club sport. The program wasn't funded by the school district and need to raise money to participate.
Fredrick said the program will begin to change next season after the Falcons start to receive year-round funding.
The Falcons will also have a third participant in districts.
Fitch diver Stefani Christy was the first diver in program history and qualified for districts for the second consecutive season.
More like this from vindy.com