First grade sings for the holidays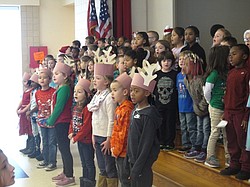 Photo
Neighbors | Zack Shively.The first-grade groups included four classrooms each. Each of the groups sang two songs that were selected at random by drawing songs titles from a hat.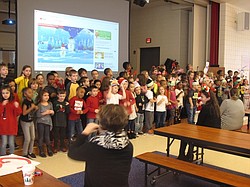 Photo
Neighbors | Zack Shively.First-grade students at Austintown Elementary enjoyed celebrated the holiday season with a sing along concert on Dec. 21. Pictured, the group sang "Five Little Snowmen," a seasonal take on "Five Little Monkeys."
By ZACK SHIVELY
The first-grade students at Austintown Elementary School sang their holiday favorites on Dec. 21 in the school's cafeteria.
All sixteen classrooms participated in singing the Christmas songs. They broke into four groups of four classrooms. These groups, called nests, are based on the locations of their rooms. All four classes in a nest neighbor one another.
Carli Cramer, a first-grade teacher, organized the event. She said she wanted to get the students in the Christmas spirit and have some fun before break.
Each nest sang two songs for their performance. Cramer put a YouTube video showing lyrics on the screen behind the students. They all organized dances for each song. Nests chose what song they sang by pulling the names from a hat.
The nests rehearsed throughout the week for the event. The event pleased the students and staff, including principal Thomas Lenton.
They sang songs like "Frosty the Snowman" and "Rudolph the Red-Nosed Reindeer" as nests. They finished the sing along with "We Wish You a Merry Christmas" sung by the entire first grade together.
More like this from vindy.com