Moschella under fire from Columbiana senior's parents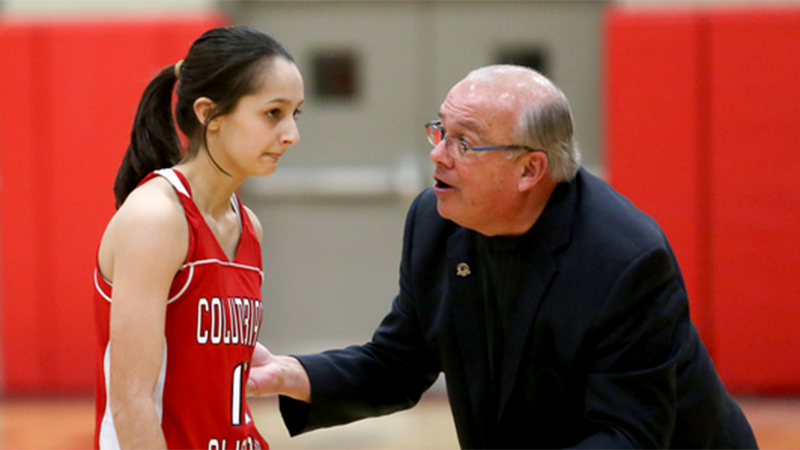 ---
Veteran coach's game demeanor questioned
Staff report
COLUMBIANA
Not everyone is thrilled with the Mahoning Valley's winningest basketball coach.
Ron Moschella remains the Columbiana High School girls basketball coach.
"For now," Columbiana superintendent Don Mook said Wednesday afternoon.
At Tuesday's school board meeting, the parents of senior Taylor Hall asked that Moschella be dismissed because of abusive behavior toward players.
Mook said the administration is taking the allegations seriously and said due process will be followed. He offered no timetable for when a decision might be reached, as he had not yet met with Moschella.
The Clippers (20-2) finished their regular season on Monday with a 61-52 loss at Struthers. The Clippers have the third seed in the Division III district at Struthers Fieldhouse. Their next game will be on Feb. 24 at 1 p.m. at home against the Girard/Mineral Ridge winner.
Moschella did not return a call requesting comment.
On Dec. 9, the Clippers defeated Mineral Ridge, 70-32, delivering Moschella the 700th victory of his career. He now has 716. In March 2016, Moschella was inducted into the Ohio High School Basketball Coaches Association Hall of Fame.
The Morning Journal reported that Bob and Casey Hall attended Tuesday's school board meeting and submitted a letter claiming that witnesses at the Struthers game said Moschella twice shoved their daughter and called her a derogatory name multiple times.
They said their daughter has quit the team because she does not feel safe around Moschella during games.
Moschella has been the Clippers head coach for six seasons. The Clippers have won league titles for the past five seasons, including the inaugural crown for the Eastern Ohio Athletic Conference this season.
Before that, he was the Boardman girls varsity coach for 31 seasons. His Spartans won 19 Steel Valley Conference titles and two more when Boardman was a member of the Federal League.
Moschella's fiery, demonstrative style is known far and wide. His voice carries to all corners of a gym as he barks out instructions, encouragement and criticisms. His passion includes anger, smiles and eyerolls.
Youngstown State University student Mollie Donnelly played in Moschella's Boardman program during her freshman and sophomore years then graduated from Columbiana in 2014.
"When I finally got the chance to play for Coach, it was the best time of my young life," Donnelly said. "He did yell, but I've never known a coach that didn't.
"He made each of us stronger individuals. I would not be the determined woman I am today without his tough coaching style and I have him to thank for that.
"He is too great of a coach, teacher, father, grandfather and friend to get accused of something like this and I am disgusted by these accusations. In all my years being around him, I have never seen him cause physical pain on any player ever."
In 2011, health issues forced Moschella to step down as Boardman head coach. Once he recovered, Moschella decided not to unseat Jeff Hammerton, his assistant who took over the Spartans in Moschella's absence.
Instead, Mook, a former student of Moschella's at Boardman High School, asked him to consider taking over the Columbiana program. In May 2012, Columbiana named Moschella as head coach and his combative, aggressive style ignited six 20-win seasons.
More like this from vindy.com