Summary of recent criminal activity in Poland and Boardman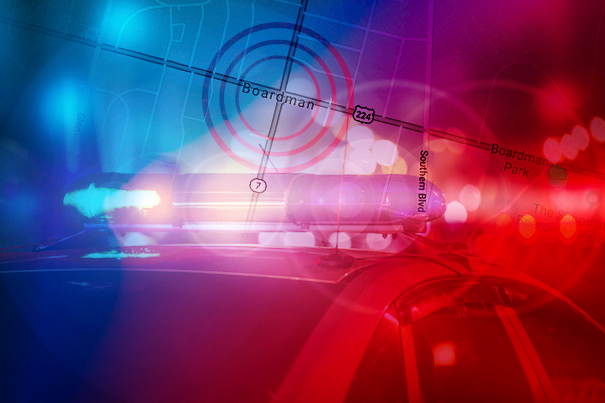 ---
A summary of recent criminal activity in Poland and Boardman townships:
POLAND
Feb. 8
Assault: A Lowellville man suffered a minor injury before reporting he had been assaulted while in the 4700 block of New Castle Road.
BOARDMAN
Feb. 7
Arrest: A traffic stop in the 200 block of Boardman-Canfield Road resulted in the arrest of Robert J. Price, 40, of Palo Verde Drive, Youngstown, who was wanted on a Franklin County, Pa., warrant accusing him of failing to appear in court on larceny charges.
Domestic violence: Paul J. Amon, 62, of Chester Drive, Boardman, was charged with the crime after his wife alleged Amon shoved the accuser then struck her face, causing a cut and bruising, during an argument that reportedly started when he yelled at and belittled the victim's mother.
Theft: A woman reportedly stole a $6 bottle of dish soap from Family Dollar, 4030 Market St.
Theft: A man reportedly left Giant Eagle, 476 Boardman-Canfield Road, after having stolen $37 worth of beer.
Aggravated menacing: Three workers with a Market Street employment agency told police two clients made implied threats that included hand gestures simulating having a firearm while angered after having walked off a job site.
Misuse of a credit card: A Pearson Circle woman found out her credit card had been used online without authorization to buy $226 worth of men's clothing.
Harassment: An Arden Boulevard woman said her former husband has made and sent unwanted correspondence regarding their divorce.
Theft: A man reportedly took a 24-pack of beer from Giant Eagle, 476 Boardman-Canfield Road.
Feb. 8
Arrest: Authorities booked James A. Washington of Halleck Street, Youngstown, on a charge of fleeing and eluding police, a third-degree felony, related to a June 1, 2017, incident in which officers alleged Washington, 30, led them on a vehicular pursuit that reached 90 mph on Market Street before the chase was terminated on Youngstown's South Side.
Theft: Margaret A. Hernan, 52, of Ayrshire Drive, Austintown, was charged with stealing $68 worth of socks, candles and dish towels from Kohl's, 383 Boardman-Poland Road.
Assault: A worker with a South Avenue long-term care center alleged that while on a break, his girlfriend's former boyfriend showed up at his place of employment and punched his face four or five times, leaving small cuts under the victim's eyes.
Citation: Officers in the 5300 block of Market Street pulled over then handed a minor-misdemeanor citation to Jesse R. Aponte, 26, of Maranatha Court, Youngstown, charging him with having 0.7 grams of suspected marijuana in a cigar box.
Assault: An employee with a township group home alleged a client threw a package of lotion and struck the accuser's head while they were in a car near Brookfield Avenue.
Drug paraphernalia: Corey A. Snyder, 22, of Ridge Road, Cortland, was charged with possessing drug paraphernalia after officers alleged having found a suspected crack-cocaine pipe in Snyder's shoe during a traffic stop on Midlothian Boulevard.
Drugs: After pulling her over near Hillman Way, authorities charged a 17-year-old Youngstown girl with drug possession. The teen had in her purse 1.6 grams of suspected marijuana and 16 pills that were determined to be Tramadol, a narcotic commonly used to treat moderate to severe pain, a report showed.
Feb. 9
Arrest: A traffic stop on U.S. Route 224 led to the arrest of Robert A. Collins of Buell Avenue, Campbell, on a charge of operating a vehicle impaired. Collins, 27, registered a 0.171 blood-alcohol content, which is more than double Ohio's 0.08 legal intoxication limit, a report stated.
Arrest: Police answered a call pertaining to a possibly stolen vehicle in the 800 block of Moyer Avenue, where they took Breyonna A. Moore, 25, into custody. Moore, of Moyer, Boardman, was charged with violating a protection order after she was reportedly in a family member's apartment in violation of the order.
Theft: Canfield police relinquished custody of Alexis N. Depol, 26, to township authorities. Depol, of Cricket Lane, Columbiana, faced a theft charge after being accused of taking a $300 iPad last November from a man's Market Street apartment.
Employee theft: Sheri A. Carder, 46, of Bonnie Place, Boardman, was charged after a loss-prevention official with Walmart, 1300 Doral Drive, alleged Carder admitted having stolen $540 worth of merchandise from the big-box store over a four-month period.
Theft: Struthers authorities exchanged custody with Boardman police of Johnny Serrano Jr., 18, of Ninth Street, Struthers, who faced a charge, related to a Jan. 30 incident in which a 17-year-old boy alleged having met him at an East Western Reserve Road gas station to buy a $40 pair of shoes from Serrano, who instead grabbed the money and fled in a vehicle.
Arrest: Police responded to a report of a man slumped in a car on Market Street before charging Christopher R. Hunter, 38, of Ardenwood Place, Austintown, with one felony count of operating a vehicle impaired after saying Hunter's blood-alcohol content was 0.155. The charge was elevated because of previous OVI convictions, a report said.
Bad check: A West Boulevard man reported having received in the mail a fraudulent $1,950 check that contained an electronic signature.
Identity fraud: A Tanglewood Drive woman discovered her credit-card information had been used to make a $166 unauthorized online purchase.
Aggravated menacing: A Leighton Avenue man alleged his former girlfriend's boyfriend had threatened to kill him.
Feb. 10
Harassment: A Hillman Way woman said her landlord has made continual unwanted contact with the accuser regarding her rent payment.
Theft: A woman noticed $1,100 and a car title missing from her Tam-o-Shanter Drive residence.
Harassment: A Ridgewood Drive woman told officers a man sent her 40 to 50 such text messages that were sexually degrading and vulgar in nature.
Weapon: Officers were called to a fight in the 300 block of Erskine Avenue, where an armed man reportedly entered the home with a gun and threatened to kill his former girlfriend. No one was injured, however.
Feb. 11
Arrest: Officers investigated a suspicious person walking on Market Street, then took Eric A. Viera, 33, into custody upon learning Viera, of Manhattan Avenue, Youngstown, was wanted on an Austintown warrant charging theft.
Criminal damaging: A car in the 7400 block of West Boulevard was found with damage to its rear windshield and rear trunk, resulting in an $850 damage estimate.
Theft: A woman reportedly checked out of a South Avenue motel without paying a $206 balance on her bill.
Theft: A Youngstown woman reportedly failed to pay a $15 cab fare after having been dropped off at an apartment in the 4000 block of Glenwood Avenue.
Robbery: A bald man wearing a tan pair of pants, a black hooded sweatshirt and a pair of tan work boots who claimed to have a gun in a backpack robbed Dollar General, 4996 Market St., before leaving on foot with five packs of cigarettes.
Domestic violence: Alexis A. Martinez, 19, of Melrose Avenue, Boardman, was charged after her sister alleged that during an argument, Martinez grabbed her face and held the accuser down on a bed.
Theft: Daniyal Mir, 31, of Jasper Court, Poland, was charged in the theft of two $20 phone cases from Walmart.
Criminal damaging: Officers in 4000 block of Hillman Way picked up Sidney N. Fields, 23, of Cambridge Avenue, Youngstown, who was wanted on a criminal-damaging charge, related to a Sept. 24, 2017, incident in which a relative alleged Fields had kicked in and damaged her apartment door.
Feb. 12
Theft: The rear license plate was removed from a vehicle in the 400 block of Boardman-Poland Road.
More like this from vindy.com