Niles teen pleads no contest to murdering elderly neighbor, to be sentenced in April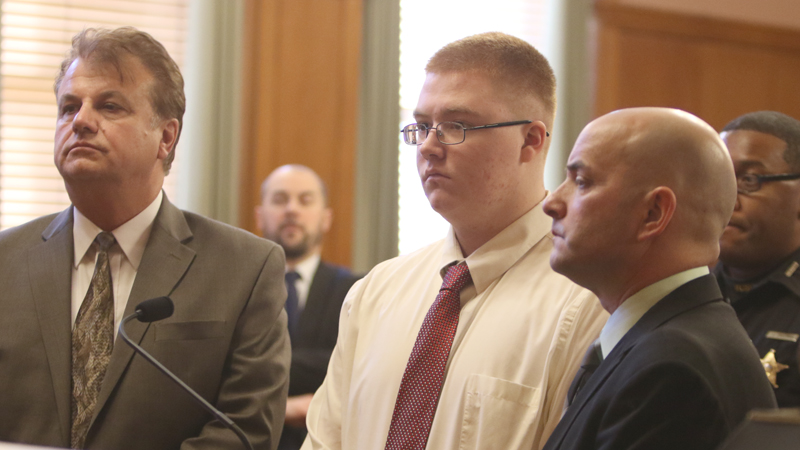 ---
By Ed Runyan
WARREN
Jacob LaRosa Pleas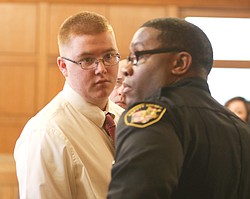 Video
Jacob LaRosa, 18, of Lafayette Avenue in Niles pleaded no contest Tuesday to aggravated murder, aggravated robbery, aggravated burglary and attempted rape in the March 31, 2015, killing of Marie Belcastro 94, in her home on Cherry Street in Niles.
Judge W. Wyatt McKay and Assistant Prosecutor Chris Becker reached the same conclusion about the reasons Jacob LaRosa took a plea Tuesday instead of continuing to trial on charges that he killed his elderly neighbor: The jury pool scared him.
LaRosa, 18, pleaded no contest in Trumbull County Common Pleas Court to aggravated murder, attempted rape and two theft charges in the death of Marie Belcastro, 94, March 31, 2015.
Judge McKay found LaRosa guilty and set a two-day sentencing hearing April 5 and 6.
LaRosa, of Lafayette Avenue in Niles, could still get life in prison without the possibility of parole or life in prison with parole eligibility after 20, 25 or 30 years. Judge McKay will decide. Prosecutors will seek the maximum.
The plea occurred around 11:15 a.m., more than two hours after jury selection was supposed to resume for the day, following a day of jury selection Monday in which a large number of potential jurors apparently made up their minds – without hearing from a single witness – that LaRosa was guilty.
Judge McKay called the potential jurors into the courtroom after LaRosa entered his plea, telling them he understood some might be unhappy to be left in the dark all morning about what was happening. But he wanted them to know he believed when LaRosa and his attorneys heard from the prospective jurors on Monday, they may have changed their mind about taking the trial any further.
"Because of you, I was able to resolve this case," Judge McKay said of LaRosa's plea.
Becker said after the hearing that the jury pool on Monday showed they are "no-nonsense" "law and order" jurors, and this may have been why LaRosa took a plea.
Matt Pentz, one of LaRosa's attorneys from the Ohio Public Defender's Office, declined to comment. He said the two-day sentencing hearing will allow him to present one or more expert witnesses.
One will be Dr. Dan L. Davis, forensic psychologist from Columbus. Davis, an author, is experienced in emotional and behavioral problems in older children and adolescents.
The first five prospective jurors Monday were dismissed after saying they were convinced LaRosa was guilty because of the news coverage indicating how quickly LaRosa was arrested.
"I remember a child trying to rob an old lady and rape her," one female potential juror said. Hearing about the woman's death was "hurtful," she added.
LaRosa, who was 15 when he killed Belcastro, only had to answer one question during his plea hearing, answering, "No contest" when asked, "How do you plead?"
A police affidavit released by the court shortly after Belcastro's death suggested police had a lot of evidence – LaRosa was found in his house with bloody hands about the same time Belcastro's crushed body was found in hers a few houses away on Cherry Street.
But Becker provided additional facts before the plea – the weapon used to kill Belcastro was a flashlight with her blood on it; the blood on LaRosa belonged to Belcastro; his shoes matched footprints in Belcastro's house; and LaRosa admitted to other juveniles at the Juvenile Justice Center that he killed Belcastro and tried to rape her.
"The evidence was overwhelming," Becker said, adding, "There was no chance he was going to walk out of here a free man."
He said any question about the outcome of the case was gone when the defense "saw the type of jurors we have here in Trumbull County."
"Without even hearing any of the evidence, there were a lot of jurors who were angry" about the crime, Becker said. "I think they would have been extremely angry after they had heard and seen some of the evidence."
"The age of the victim and certainly the attempted rape charge, I think, puts it over the top and makes it one of the most horrific crimes you are probably ever going to see here in Trumbull County."
LaRosa, who has been allowed to remain in juvenile custody even after he turned 18 last summer, was to be transferred immediately to the county jail.
More like this from vindy.com