Big-time shots on Fat Tuesday
By BOB ETTINGER
Ursuline vs Austintown Fitch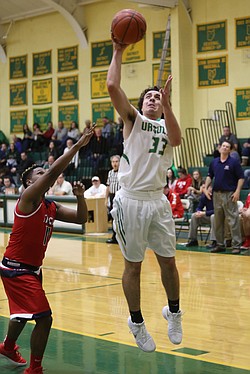 Gallery
AUSTINTOWN
Ursuline guard R.J. Clark understood the moment. More than that, he embraced it, then promptly delivered exactly what the Fighting Irish needed.
Then, knowing his turn could come, Vince Armeni did the same to help fight off a hard-charging Austintown Fitch for a 63-58 victory on Tuesday on Lyden Family Court.
The Falcons (8-10) were riding the wave of an 18-3 run over the previous 6:13 to get within a possession of the Fighting Irish (5-13) at 49-46.
Then Clark took Travis Easterly's pass to the top of the key and drilled a jumper from 25 feet away with 3:29 remaining.
"I knew we needed a big-time shot, so I took it," Clark said. "I'm usually always out that far. I believe it was on the fast break and I was trailing. Nobody was on me, so I called for the ball and I knocked down the shot."
Just 22 seconds later, Armeni took Devin Keevey's pass to the corner and knocked down his own triple to put Ursuline up, 55-46.
"I saw that [Clark] had hit that big shot and I knew to be patient, my turn might come," Armeni said. "It did. We're taught that if somebody is driving, get to the corner and be ready to shoot. Devin drove and I knew they liked to collapse to stop him. That left open the three and I knocked it down."
Randy Smith banked home a 3-pointer from the top of the key and Blake Baker scored from inside the paint to get Fitch to with a bucket, 60-58, with 37 seconds to play.
Clark was good on three of four attempts from the charity stripe in the final 21.8 seconds to seal the win.
Ursuline was hot from the jump as it opened with a 13-0 spurt over the first 4:19. Clark was good on a step-back 3-pointer and completed his own traditional three-point play, Deshaun Harris tallied on a layup and a 3-pointer and Keevey scored on a putback during the run.
"I told [the team] downstairs that in the first half, the first quarter especially, [Ursuline] punched us square in the mouth," Fitch coach Brian Beany said. "They were the aggressor. Their shots were falling and they took advantage of the open looks they had."
After Dawkins' three-point play, the Fighting Irish scored nine straight points to end the opening period with a 22-3 advantage.
"We got to a point where we had scored early but we were tentative in the second half," Ursuline coach Keith Gunther said. "Some of that was because of [Fitch's] press. In the first half, I thought we did a phenomenal job, not because were knocking down shots, but because we were playing defense phenomenally hard. In the second half, we started to play more offense than defense. And we let them back in."
More like this from vindy.com